| | | |
| --- | --- | --- |
| | #INTHEAIREVERYWHERE | |
Vol. 17 No. 3

Monday January 22, 2018

European transport business as usual was unusual last week, as powerful windswept storms battered Germany and Netherlands Belgium, Romania and parts of UK cancelling flights and rail service. Here some trucks took the worst of it on the motorway A 71 near Erfurt.
The weather also played havoc earlier this month, causing delays and cancellations all along the Eastern Seaboard. The "Bomb Cyclone" that hit the East Coast ushered in several days of record breaking single-digit temperatures.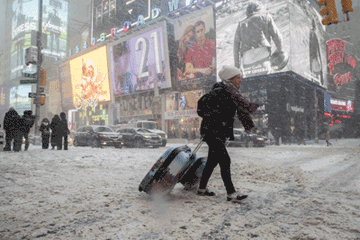 Rebecca Hollis of New Zealand dragged her suitcases through Times Square in New York City on her way to a hotel after flight cancellation.
Publisher-Geoffrey Arend • Managing Editor-Flossie Arend •
Film Editor-Ralph Arend • Special Assignments-Sabiha Arend, Emily Arend • Advertising Sales-Judy Miller

Send comments and news to geoffrey@aircargonews.com
Opinions and comments expressed herein do not necessarily reflect the views of the publisher but remain solely those of the author(s).
Air Cargo News FlyingTypers reserves the right to edit all submissions for length and content. All photos and written material submitted to this publication become the property of All Cargo Media.
All Cargo Media, Publishers of Air Cargo News Digital and FlyingTypers. Copyright ©2018 ACM, Inc. All Rights Reserved.
More@ www.aircargonews.com

100% Green