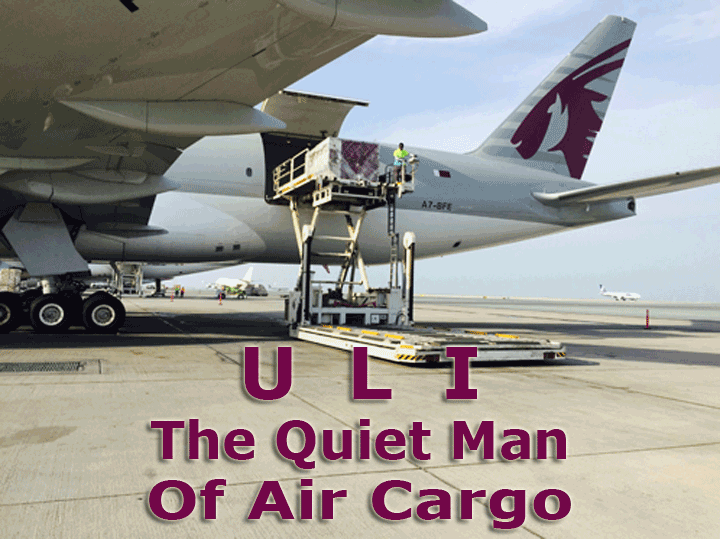 "Speak softly and carry a big stick," said Theodore Roosevelt, arguably one of the greatest presidents in United States history.

We were thinking about TR while watching Uli Ogiermann as he sat mostly silent at an October press conference at Qatar Airways in Doha. His repose continued later at the meeting room table while Qatar Airways Group Chief Executive, His Excellency Mr. Akbar Al Baker fielded reporters' questions.
A decent and thoughtful man, Uli's "big stick" is that he is, in reality, one of the real heavyweights in the international air cargo business. Smart and straightforward, he is the real deal out on the line and up in the boardroom, where he prefers to let action replace words. He leads by example, is inspiring by actions taken.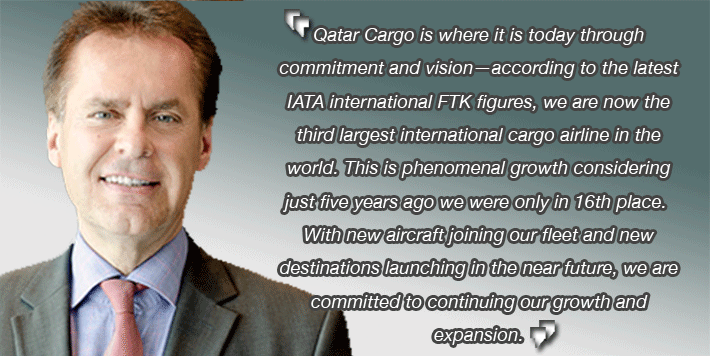 Uli has served this business for most of his life, in many capacities, and for its betterment: for a period of time, he was president of The International Air Cargo Association (TIACA) and was a major driver of the organization's rapid growth and influence during the last decade of the 20th century.
In 2016 as Vice President Cargo at Qatar Airways Cargo, Uli literally has a tiger by the tail as the airline from Doha by any measure is a wunderkind of aviation that has witnessed the rapid rise of carriers nobody ever heard of before 2000 from gateways even lesser known.
As top executive of one of the fastest growing air cargo businesses in the world, one might expect Uli would have had more to say at October's meeting, but the room was small and oxygen was in short supply, so he just sat smiling as "The Chief," His Excellency Al Baker, handled the reporters.
As we sat face to face at the table and The Chief spoke, occasionally I would look at Uli and catch a broad smile on his face. He was someone in the moment and loving every second of it.
It was the first big press conference Qatar Cargo had ever hosted.
It might have been a coming-out party of sorts for the Doha air cargo enterprise, but what Qatar brought to the festivities sure looked and sounded like a winner.
Later we caught up with Uli, who has such a kind and expressive face that mirrors exactly what he is thinking. He was still smiling as he openly shared the steps that had been taken to propel the Qatar Airways Cargo enterprise during the past three years and the express-rocket ride to the top in international FTKs.
"Qatar Cargo is where it is today through commitment and vision—according to the latest IATA international FTK figures, we are now the third largest international cargo airline in the world.
"This is phenomenal growth considering just five years ago we were only in 16th place.
"With new aircraft joining our fleet and new destinations launching in the near future, we are committed to continuing our growth and expansion.
"By 2017, we will have 21 aircraft in our dedicated cargo fleet, and our passenger fleet is predicted to grow to 200 aircraft by the end of 2016.
"The launch of new passenger destinations will also increase our belly hold capacity to cities such as Durban, which will be flown by a B787, and Sydney, which will be flown by a B777, both giving 40 tonnes of additional cargo space."

Building For Tomorrow

"To support our growth, we recently announced that we will be constructing a second Cargo Terminal, which is set to open in 2018 and will more than double the capacity of our current operation at the hub in Doha.
"At Qatar Airways Cargo we maintain a high level of flexibility so that we can adapt to market trends and fluctuations, and there is always room for partnerships to reach those places where we don't fly in order to optimize our network.
"We are also committed to investing in improved technology, which will result in cost savings that we will pass on to clients."

Trained For This Moment In Time

Uli Ogiermann studied economics in Frankfurt and holds a doctorate in economics from Goethe-University, Frankfurt.
"I started in aviation with the Lufthansa Group at Lufthansa Cargo.
"Thereafter, I worked for Cargolux where I held the position of president and CEO before joining Qatar Airways Cargo in 2012."

Getting Into The Mix

"At Qatar Airways Cargo 86 percent of our traffic is transit and freedom, 13 percent is imports into Doha, and 1 percent is exports from Doha."
"For high-value goods, fashion, pharmaceuticals, urgent shipments, and time-sensitive cargo, air is still the preferred choice of transport.
"When it comes to speed, reliability, and maintaining lean production lines, air cargo wins hands down.
"For customers who are more flexible with their delivery deadline, ocean freight can be an option," Uli said.

Partners Are Key

"Freight forwarders and agents play an important role in our sales and marketing planning. To attract new customers and retain the existing ones, our customers need to know who we are, what we do, and why they should choose us over another carrier; forwarders and agents play a key role in disseminating that message. The forwarders are our partners and we work closely with them to develop the best relationship for each of our segments. We maintain close relationships with our partners and we identify those with which we see the potential for growth on both sides.
"Those shippers backed by a strong freight forwarder will get proper advice on the best modes of transport for their business, while those with smaller forwarders may not have such good supply chain advice and would therefore be less familiar.
"Both price and service are important to our customers. It is an extremely competitive industry so price is always an important factor, but as the whole industry makes an effort to improve service levels to differentiate air cargo and to justify its place on the supply chain, service is more important than ever. Cargo customers have a choice, so all things being equal they choose the cargo service that they most trust.
"We have many different levels of pricing within our portfolio of specialized products, which includes QR Fresh, QR Pharma, QR Equine, and more. Certain products offer specific services such as a money back guarantee and higher loading priority, but our service promise in terms of FAP/FAB extends to the whole product range.
"We are engaged in on-going dialogue with our customers in order to understand their expectations and needs, and to offer them reliable services that optimize cost and operational efficiencies across their supply chain."

Challenges Ahead

"All macro economic downturns affect air cargo, and we need to monitor it to react to events like this year's drop in demand.
"It's a dynamic industry that will always benefit from new technology, but also be challenged by it. At the moment it's common to hear about 3D printing, mode shift, security, in shoring, and new modes of air lift (i.e., blimps) as business threats, but none of these are existential dangers. Air cargo serves a specific function in the supply chain and as long as we keep offering an affordable, efficient, and reliable service, this will remain the case."

Qatar Paperless Air Cargo

"Qatar Airways was one of the first airlines to implement single process (www.qrcargo.com/singleprocess) for its network last year, and with this service support we have 75 percent of our global customer shipments flown under the e-AWB process, and this is growing. We support IATA's e-initiatives thoroughly by being part of the station level working group, promoting the multilateral e-AWB agreement with agents, and participating in the various special regional IATA projects such as the recent e-AWB 360 project. We will continue with our efforts in this direction not only to improve internal efficiencies and processes and improve customer services, but also to contribute towards a common goal of doing maximum paperless transactions.
"We currently have 87 Qatar Airways stations e-AWB-optimized for export transactions and we were recently successful in executing an e-freight process in several of those stations.
"The drive toward paperless air freight is showing tremendous progress. Looking at IATA facts, there are 90 airlines, 2,500+ freight forwarders, and 4,600-plus agency affiliates who have joined the multilateral e-AWB agreement, which is laying the basic foundation to move towards a paperless future for the air cargo industry.
"The World Customs Organization (WCO), which has 180 member countries and manages more than 98 percent of world trade, completely supports usage of electronic information and is pushing its member states for single window clearances, which in turn paves the way for e-freight."

Cargo Reimagined From The Ground Up

"Hamad International Airport's cargo terminal has a capacity to process 1.4 million tons of cargo per year. The two-floor cargo facility incorporates warehouse spaces, automated systems, retrieval systems, offices, and shops.
"The split-level facility covers 55,000 square meters, with 11 wide-body freighter aircraft stands and 42 airside loading docks.
"Additionally, 31 landside truck-loading facilities enable the swift and efficient transfer of cargo. With advanced scanning technology it enhances the complete safety and security of the facility, its staff, and cargo.
"According to a recent BMI report, the Qatari economy will continue to expand at a rapid pace over the next few years supported by infrastructure spending and strong population increases. The non-hydrocarbons economy will propel growth, with construction activity and the services sector set to remain the dominant performers.
"Qatar Airways Cargo is well placed to support the freight requirements locally and internationally. Our recent announcement of a second cargo terminal has been very well received. The new facility, which is scheduled to open in 2018, will offer three million tonnes capacity annually, bringing the combined capacity of terminal 1 and 2 to 4.4 tons annually with the potential to grow to 7 million tons in the future."


Own It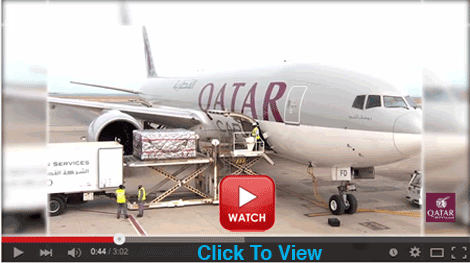 "Doha has established itself as a global hub. The country has invested in significant infrastructure projects and aspires to become a world-recognized logistical center with the development of free trade and logistics zones expanding.
"The Middle East is benefitting from the stability of traffic flows from east to west and increased demand for perishable products to the rapidly expanding consumer population in the GCC countries. "Multiple large construction projects as well as the oil and gas industry in Qatar ensure heavy demand for import flows. Qatar Airways Cargo is perfectly positioned at the brand new Hamad International Airport with its state-of-the-art facilities to capitalize on this.
"We also always have to keep in mind that an important part of air cargo service quality occurs on the ground. Managing the export acceptance, the import delivery, and timely transport of shipments each year is an operational challenge. Therefore, we are constantly on the watch for ways to improve our service and operational capabilities. Qatar Airways Cargo has always had a strong vision, helping it chart a clear path forward in a changing market. This approach in tandem with continuous investments in new technologies, automation, products, and services as well as resources has enabled us to distinguish our business and stay ahead despite volatile market dynamics."

Carrying Pharma For Example

"We saw significant growth in this area in 2014, and this continued at an even faster rate in 2015. QR Pharma is now available in 58 destinations worldwide and we have invested heavily in infrastructure for time- and temperature-sensitive goods. This is best demonstrated by our reefer vehicles, which meet every flight in Doha, ensuring the cool chain process is seamless and thereby eliminating risk to temperature exposure.
"The pharmaceutical industry is witnessing rapid growth every year, and with rising demand there is the need to ensure that pharmaceuticals and healthcare products are transported with the utmost care while avoiding any temperature fluctuations. Speed and temperature play a crucial role in the transportation of these products and we make sure that they are handled expertly throughout their journey. We adhere to the IATA regulations for carriage of pharmaceuticals.
"Innovation drives new solutions. This year, the Va-Q-tec container technology was introduced—a new QR Pharma advanced passive transportation method that complements Qatar Airways Cargo's existing Envirotainer and CSafe active containers to offer customers a flexible airfreight solution.
"We've seen a 150 percent increase in pharmaceutical tonnages compared to last year.
"Our Pharma Express routes provide dedicated uplift to the pharmaceutical industry. This is unique. We are the only airline in the world that offers dedicated scheduled flights for pharmaceuticals.
"The main features of this product at the hub are the use of reefer vehicles on the ramp that collect and deliver directly to and from the aircraft, totally eliminating ramp exposure—we are the only carrier in the Middle East to offer this service at our hub. Our pharma service incorporates temperature-controlled handling and storage at the HIA Cargo Terminal in the appropriate temperature zones, 64 temperature-controlled cells for units requiring precise temperature, the fastest airline transfer at Doha through its Quick Ramp Transfer (QRT) solution, and a dedicated climate control team."
Geoffrey