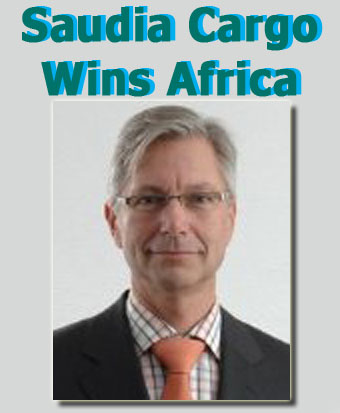 Recently Saudi Airlines Cargo Company accepted a top award at Air Cargo Africa—International Cargo Airline of the Year in Africa—received by Rainer Mueller, (acting) vice president-commercial.
For some time now, Saudia Cargo has been at work developing a signi€cant and diversified presence in Africa seen in a variety of shipping services.
Nabil Khojah, CEO of Saudi Airlines Cargo Company, puts it this way:
"Despite tough competition in Africa, we have recorded a significant presence and managed during the past few years to get a big share, which was the key driver in enabling our brand to increase freighter capacity to Africa in 2014 by 35 percent as compared to the year 2013, launched from Saudia Cargo's main station in Africa, Nairobi, Lagos, and Johannesburg.
"Today our offering covers more than sixty stations and the rate of weekly flights has increased to 43 flights."
Commenting on the award, Mr. Nabil said: "Receiving this prestigious award is a great honor and a powerful endorsement by our customers.
"It really shows of our focus and dedication to providing the highest levels of service."
He added, "This award sets us apart in the increasingly competitive African region and confirms that we are on the right track."
Moreover, Khojah said that the company is constantly seeking new market opportunities and it will also be seeking to expand interline operations in the African continent.