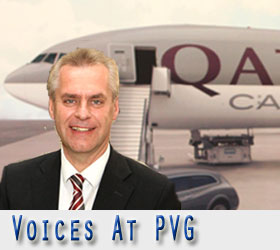 At IATA World Cargo Symposium last week Shanghai (PVG) Qatar Airways Chief Cargo Officer Uli Ogiermann was upbeat, telling FlyingTypers:
"For me, PVG was a very positive event with a fine turnout, many high level customers and excellent opportunity for interaction with industry partners such as handling agents and GSAs.
"It was truly worth our while.
"Looking forward to Munich in May; there is a lot to be discussed.
"We have hired so many good people to continue to build the Qatar Cargo team as we grow and expand."
As of January 2015, Qatar Airways is now the 5th largest cargo operator worldwide.