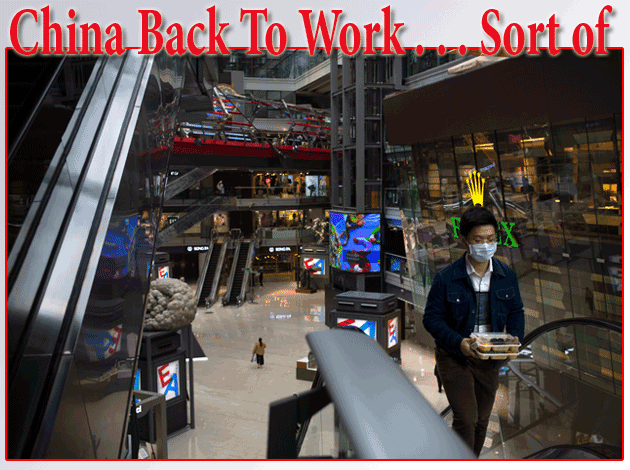 On the rise . . . In a scene repeated around the world, a worker rides an escalator for a lunch break inside an otherwise empty upscale shopping mall in Beijing on Tuesday, March 31, 2020.
On Tuesday China reported just one new death from the coronavirus, but forty-eight new cases.
In the United States and elsewhere in the world, people are feeling the sting of the deadly COVID-19 virus. There is growing apprehension that what is unknown about the pandemic continues to out-pace any true understanding of the virus.
We are living at a time when the global community is increasingly desperate to have some indication of what to expect in the future.
TV shows are updating the viruses' spread on a daily basis, showing numbers for places like Turin, Italy, or New York City, where the virus is rising and claiming victims.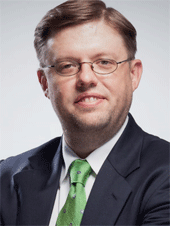 Now we are told that China and Korea are moving back to work.
We thought to check in once again with Professor Christopher Balding at The Fulbright Institute in Vietnam. Professor Balding tracks action in China, keeping tabs on leading indicators like air pollution, road traffic, airport and seaport activity, and even shopping mall activity.
In China if you want to know what is really going on, trust, but verify.
The inquisitive Professor Balding, who actually spent extended time in China, practiced exactly that coda, day in and out, in his writings before he was asked to leave the country.
"It's a bit slow in returning to normal," Balding said from Saigon in an interview on the YouTube program War Room Pandemic.

Better Than Half-Way Back

"March was a slow climb, with China returning to work according to our data at a pace of 60-to-80 percent of normal production.
"There is nothing going on really at 90 to 100 percent of what it was prior to COVID-19.
"What is interesting is that in China during the Lunar New Year time, everybody left to hunker down for a month in their hometown with their families; that action dispersed initial transmission of the Coronavirus to all corners of China.
"So, as people began returning to work, there was an expectation that they would go back to places that had Corona and to people that had not been exposed, or carry back the disease and infect people who had not had it before."

China Reboots Pandemic?

"It's tough to track this disease, but we are hearing that locations and businesses that had reopened for a week or so are being closed in Beijing and elsewhere, and are now shuttered once again."

Cannot Trust China Virus Data

"China has said that as of April 1, it will be releasing data on numbers of people who are asymptomatic carriers of the disease—people that test positive, but nothing really happened to them.
"That said, I do not have very high hopes that China will release anything that would be considered accurate and creditable data," Christopher Balding said.

The China Lockdown

Recalling the actual story of China's lockdown as COVID-19 went pandemic, Christopher Balding said:
"When China went into lockdown, people discovered that there were security guards at every door.
"Anyone attempting to enter or exit a building needed to present an ID Card and have their temperature taken."
That practice in one form or another continues.
"I spoke to a source in China that said people in Beijing are still wearing ID tags that track every movement to the grocery stores or wherever.
"It's a much stricter lockdown in China right now than what is going on in the United States," Christopher Balling revealed.

Will Famine Follow Pandemic?

Concerning the announcement earlier this week that Vietnam, one of the top producers of rice in the world, is ending its export of the Asian stuff of life, Professor Balding noted:
"Famine seems to be something people are expecting as countries are locking down everywhere, not just Southeast Asia, as shipping is drying up.
"For example, I read one report that said because of the shut-down in Holland, there are a billion kilos of unused potatoes. People are no longer visiting those popular french-fried potato shops that the Dutch love.
"So rice and other commodities are a huge issue in Vietnam (called the rice basket of Asia), which is a very agricultural country. The fear is if we are locking down for a month or two months, we need to insure the ability to feed our own people because we cannot depend on supply chains that we have taken for granted for so long."

No Winners As Pandemic Widens

"My take is that the situation in China moving ahead will have a bigger impact on the economies that supply its industry there, because China imports basically raw materials whether it be iron ore, agricultural products, and other things."
Interestingly, Professor Balding points out, "USA is just not one of the bigger exporters in the world to China for the basics of what their industry needs.
"In fact, the U.S. shutting down will have a massive negative impact on China because all of a sudden, America, which is China's number one export market, is not buying Chinese products anymore, including products that fill Walmart and other retail outlets with high ticket electronics and other consumer goods," Christopher Balding declared.

China Debt Is About 40 Trillion

There are reports of infighting going on at the top of the ruling class in China about what this country with a reported 40 trillion dollars (reported) of debt should do next.
"I hear those rumors as well," Christopher Balding said.
"One of the things that is very interesting is that the Chinese economy has been debt dependent for so long that the country cannot grow in any appreciable manner this year without enormous uplift.
"So, the ongoing debate in Beijing seems to be centered on how much more debt should we pump into the Chinese economy to keep everything going?
"The truth is that China has maxed out on debt, and has little to no room for more," Christopher Balding said.

Vietnam Shelters In Place

"Vietnam is unique," Professor Balding said.
"They don't have the mass testing resources of the United States, South Korea, or some others.
"They carefully monitor travelers to catch people with fever.
"So even though they haven't done the testing, which certainly is a big issue in the U.S., they have been very careful.
"It has only been the past few weeks where we have seen people coming back from college and other travelers that have brought the virus into the country.
"But despite everything else, the Vietnamese have done a pretty good job and although there are a few more COVID-19 cases, they are trying to carry on with a sense of normalcy."
Geoffrey