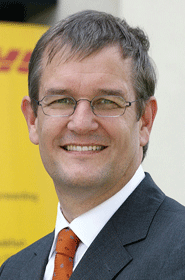 Air cargo demand has been strong so far in 2017 and the medium-term outlook is positive, not least as e-commerce services open up new opportunities, according to Ingo-Alexander Rahn, Global Head of Air Freight at DHL Global Forwarding.
He told FlyingTypers that so far this year, thanks to a "good performing world economy and growing consumer demand in China," DHL was seeing strong demand for air freight.
"Further, in light of the capacity shortage within ocean freight, customers are partly shifting to air to transport goods," he added.
Power Surges
However, surges in regional demand alongside ample supply have led to highly volatile air freight rates, albeit rates that are generally trending upwards.
"Overall, within the last months, air freight rates have tended to rise," he said. "As long as global trade—especially between Europe and China—is showing good growth and capacity in ocean freight is still short, we are expecting the trend will continue. This creates some challenges for forwarders in the short-term but in the mid-term the trends are positive.
"An additional upward rate contributor is the oil and, respectively, jet fuel price development, which we have all witnessed for several months now."
Risks Notwithstanding
Asked where he sees potential risks to current positivity, Rahn was instead upbeat. "We have seen an upward demand trend over the past nine months and have no reason to believe that this development will come to an end soon," he said. "A well-performing world economy and in particular strongly rising consumer confidence suggest that air freight growth will remain."
Minute-By-Minute
"This is also proven by rather strong demand in the month of April. In this constellation the likelihood of falling rates is minute.
"As usual, the transpacific outbound Asia will be strong as well as the trading between Asia and Europe in both directions."
The growth of e-commerce demand is also affecting how forwarders package and sell air services, and creating new opportunities.
"E-commerce is a very important growth engine for air cargo demand and it will pick up momentum," he said. "E-Commerce requires a different offering and solution design as it is designed around B2C demand. In this respect, it does not affect 'traditional' air freight services, which will remain the backbone of our forwarding business."
E-Commerce Positioned
"E-commerce solutions are structured to serve the door-to-door demand for the B2C segment, which means offering excellent shipment visibility at piece level, and well-orchestrated pick-up and delivery capabilities for small shipments. As Deutsche Post DHL Group, we are well positioned to serve such demand.
"E-commerce certainly has the potential to become a substantial part of the air freight forwarding business."
TIACA recently made the point that the air freight industry's failure to adopt e-freight common standards and technology was reducing supply chain transparency. In fact, TIACA went as far as to suggest the air freight sector, despite offering a premium service, was adapting slower than ocean freight. Accepting TIACA's point on a general level, Ingo-Alexander Rahn said DHL was doing its utmost to make its air freight products paper-free.
"This is a complex topic," he said. "The purpose of e-freight is to make air freight services paperless, meaning all required documentation is provided in an electronic format. The standards are defined and widely aligned between airlines and forwarders."
When it comes to electronic booking capabilities for DHL customers, he said the company was now fully equipped with a range of solutions depending on the size and needs of the customer.
"Here we have host-to-host connections, booking capabilities via dedicated DHL tools as well as web-based capabilities," he said.
More Transparency Needed
He said other supply chain stakeholders could also do more to increase transparency and efficiency through the supply chain.
"Most airlines are e-freight capable and so are we," he added. "The missing piece to achieve greater penetration of e-freight is paperless customs clearance and a wider willingness to move away from the need for original documents."
Keys & Global Rollout
"The key is to get all involved parties, including shipper, consignees, and customs authorities, to agree to a paperless workflow. While technically the solution is there, the capability to replace paper documents by soft copies is not yet achieved. As such the air cargo industry has some work to do.
"We as DHL are ready as we have nearly completed the global rollout of an electronic document management system that enables us to automatically receive, file, store, access, and distribute electronic documents."
SkyKing