"Well … things are beginning to stack up a little," said Gordo.
"It was the same old sod-hut drawl.
"He sounded like the airline pilot who, having just slipped two seemingly certain mid-air collisions and finding himself in the midst of a radar fuse-out and control-tower dysarthria, says over the intercom: "Well, ladies and gentlemen, we'll be busy up here in the cockpit making our final approach into Pittsburgh, and so we want to take this opportunity to thank you for flying with us and we hope we'll see you again real soon."
"It was second-generation Yeager, now coming from earth orbit.
"Cooper was having a good time.
"He knew everybody was in a sweat down below.
"But this was what he and the boys had wanted all along, wasn't it?"

Tom Wolfe, one of the truly great writers of the 20th Century wrote these words about a first U.S. Astronaut Gordon Cooper in his landmark book The Right Stuff, published in 1979.
The NASA Space Shuttle Program, a series of air cargo flights that began with Columbia in 1981,was given a huge boost in lore and legend as a result of that book.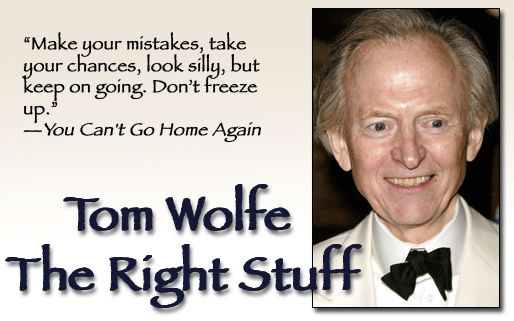 Tom Wolfe died Tuesday May 16 in Manhattan at 88 years of age.
Tom Wolfe was a driving force in the early 1960's of what became known as "The New Journalism."
Mr. Wolfe, along with Truman Capote, Gay Talese, Joan Didion and others created a style of writing in which journalists immersed themselves in the stories they reported and wrote, emphasizing "truth" over facts.
He went on to write several outstanding books, including Bonfire of the Vanities in 1987, a scathing satire directed at the New York City criminal justice system.
"Nothing fuels the imagination more than the real facts do," Tom Wolfe once said.
To better understand Tom Wolfe, just listen to some words that came out of his old manual typewriter that are jargon in today's language.
"Fuhgeddaboudit" was his one word, New York dismissal for everything, while "radical chic" was his take on limousine liberals.
"Good ol boy" entered the language of America after a Wolfe magazine article in 1964 about a stock car racer named Junior Johnson.
"How I shall miss that swirling script on the handwritten notes, the flair of your white suit entertaining a room," said Tina Brown, former editor of Vanity Fair and The New Yorker.
"You were the best of the best," she tweeted out.
We say, Amen to that.
Geoffrey