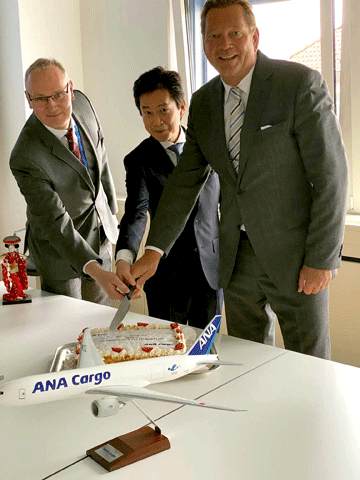 Max Conrady, (L) Fraport, Senior Vice President Cargo; Hiro Murai, ANA Cargo, Manager Cargo EMEA; and Ingo Zimmer CEO, ATC Aviation Services after the water cannon salute, celebrate ANA Cargo's first dedicated Boeing 777 freighter arrival from Tokyo to Frankfurt on Wednesday June 10.
ANA Cargo's June Frankfurt-Tokyo weekly freighter service goes Tuesdays (NH 8598 FRA-NRT ETD 15:40LT – ETA 10:05 +1).
For the record, the first flight moved 68 tons of general cargo. Return flight to Japan tipped in at 88 tons.
ATC Aviation Services AG with its head office in Frankfurt was established in 1971.
ATC's worldwide portfolio of more than 70 airlines in 32 countries in 2020 adds up to unequalled GSA/GSSA refinement and leadership in the air freight industry.
More click here.