On Tuesday July 25, a U.S. Homeland Security Meeting in Washington examined how to make supply lines more secure.
In attendance were many of the usual suspects for these types of meetings, including: Stephen Alterman, President of the Cargo Airline Association; Brandon Fried, Executive Director, The Airforwarders Association; Michael Mullen, Executive Director, Express Association of America; and Bart Elias, an Academic Specialist in Aviation Policy, The U.S. Library of Congress.
In addition to familiar statements of support from all who attended, Mr. Alterman urged more usage of dogs as the primary vehicle for air cargo screening.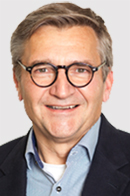 That thought was echoed by Mr. Fried, who also called for more consistent interpretation of security rules by TSA.
Express Association's Michael Mullen called for enhanced government and industry cooperation, while Bart Elias thinks enhanced security should start with deeper checks of air cargo employees.
Elias also said he was not sure whether more dogs to sniff around shipments would work.
Maybe this group of lobbyists and others should check with Harald Zielinski, (right) the top security officer at Lufthansa Cargo.
Harald, the smartest air cargo security man on the planet, has called for wider use of canine sniffers, and hosts a yearly security conference in Frankfurt that is the most advanced gathering on how to protect shipping lines anywhere.