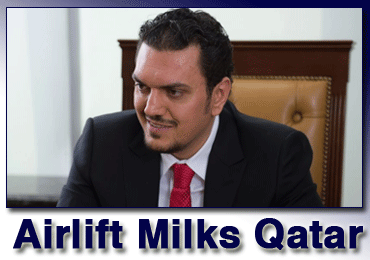 Moutaz Al Khayyat believes that you never outgrow your need for milk.
So the entrepreneur and chairman of Qatari construction firm Power International Holding initiated the move to airlift Holstein dairy cows from Baladna Livestock Production in Budapest to a purpose-built dairy farm near Doha that has capacity for 4,000 animals to help provide fresh milk during the recent ongoing rift between Qatar and the Gulf Arab Allies.
Baladna reports the bovine airlift will continue with dairy cow imports being readied from USA, Germany and Australia.
---

Club News

Top pick for July is Federation of Asia Pacific Air Cargo Associations (FAPAA) meeting later this month July 26-28th in beautiful Kathmandu Nepal for its 44th Executive Council Meeting (ECM).
Hosted by Nepal Freight Forwarders Association meetings will be held in the Soaltee Crowne Plaza
FAPAA event will also feature 23rd Nepal Air Cargo day July 29.
More: http://www.fapaa.org
---
In Los Angeles still time to join the LAACA on Thursday, July 20th, 2017 for a "Summer Mixer" baseball game between the L.A. Dodgers & Atlanta Braves! Group seating at the stadium and snacks and beverages served on exclusive LAACA bus on route to the game.
Bus departs from Trans Pak (5343 W Imperial Hwy #1000, Los Angeles, CA 90045) promptly at 5:15pm…
LAACA also has its Golf Tournament
set for September 12th, 2017 at El Dorado Golf Course in Long Beach.
More: https://www.laaca.us/
---

The British International Freight Association www.bifa.org will feature celebrity host entrepreneur and musician Levi Roots at its 29th annual "BIFA Awards" ceremony in London held Thursday January 18, 2018.
More: http://www.bifa.org/

---
Atlanta Air Cargo Association (AACA) again meets in its remote summer program for Top Golf—a night event August 15, "a networking event for those who like to have a little fun, while getting to know industry contacts."
Cost is $45 for members/$55 for non-members.
That nominal tariff includes face time with all your best cargo friends (and some new ones) plus two hours of playtime at the golf bays, the choice of 2 domestic beers or one mixed drink, plus light hors d'oeuvres.
Register before August 1st, 2017 and deduct $5 with your RSVP
All registration closes Friday August 11th.
More: https://www.atlantaaircargo.org/