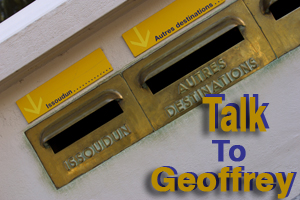 RE: Dog Days Of Summer 2020

Dear Geoffrey,

Forgive the informality, but at 75 and retired am still stuck in the more formal ways of our past.
I don't own a dog and am much like Stan Wraight in your Dogs of Summer issue someone who thinks it's unfair to travel (who knows about that anymore?) and leave a dog in a kennel.
But here would like to share some lovely poems about dogs.

The Dog by Ogden Nash

The truth I do not stretch or shove
When I state that the dog is full of love.
I've also found, by actual test,
A wet dog is the lovingest.

The second is:
The Road to Vagabondia by Dana Burnet

He was sitting on the doorstep as I went strolling by;
A lonely little beggar with a wistful, homesick eye—
And he wasn't what you'd borrow, and he wasn't what you'd steal,
But I guessed his heart was breaking, so I whistled him to heel.

They had stoned him through the city streets, and naught the city cared,
But I was heading outward, and the roads are sweeter shared,
So I took him for a comrade, and I whistled him away—
On the road to Vagabondia, that lies across the day!

Yellow dog he was; but bless you—he was just the chap for me!
For I'd rather have an inch of dog than miles of pedigree.
So we stole away together, on the road that has no end,
With a new-coined day to fling away and all the stars to spend!

I hope that you will enjoy these writings as I and many others have enjoyed your publication over the years.

Henry Clarke
(Retired) AA, PAA

(Simple human kindness works all the time and, for us, keeps the heart pumping. Great letter from an cargo stalwart—the best people in the world. Thanks. G)