How TIACA Began

The birth of TIACA took place after the Society of Automotive Engineers (SAE) decided to withdraw their sponsorship of the International Air Cargo Association's (IACA) biennial trade show called Air Cargo Forum (ACF).
The last IACA ACF that took place in New York City was in 1982 at the Hilton Hotel.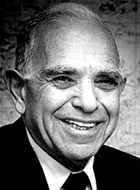 I remember Bill Boesch and the late Julie Kupersmit (right), the container genius that headed up Containair, sitting inside a can on the show floor debating the various aspects of ULDs.
Shortly after that a group of concerned air cargo executives started the new organization TIACA, which held its first board meeting at The In & Out Club in London. We were there.


Bob Arendal A Genuine Hero

TIACA moved center stage with its first Air Cargo Forum (ACF) 1992 in Luxembourg thanks to Bob Arendal and Cargolux.
That takeoff stalled a bit when TIACA went to Seattle in 1994.

Ram Put TIACA Into The Big Time

It was Ram Menen, who convinced Prince Maktoum, Chairman of Emirates to sponsor the 1996 TIACA event in Dubai.
TIACA hit the big time in the UAE as a money-making, landmark event. And the rest, as they say, is history.

TIACA Is The Hope

As we have declared here in the past and still today, we believe that TIACA is the last, best hope for an impartial air cargo industry organization to work, educate, and sponsor the causes of the entire logistic supply chain.
TIACA was created as a meeting place for people that are air cargo minded.
TIACA may be a bit messy for some, but that is because an international and diverse organization of many peoples and cultures from around the world will always have to work to achieve a consensus.
Unlike dispassionate exhibition companies, trade groups and publications that seem to want to dominate trade shows today, TIACA can truly say that it represents organized cargo.

All The Rest Are Pretenders

Air cargo is awash with private interests that either espouse their own vision for things in air cargo or, worse, appear as quick buck artists that e-mail blitz everybody nearly to death and then put on noise events with all kinds of artificial, non-performing meaningless stimuli like industry awards and over the top gala dinners.
These quickie two or three-day events deliver little value for money.

TIACA Should Be Supported

TIACA should be attended and deserves industry support. TIACA is not perfect but neither is air cargo, or any of us, when you think about it. TIACA ACF Miami can wait for 2021.