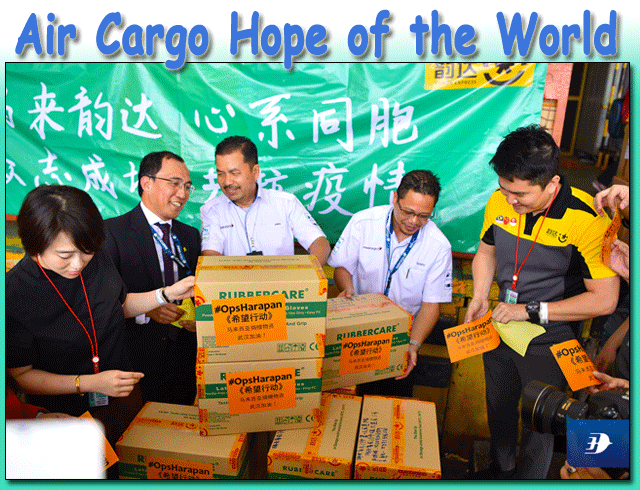 Workers prepared a shipment of rubber gloves, protective facemasks, and other medical equipment, that were shipped in February from Kuala Lumpur to Shanghai by Malaysian Airlines Cargo to assist aid workers in the Wuhan Coronavirus pandemic.
We hear politicians claim that as COVID-19 infected the world in 2020, that their fast action in stopping flights and closing borders saved countless lives, and much of that is true.
But looking for the real hero of the COVID-19 pandemic, you have to credit air cargo for saving the world.
Think about it.
The only thing that has been airborne in any real tonnage numbers for the past four months have been cargo aircraft including almost every freighter that can take off and land safely, and legions of passenger aircraft repurposed for cargo.
And the only cargo anybody has carried is PPE and hospital equipment and supplies.
In fact, right now cargo people are casting a wary eye on what is still left during the second half of 2020, because very little else is flying.

Usual Suspects Gone Missing

Here in the U.S. and in Europe are reports that the usual suspects flying goods in and out of the China air cargo gravy train have dried up considerably, firstly because most stores are closed and secondly, also in no small measure because of an anti-'Made in China' sentiment rising almost everywhere in the world right now.
But that is another story.

President Xi Called It

Interestingly the country that unleashed COVID-19 also has a politician who best defined the pandemic better than any editorial writer or pundit.
President Xi of China said bluntly in January:
The virus is a demon and we cannot let this demon hide."
But alas here it is early July 2020 and, around the world, billions of people are still living in doubt, awaiting deliverance.

Air Cargo Saves The World

Here from our files and imagination are some pictures of the wonderful, brave and heroic air cargo people all over the world that moved the goods and continue to work around the clock, transporting masks and gloves and medical equipment that have saved the lives of millions.

When There Is No Tomorrow

Truly when there was, and in some cases, continues to be "no tomorrow", air cargo not only did the job, moving medical supplies to every corner of the world, but persists daily, delivering like gangbusters.
Our deepest and most sincere admiration and thanks to everyone who has served and continues this landmark relief effort.
You make us all look good.
We are very proud to be able to capture these moments and are in complete awe of your work as you depict aviation in the most favorable light every day.
God speed everyone, be safe and keep 'em flying!
Geoffrey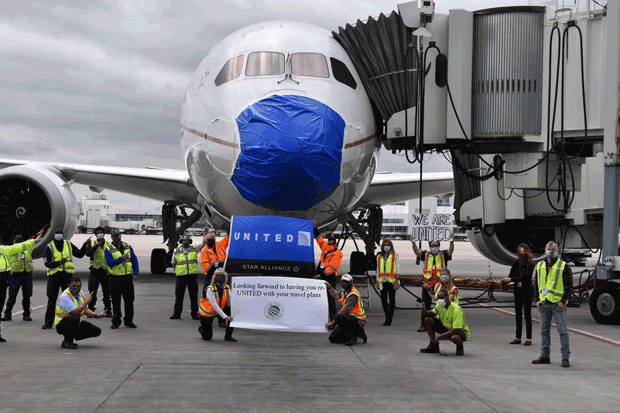 Way To Go . . . Come back to us . . . Rampees at United DEN, and nose job on aircraft says it all!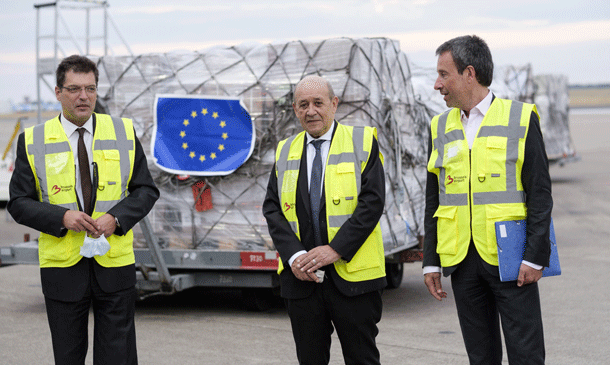 EU Commissioner for Crisis Management Janez Lenarcic (L), the French Minister of Europe and Foreign Affairs Jean-Yves Le Drian (C) and the Belgium Federal Minister for Foreign Affairs and Defense Philippe Goffin (R) open a humanitarian bridge between Belgium and the Democratic Republic of Congo on June 7, 2020 at Brussels Airport, moving 40 tons of humanitarian cargo.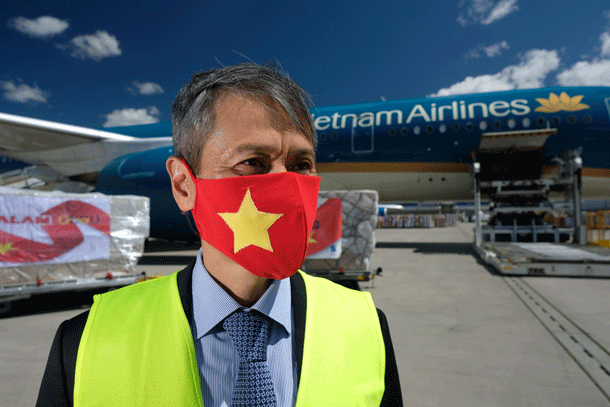 Nguyen Minh Vu, Ambassador of Vietnam, wearing a face flag mask delivers medical protective equipment to Central Germany Via Leipzig Halle International Airport.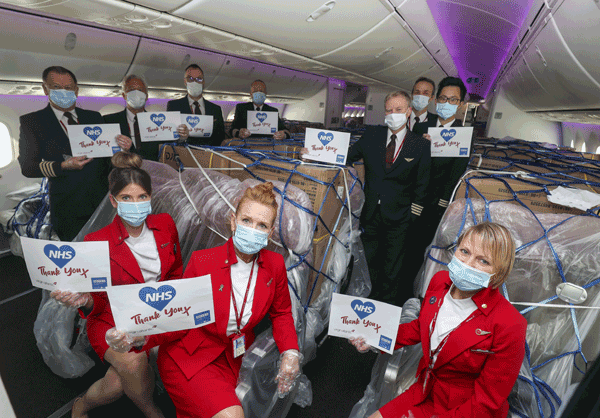 There is something instantly compelling and so wonderfully appealing in this picture of Virgin Atlantic people moving some medical supplies on a cargo in cabin VS flight from PVG to LHR last Friday April 3. Virgin Atlantic teamed up with Virgin Group's not-for-profit foundation, Virgin Unite, to fly these flights, bringing in essential medical supplies and PPE equipment for NHS.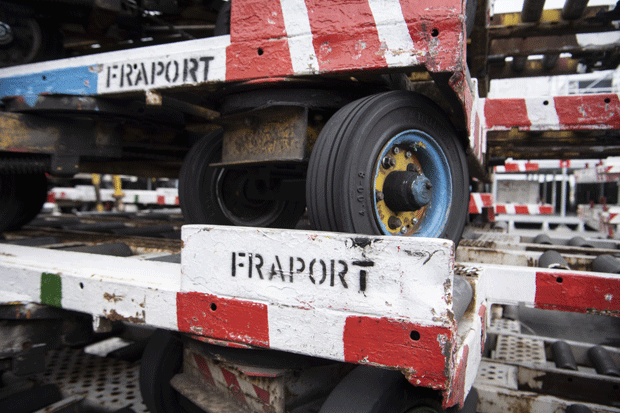 Hello Dollies. Trolleys appear like abstract art awaiting freight containers at Frankfurt Main. Without air cargo, FRA, which was the staging point in 1948 for the Berlin Airlift, would have closed down months ago. Instead every flight these days are saving lives carrying cargo.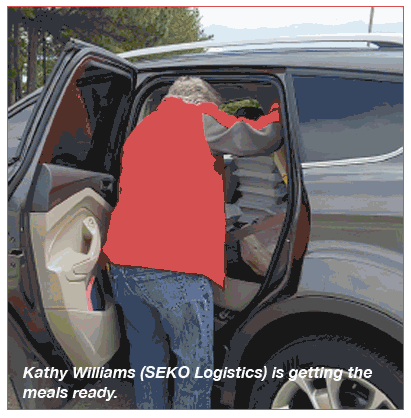 Today when a random act of kindness and caring can often make the difference, Donna Mullins, Mullins International Solutions marshalled a brave band of ladies to venture out with face masks, rubber gloves and proper social distancing to Hartsfield Jackson International Airport (HIJA) in Atlanta, where delivered food to truckers who had nowhere else to go.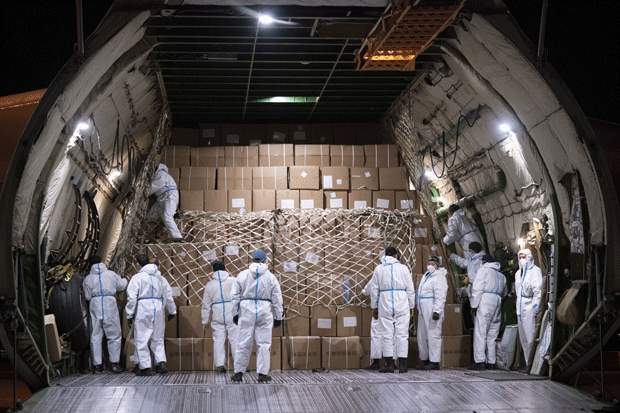 Crew gets ready to unload medical supplies from an Antonov AN-225 at Mirabel Airport in Mirabel, Quebec, Friday, May 1, 2020.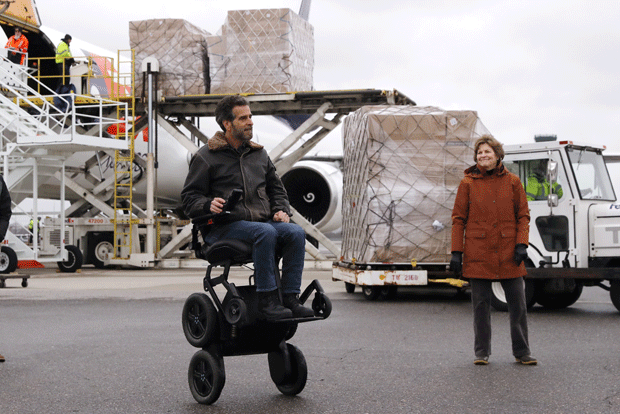 U.S. Senator Jeanne Shaheen (D-New Hampshire), right, looks toward inventor and deep thinker Dean Kamen, aboard his Segway PT, a self-balancing personal transporter scooter, as a planeload of PPE from Shanghai, China, arrives at Manchester-Boston Regional Airport in Manchester, New Hampshire.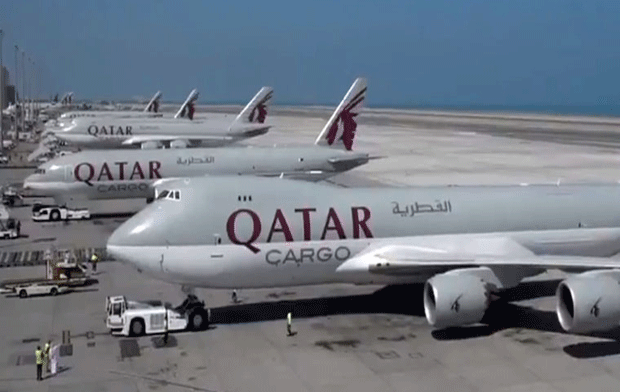 Very early, as COVID-19 first inflicted its global devastation, five Qatar Airways Cargo freighters departed From Doha to China moving 300 tons of medical supplies donated by the airline to support relief efforts in Beijing, Shanghai and Guangzhou as part of Qatar Airways' voluntary offer of free air cargo transportation for medical relief aid organized by Chinese Embassies and Consulates worldwide. From those beginnings during the epidemic, QR has risen steadily to become the number one combination passenger and cargo airline in the world as of June 4.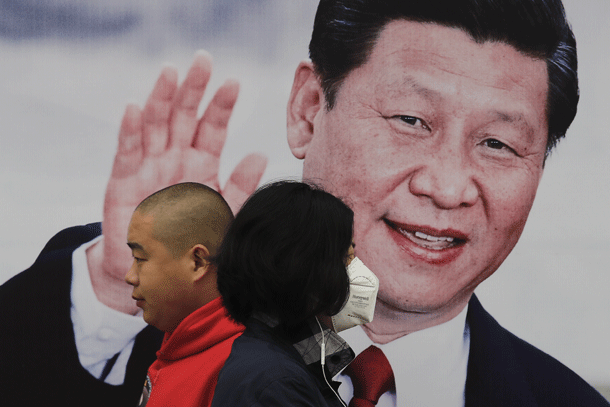 You can say that again . . . "The virus is a demon and we cannot let this demon hide," Chinese President Xi Jinping told WHO head Tedros Ghebreyesus during their January 2020 meeting in Beijing.