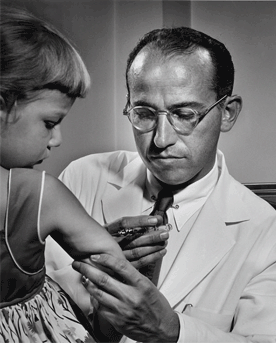 We all share a passionate hope that a vaccine will be found soon to protect the world population from the dreaded COVID-19 virus.
As the world turns, it also yearns for deliverance from a rampaging disease that seemingly cannot be controlled unless we all stay at home in lockdown.
In most parts of the world conducting research and testing vaccines, the research animal being tested (that is closest in composition to a human being) is the rhesus monkey.
It was the rhesus that accelerated Dr. Jonas Salk in his search to develop and then perfect a polio vaccine in the 1950s.

Controversial Cargo

But this is 2020, and while the need has risen 100-fold to find a cure for COVID-19, the use of live animals—especially monkeys—has become so controversial amongst people in general and animal rights activists in particular that not one airline in the world will move these animals from their natural habitats in India, Pakistan, and China to advanced research laboratories elsewhere.
This is not to say monkeys are not still flying, and in many cases making the ultimate sacrifice for mankind.
This article is to elucidate on what has happened from the ramp on up into the sky over the years and how medical science is maintaining its supply of these animals during an international race to save mankind.

Grimm Revelations

The American Association for the Advancement of Science (AAAS) reporter David Grimm noted that "biomedical science has been unsuccessful in its efforts to force airlines to transport nonhuman primates and other research animals."
Matthew Bailey, President of the National Association for Biomedical Research (NABR), told Mr. Grimm:
"The prohibition on the carriage of research animals slowed down the progress of essential and life-saving biomedical research that is necessary for drugs, treatments, cures, and the prevention of disease."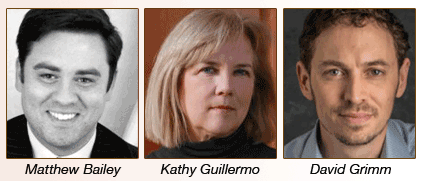 Although the above quotes were part of a 2018 story, Mr. Grimm confirmed this week that "nothing has changed on the international airline front, in terms of live animals acceptance for shipping."
In his earlier writing, Grimm noted the views of Kathy Guillermo, a senior vice president at Norfolk, Virginia–based, People for the Ethical Treatment of Animals (PETA), which for years had been putting pressure on airlines to end these flights.
"For the record, commercial air carriers increasingly refused to fly research animals for more than two decades before the final shutdown," David Grimm said.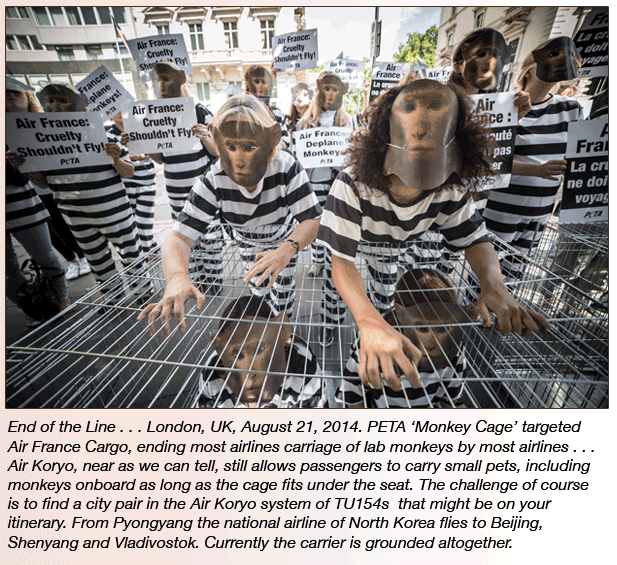 The PETA Punch

"Animal rights groups in the United Kingdom first began campaigns in the 1990s, protesting at airports against the transport of monkeys and other nonhuman primates.
"PETA began its own offensive in the United States about ten years ago, staging airport protests and asking its supporters to bombard airlines with calls and emails.
"United Airlines, which stopped transporting research animals in 2013, has stated it did so because it became the target of animal rights groups and was worried about the safety of its passengers.
"One of the last holdouts—Russian carrier AirBridgeCargo—stopped transporting nonhuman primates in 2018, after 200,000 people emailed the company as part of a PETA campaign.
"Today, almost every major airline has a policy against transporting nonhuman primates—and in most cases, any animals—for scientific research."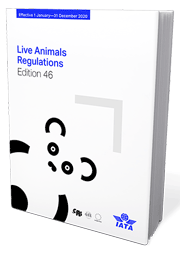 IATA Spells it All Out

An airline source told FT:
"Generally speaking, most airlines categorize rhesus monkeys as CITES 2 and under lab purposes, approved for shipments under the circumstance of only for breeding & cloning.
"Most carriers only accept primates zoo to zoo and do not accept live shipments for lab or trade.
"Basically, all information pertaining to live animals is public and easily available in the IATA Live Animal Regulation Manual that lists individual airline rules, regulations restrictions, and other pertinent information."

USA No-Fly Zone

Inside the United States, labs and companies must transport nonhuman primates by truck, because airlines refuse to ship them domestically.
During the past few years the move has been to build labs in countries where the animals live.
For example, Mauritius has been inviting researchers to come there to study its large population of macaques so that they don't have to deal with issues transporting the animals.

First Airborne Lab Animals

FlyingTypers has been covering the air cargo beat since 1972, so we have been sharing information with the industry for 50 years.
Here are a couple stories from our files shared here for the first time.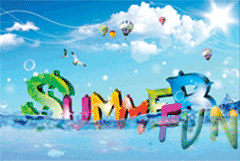 Freddie Laker

Most people know that the late Sir Freddie Laker founded Laker Airways, the first passenger discount big hauler (DC-10s) that leaped across the pond from UK to USA.
Laker was one of a small group of colorful airline entrepreneurs who dreamed big dreams and moved the entire industry in the process.
When Laker Airways launched transatlantic Skytrain flights in 1977, charging as little as $135 one-way to fly from New York to Great Britain, there was Sir Freddie, his armed folded at the ladder of his DC-10, looking into the camera, saying:
"I think it is absolutely outrageous what the big carriers charge to fly—and Laker Airways is going to change that."
Laker was the first budget airline.
Sir Freddie Laker was Herb Kelleher, Richard Branson, David Neeleman, and Michael O'Leary before any of those glorious mavericks came along and changed the airline business.
Later, Branson even credited Laker for some of the success of Virgin Atlantic.
"Perhaps his best advice was to make sure that I took British Airways to court before they bankrupted us—not after, as he (Laker) did."
But Sir Freddie was much more than an airline builder.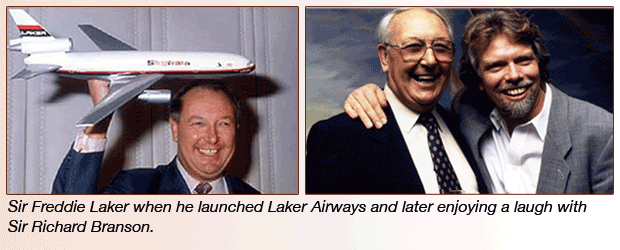 Freddie Recalled Monkeys & Polio

We once rode together in a car and talked, and Sir Freddie recalled how he got his start in the airline business as a cargo pilot carrying rhesus monkeys into the UK aboard converted Lancaster bombers during the early 1950s.
"They were using the animals to come up with a cure for polio," Sir Freddie said.
"Those monkeys pissed all the way from India to London," he added.
"We used to have two stewards in full underwater wet suits with goggles to look after the animals," he mused.
The last time I saw Sir Freddie was at a farewell party in Miami for George Batchelor.
I asked him what he was doing and he smiled and said: "no more monkeys, now my monkeys are all in suits as we are flying gamblers to the Cayman Islands."

Meantime on the Ground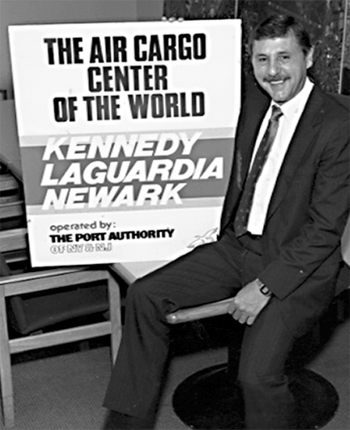 Jim Larsen is retired and living these days with his wife Annette in Lakehurst, New Jersey, the place where the Hindenburg crash-landed in 1937, ending lighter-than-air dirigible travel forever. But for many years he was the first great air cargo development manager (after Pete Spaulding) at the Port Authority of New York & New Jersey.
Jim is a true hero of 911. He saved lives, guiding colleagues, including a handicapped co-worker, walking down from his office on the 65th floor of One World Trade Center before the building collapsed and wrote about it here.
Jim began his airline career as a "Ramp Rat" (it's now more politically correct to say "Rampee") back in the 1950s in New York.
Here he recalls:
"I was working as a baggage handler at Eastern Airlines before joining Seaboard World Airlines, and the airline had contracted to transport rhesus monkeys from New Delhi, India, to New York City, where they were being used in research which led to the development of a vaccine to eliminate polio.
"The four-engine propeller aircraft Super Constellation would carry a few hundred monkeys on each run.
"A round trip from New York to Delhi would take approximately six days if there were no unscheduled maintenance stops.
"Because of the length of the trip in addition to the normal flight crew, a monkey handler was required to feed and water the animals in flight."

Nowhere to Run, Nowhere to Hide

"Being locked up with animals who initially smelled bad and got worse as the trip progressed was pretty trying on the handlers, who would basically stay drunk for the entire trip, but they served their purpose.
"Trouble was that when the flights arrived at Idlewild Airport (later named JFK), the aircraft would have to be inspected by the animal health people and if any monkeys were found dead the aircraft would be quarantined until the health people could determine the cause of death, which in most instances was due to the stress of the long trip.
"Once released, the aircraft would be cleaned, serviced, stocked with an ample supply of booze for the handler and on its way back to India for another load."

One Way to Get Past Quarantine

"On the departure of one of these flights the duty manager called the monkey handler aside and said, "On the next arrival I don't want to see any dead monkeys." The handler assured him there would be none and off they went.
"Six days later the aircraft arrived back at Idlewild and to everyone's surprise there were no dead monkeys.
"The manager congratulated the handler, and everyone congratulated each other until the phones started ringing off the hook."

Ignominious Unhappy Landing

"Calls from all the towns on the approach into IDL complaining about dead monkeys landing in their yards, on houses, and on cars went on at the cargo shed all day long.
"Turns out the handler—following the manager's instructions—had opened the passenger door and thrown the dead monkeys out on approach to Idlewild," Jim Larsen said.
"Looking back, one thing stands out about those early days and that is that air cargo had little or no rules.
"You did what you thought was right.
"Sometimes it worked and sometimes it didn't, but if you were not open to new ideas the industry would not have grown to what it is today," Jim said wistfully.


Animal Rights

Meantime the Animal Rights Institute (www.awionline.org) is keenly monitoring and advancing every technique in the physical and social handling of lab monkeys, including improved techniques in among other things, training adult male rhesus monkeys to actively cooperate during in-home cage venipuncture, and social enhancement for aged rhesus monkeys who have lived singly for many years.

Monkeys Join the Military

One answer to access for research on rhesus monkeys could be the U.S. Military, and specifically an organization of the U.S. Navy, NAMRU (Naval Medical Research Unit), which operates labs in several overseas locations including Thailand, Vietnam, Laos, and elsewhere.
Presumably, with access to their fleet of aircraft the U.S. Navy could also move monkeys for experiments into the mainland as well.
NAMRU has been quite effective in developing vaccines for cholera, dengue fever, malaria and rubella.
NAMRU imported the rhesus monkeys for breeding in Maryland.
In preparation for the manned United States Space program, NAMRU provided a squirrel monkey named Miss Baker and a rhesus named Miss Able that were blasted into space in May 1959, paving the way for the astronauts.
A recent announcement on the progress of developing an inoculation for COVID-19 from the National Institute of Health notes that research by NIH and Oxford University (UK) showed definite progress against the virus in a half-dozen research monkeys.

Monkeys in Isolation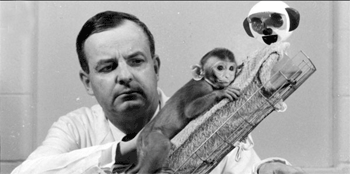 An early use of rhesus monkeys by humans for research was conducted by Harry Frederick Harlow (October 31, 1905–December 6, 1981) an American psychologist.
Beginning in 1930, Harlow used rhesus monkeys to conduct studies on maternal-separation, dependency needs, and social isolation.
The study manifested the importance of caregiving and companionship to social and cognitive development.
According to Wikipedia, "some researchers cite the experiments as a factor in the rise of the animal liberation movement in the United States."
A Review of General Psychology survey published in 2002 ranked Harlow as the 26th most cited psychologist of the 20th century.

Monkey See, Monkey Do

As much of the world's population remains in some form of quarantine from the COVID-19 virus, the irony of Harlow's experiments regarding social isolation should not be lost on our readers. The impact of quarantine on humans can be compared to the impact on the monkeys Dr. Harlow studied 90 years ago.
COVID-19 has proven devastating to seniors isolated from family and loved ones, and we have yet to see the long-term effects on children's social and cognitive development as they continue to be isolated from their peers in schools and play situations.

The Last Words

I've have always wondered why on earth did we decide to describe our separation from each other as "social" distancing.
What in the hell is social about isolation, and being parted from our business and friends and places that are familiar and loved?
We should learn from the monkeys. The sooner physical distancing is a thing of the past, the better.
Geoffrey