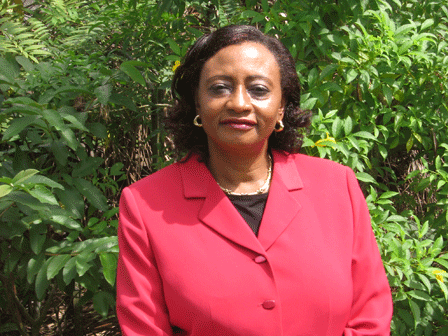 Who better to know the load Lucy carries besides her faithful "handbag" as she often calls me?
I am Francesca Belle Ntuba, daughter of Lucy Ntuba.
I have been present several times to watch her team and her at work, and have even accompanied her a few times to Switzerland for training courses.
Like recently when we went to Zurich, Switzerland, during which I had the privilege of meeting Swiss staff from all over the world, and even got to visit the headquarters of Swiss WorldCargo.
Lucy's shoes are indeed quite heavy as the Cargo Manager for Swiss WorldCargo Cameroon.
Walking in Lucy's shoes, a typical workday begins as she vigilantly finds her way through the frantic traffic of the city of Yaoundé to get to her office.
Without a minute to spare, she organizes her desk, checks her agenda and gets to work. Her work consists mainly of outdoor sales, administrative tasks and general supervision of indoor sales.
Some duties her work entails include: arranging appointments to see clients taking along statistics of their performance to evaluate their business with the company. And also, finding out if they are working with other airlines and trying to see if they can increase their business with the company. Staying in touch with clients to ensure that they are obtaining maximum performance on flights and that they are receiving good customer service by requesting feedback from them regularly. Evaluating the weekly bookings on the various flights.
And if she finds out that the capacity is not maximized, she looks for other opportunities, contacting companies that are not in collaboration with the company to see if they have any freight and staying in touch with the diplomatic nation in Yaoundé, to get first hand information when new business is coming from different countries.
Besides relentlessly seeking more freight, she also takes care of other administrative tasks.
In charge of the cargo stations at Douala and Yaoundé (the economic capital and the capital respectively), she shuttles between the two cities regularly. It is a drive of about 3 hours covering a distance of approximately 242km on a single carriageway during which one can admire the beautiful scenery and also notice the transportation of small-scale cargo loaded on the rack of buses.
This drive takes her and not many other people two and a half hours. With the frenzied driving, vigilance is key. Arriving after such a strenuous trip, she goes to work immediately.
Whether in Douala or Yaoundé, she is reachable at all times by the staff thanks to the wonders of technology.
As concerns the cargo staff, there are two in Douala and one in Yaoundé with Lucy, and together, they form a highly motivated team.
Lucy emphasizes a lot on teamwork since to her, TEAM stands for "Together Everyone Achieves More".
And altogether, they share their challenges as she does her best to be supportive.
A little while ago, there was a change of aircraft for a couple of months and it was quite a challenge for the clients and even more for the staff because the aircraft had less capacity. Quite often, they had the fear of losing their clients completely because they could no longer satisfy their demands. However, due to the trust they built with the clients and working as a team, they were able to survive the storm.
Accepting the irrefutable fact that life as a woman in a male dominated world is one full of challenges, hasn't stopped her from doing her work with tenacity. As a woman in a managerial position in Cameroon, she constantly has to prove herself to earn respect in the business environment.
It is ironic because people think they can intimidate and manipulate her because she's a woman, even on the road while driving, but they eventually learn not to underestimate all women.
It is sometimes hard to get appointments with new enterprises especially when they are informed that the manager is a woman, but being the persistent woman she is, she always gets what she wants.
When you say 'no' to Lucy, you've given her a challenge and she doesn't give up until she receives a 'yes'.
Funny enough, even when we as her children want something and she says 'no', though it is her right as our parent, she makes sure she gets us to understand why she said so and eventually, we end up accepting that we can do without.
Another challenge she faces is the erratic "African time" which for those who don't know is usually about an hour after the designated time.
Although deadlines have been set for the acceptance, some clients still tend to arrive late.
"When I see pallets of pineapples, handicrafts, personal effects fully built on the flight, it brings such joy and satisfaction to me, that it neutralizes all the challenges I have faced in order to get there," says Lucy.
There is always fulfillment in a job well done.
When she sees full flights, maximum capacity being utilized, wins business after a sales call and overcomes the numerous challenges she comes across, the fulfillment she gets is worthwhile to her.
Lucy is a very charismatic person, loves meeting new people and indeed has good public relations skills, which are very essential in a job like hers.
No matter the circumstance, she can create a fun ambiance whether it is by forming a song about the situation or through jokes and teasing.
She's also a very persuasive person. Recently, I had the opportunity to witness a meeting between her and a client who had some complaints because his cargo had been neglected which led to some loss.
She handled the situation not only professionally, but showed genuine concern, reassured him she would take measures in order to make sure it wouldn't happen again and even ended up persuading him to increase his business with the company.
You would think she was born with this career in mind but actually, her dream had always been to become a manager in a private enterprise since it is known to be orderly and disciplined, or to work for an international organization.
When she returned to Cameroon from the UK with a bachelor's degree in Sociology, Masters in Human resources and management, after working for the British council as a program officer arranging training for managers from third world countries, her very first job was for an airline.
This was a job she went into out of curiosity, with the intention of staying for a short while, but as she was told and has learned thus far, the airline business is indeed very contagious.
Being the daughter of someone working in the airline business I would have to say has been quite an adventure… and like every adventure, you must encounter the not so pleasant experiences.
The most significant of these would have to be the stress she goes through, which I share.
But of course, there is the rewarding opportunity of traveling; which is one of my passions.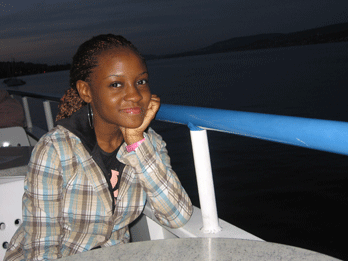 And I appreciate the knowledge I have acquired through this adventure. I intend to follow in my mother's footsteps as concerns her tenacity and other qualities, but I'm more of a flip-flops person; I don't do heavy shoes so much.
But seriously, as maximizing the capacity on flights is important, I fervently believe in making the best of all our talents and potential.
So after studying International Studies along with Creative Writing, I intend to study Communication and Sociology and achieve something worthwhile in this world. I could only wish to be able to fill shoes like Lucy's someday.
She carries them with such ease and as her faithful handbag, I can't help but be amazed at how she does it all.
And despite their already heavy weight, she continues her daily hunt for more and more freight.
Belle Ntuba

(Editors Note: The first thing we did after reading this is decide that if we could convince this young lady to send reports of air cargo out of Africa to our readership then all of us would have a big leg up on the action there. Belle said yes, so stay tuned.)