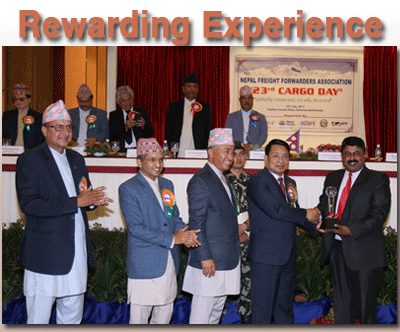 Got to hand it to you . . . Right Honorable Vice President of Nepal Mr. Nanda Bahadur Pun says thanks to Qatar Airways Country Manager Nepal Mr. Jayaprakash Nair (right) as Nepal Freight Forwarders Association recognized Qatar Airways Cargo as top export tonnage airline serving the country for 2016.
The recognition came as part of Nepal Cargo Day celebrations in Kathmandu recently.
QR Cargo in fact has held top rank in Nepal export tonnage for the past nine years.
Qatar Airways launched its first passenger flight to Kathmandu in 1995 and has since increased its services from two flights to 21 Airbus A320 flights serving Kathmandu, offering more than 30 tons of belly lift weekly.
October 4-8, 2017
For More Info. Click here
To Register Click here