REPRINTED FROM FLYINGTYPERS JANUARY 17, 2012

Good guy Richard "Dick" Dougherty, Project Manager – EDI American Airlines Cargo eBusiness Strategy, has stepped down from his post at American Airlines Cargo.
Aside from his responsibilities at AA Cargo, Dick was heavily involved with C2K in a very fundamental fashion; he was both a participant and a big thinker, as well as being the guy who meticulously took the minutes of each meeting.
"After 68 years on earth, 47 years in the airline industry—17 years at Pacific Southwest Airlines (PSA), 3 years at Capitol Airlines, 4 years at Aspen Airways and 23 years at American Airlines, I am retiring," Dick said simply… although it seems there's no way to simplify the richness of that lengthy experience.
"My wife Sharon (who retired from Lockheed Martin last month) and I plan to travel, annoy our granddaughters and generally enjoy life.
"Both of us have been evaluating doing some contracting work in our respective fields to keep involved, but we have no immediate plans right now.
"While I am looking forward to this next chapter, I am going to miss everyone I've worked with over the past decades," Dick Dougherty concluded.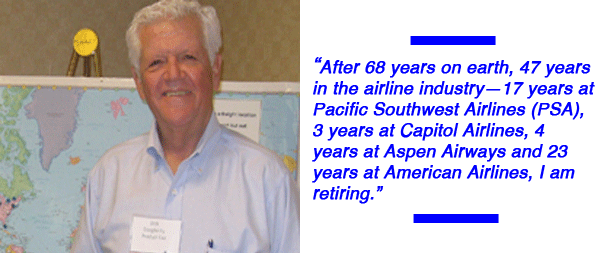 Dave Brooks, President of American Airlines Cargo, had this to say:
"I've worked with Dick for over 20 years, and he's one of those guys who everybody wants on their project.
"Even though his current expertise has been helping AA and the entire industry with the nuts and bolts of performance measurement, he brought to the table over 45 years of experience in all aspects of the commercial aviation industry.
"We wish him the very best in his well-deserved retirement; we'll probably need to hire 4 or 5 guys to replace him!"
To that we add many happen returns and all good wishes.
dick@dickdougherty.com
Geoffrey/Flossie