If you like old airplanes run, don't walk to YouTube and look up Mikey McBryan and watch how this enterprising young man pulled a derelict C-47 (DC-3) back from the brink in about 100 days and had it air-worthy and airborne for the D-Day celebrations this past June 6th.
Poke around a bit more and discover Mikey is at it again, this time having his 'Plane Savers' initiative work its wonders on a replica tri-wing Fokker aircraft made famous during WWI by Baron Manfred Von Richthofen, the Red Baron leader of the famed WWI German aerial fighting force, The Flying Circus.

Too Cool For School

The cool thing about 'Plane Savers' is that Mikey gets it about the time people have to watch this sort of program and keeps his episodes to about 12 to 17 minutes or less.
So take a pause in your day's occupation and watch these dedicated folks bring back a vintage DC-3 and take people for joy rides aboard a back to the future history living aircraft.

Ice Pilots

All of this comes out of a wonderful multi-year series that at this point has run on television worldwide titled 'Ice Pilots'.
But Mikey, who grew in TV production, watching and starring in 'Ice Pilots' learned his lessons well as he caresses the supple and elegant DC-3s and other aircraft in the Buffalo fleet, with his selfie cameras and Go Pros in every shot of his self-produced new series 'Plane Savers' on Youtube.

Must See TV A Couple Clicks Away

It is just wonderful, raw, direct, off the shoulder straight to your heart television.
Maybe the best thing in this reality series, in all its forms, are the people.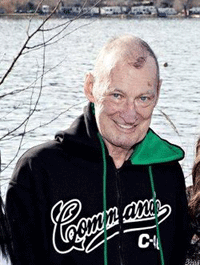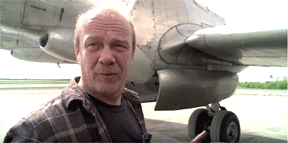 Arnie & Chuck

'Ice pilots', in addition to Buffalo Joe, Mikey and Uncle Rod McBryan and a squad of eager wanna be pilots who work the cargo ramp, humping and running consignments in subzero temps for a shot at the right seat, also features a true mentor of the aviation arts and a marquee superstar pilot, with the face and smile that could have accelerated global warming, the late great Arnie Schreder (above left).
Arnie teaching youngsters in the art of piloting a C-46, DC-4 or DC-3 is a beautiful thing to behold.
There is also a fabulous larger than life mechanical engineer and total curmudgeon named Chuck Adams (above right), an always laughably grumpy guy who can fix any moving part.
Chuck, it should be mentioned, has made at least one growling cameo appearance aboard 'Plane Savers'.

Alive & Well In Yellowknife

We also loved that the 'Plane Savers' DC-3 restoration project put some older Buffalo Airways mechanical wizards with an eager group of students from École Nationale d'Aérotechnique (ENA), a world class Canadian teaching experience for the next generation.
So here was Mikey and company with a total ground up effort, mentoring the next generation with everyone including us, as viewers along the way.

His Gal Friday Gal for All Seasons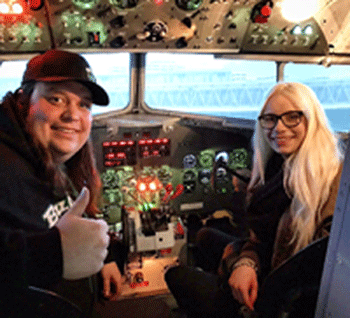 Now the new 'Plane Savers' has brought forward Mikey's partner, the indefatigable Stella Heidorn, pictured here with Mikey.
Stella, who was also very much part of the earlier D-3 project, is from Germany so I suppose she will keep busy as the new 'Plane Savers' continues as Summer 2019 ends, reading aloud instructions on rebuilding a Fokker Tri-plane from information that remains even today mostly in German.
Hooray for the eager bunch in Yellowknife, bringing back yet another great aircraft.
Good for us as well for the opportunity to be an eyewitness to this gloriously spirited group of people, who in addition to being a drop-dead, gorgeous unique air cargo resource serving northern Canada, also celebrate and lift the life experience to another level.
Geoffrey