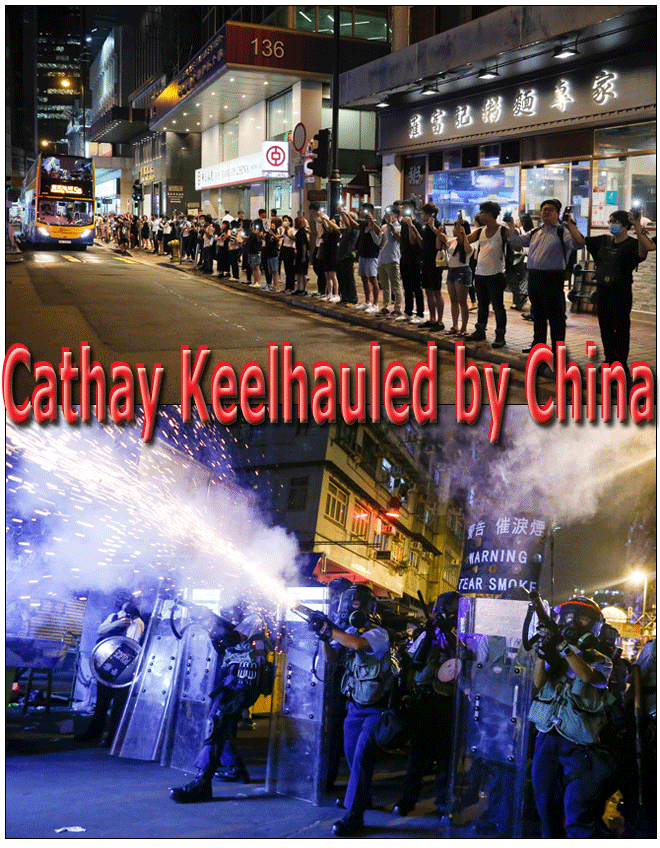 All Together Now—Uncanny occurrence last Friday August 23, almost 30 years to the day when people in the Baltic States formed a human chain and sang against Soviet Russia accelerating the communist downfall. In Hong Kong, protesters, also singing, formed a human chain across Kowloon.
Mass demonstrations, which began in June 2019 over a now-suspended extradition bill to China, continued one more weekend in Hong Kong.
---
Rarely has Cathay Pacific been taken to task, but that is exactly what happened when cabin crew got involved in protests, and employees were arrested a week ago.
Mainland Communist China holding 30% of Cathay shares, unleashed its full ire against Cathay and took down the carrier long-regarded as the royalty of Hong Kong business, humiliating and forcing its two top executives to resign.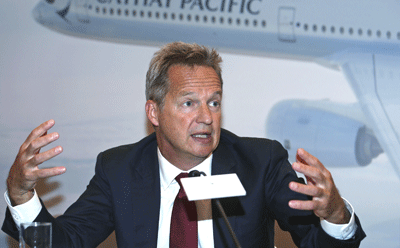 Not High On The Hogg. News that sent shock waves around the world—Cathay Pacific CEO Rupert Hogg was forced out, resigning Friday, August 16, 2019, following pressure by Beijing on the Hong Kong carrier over participation by some of its employees in anti-government protests.
That move shouts loud and clear, sending an unmistakable signal that corporate Hong Kong better knuckle under to the will of Mainland China.
"There is an old saying," Mark Simon of Next Media Hong Kong told British Television's Channel 4 News, "you kill the chickens to scare the monkeys.
"In this case they killed the monkey to scare all the chickens.
"The idea that Cathay can get keelhauled across the China media scape lets everyone else know to run to the hills."
While firms continue under pressure to toe the government line, the protests are still going on, as you read this story.
Mark Simon described as 'the loud American' adds:
"With all the talk we hear about China, we tend to forget that they are a Marxist-Leninist regime.
"Marxist, the economic part; Leninist, is the political," Mark Simon said.
So far no comment, other than seemingly falling into line, from many of the 'Hongs' in Hong Kong, including Swire, the parent of Cathay Pacific, Jardines, Hutchinsons, HSBC and others.
"There is an unseasonal chill in the air, a climate of fear," Jonathan Miller of Channel Four said, adding:
"The laws that set Hong Kong apart and give companies their corporate advantage are threatened now that big business in Hong Kong know they have to kiss the ring of Xi Jinping."
Meantime down on the ground as business closed last week, Hong Kong protesters formed a human chain the length of the island through Kowloon and into the northern territories up to the border with Mainland China after authorities banned airport protests.
As YouTube, Twitter, Facebook and other social media suffered large blocks of content shutdown, the people of Hong Kong continued their massive peaceful protests.
Geoffrey