British International Freight Association (BIFA) Heathrow Regional Members Meeting is set for October 25 at 14:00 at BIFA, Redfern House, Browells Lane, Feltham. TW13 7EP.


"Members and ASM users will get information on BIFA activity with HM Revenue and Customs and other governmental/regulatory bodies at national level," reports BIFA Director General Robert "Peachy" Keen.
"Attendees will have an opportunity for a two-way dialogue between members and the Association and to raise issues of concern or interest.
"Prior notification to attend is needed so if you are interested contact your Consultant to BIFA, Colin Young at young_colin.t21@btinternet.com."
---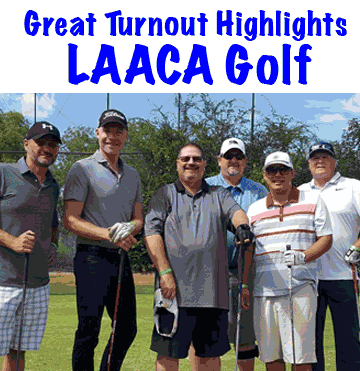 It is an annual event and money is raised to continue Los Angeles Air Cargo Club (LAACA) community outreach in several areas.
But the underlying fellowship and fun of this LAACA 28th Annual Golf Tournament, held last month at El Dorado Municipal Golf Course in Long Beach, is evident on the faces of the Southern California air cargo people who celebrated each other and our industry.
"The 'Fiesta Buffet' after the Tournament, Award Ceremony, and Raffles/Give-a-ways were a complete success," reports Sherri Dunlap (LAACA Treasurer), Harvey Beesen, and Jim Stone (both LAACA Board members and past Presidents).
"Everybody worked hard to make this an event to remember," Sherri Dunlap declared.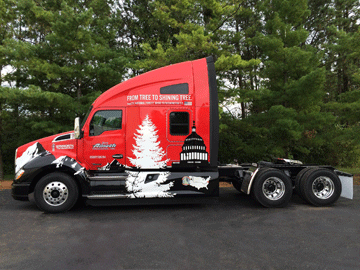 From Tree To Shining Tree
A Kenworth T680 Advantage will transport the 53rd U.S. Capitol Christmas Tree from the November 8 tree-cutting in the Kootenai National Forest in Montana. The trip covers 15 community celebrations during a more than 2,000-mile journey en route to the tree-lighting ceremony in Washington, D.C., in early December.
Big Sky. Big Tree. Big Journey.
The T680 also includes the logo of Montana-based Whitewood Transport.
The company was selected as the hauler for this year's tree because of its excellent reputation in Montana's trucking industry, according to Bruce Ward, President of Choose Outdoors, a nonprofit organization that assists the U.S. Forest Service with coordinating the annual tour.
Whitewood Transport is a recent multiple-year recipient of the Motor Carrier of the Year (including the 2016 award) from the Motor Carriers of Montana.
Dinner For One, Please, James
The T680 is a 76-inch sleeper equipped with the premium "Driver's Studio" option package, which includes the Diamond VIT interior, 180-degree swivel passenger seat and rotating table to accommodate two people, drawer-style refrigerator, convenient space ideal for a microwave, premium audio package, and swivel TV mount for up to a 28-inch flat screen TV. The Driver's Studio also offers a full-size wardrobe space for hanging clothes, multiple storage drawers, large storage space under the lower bunk, and 8-inch thick, luxury pocket coil mattress.
The driver is always at home….
More click here.
---