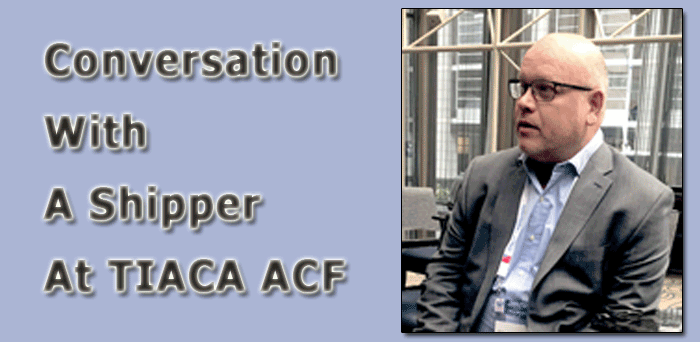 The old joke is that at an air cargo trade show usually the only shipper that you see out walking near the display stands is a meeting session guest speaker looking for the bathroom.
We are sitting inside the host hotel at TIACA Toronto taking a quick lunch break in a soaring glass ceiling room with a view of the sky above.
Although it is cloudy, the room is beautiful while a few of us enjoy a break. We note two businessmen from the TIACA event also on a break each seated at a table for one, while talking to each other.
Some words lifted into the air land in our ears about one of them being a shipper.
As the two diners ready to leave, we identify ourselves and ask the shipper named Alex Nieuwpoort who is Vice President, Supply Chain SMS & Managing Director, Santrade Ltd., based in Lucerne, Switzerland, what is his take on TIACA 2018?
"Our company Sandvik ships industrial tools to companies that are active in the metal cutting industry, including aerospace.
"I am a member of the TIACA Shippers Advisory Committee, attending sessions here.
"Took a meeting with the Board of TIACA yesterday evening," Alex said.
"Good meetings all around.
"I attended a total of four sessions," Alex added, "and thought, looking ahead we might all benefit getting more in depth into content by limiting these very worthwhile discussions to less people on stage.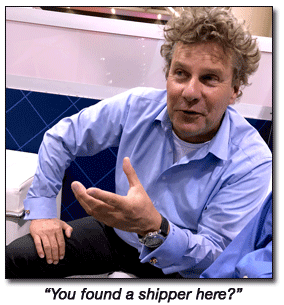 "A panel with five people and a moderator sitting on stage creates a buzz of information for sure, but it also delivers a fragmented, scattered message with shorter impact for including the audience.
"I just think it would be much more beneficial conducting these panels on a more targeted approach, with no more than one or two people discussing issues.
"That circumstance might allow more time to get deeper into topics and also aid the audience to interact fully with the speakers," Mr. Nieuwpoort said.
"Another point is that I am a shipper, and a rare species at this conference.
"My take is that there should be more emphasis to get the views of shippers out at a conference like this one.
"As example, there was a discussion yesterday that invited the shippers' perspective.
"But of the five people on stage, only one panelist was an actual commercial user shipper, although two others were representatives of shippers.
"My take is if you are bannering a topic and calling it a shippers' perspective, that's what the discussion needs to deliver."
After we spoke to this bright, engaging, and most interesting shipper, we could not help but wonder if TIACA might create one or two panels at a future event staffed by shippers only?
As we read it, there are nine shippers that serve as part of the TIACA Shippers Advisory Council.
Shouldn't be too hard to pair a couple of them up with a moderator so that all of us might benefit from hearing the needs, hopes and desires of the target audience.
Geoffrey