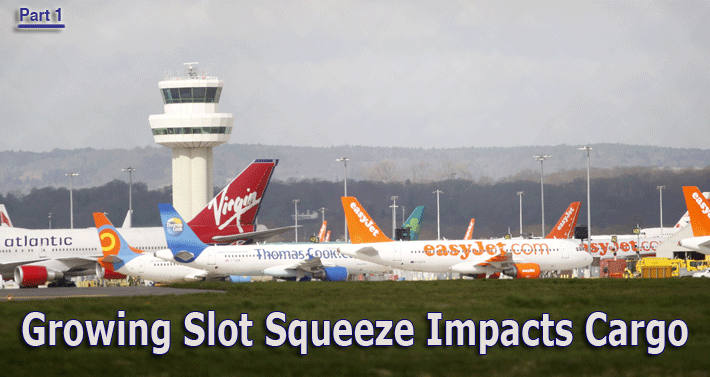 The lack of winter season slots at AMS has forced freighter operators to find alternative airports. It has also put the spotlight on the current critical lack of global airport capacity, a shortage that most analysts only expect to deteriorate in the years ahead and which is already putting the squeeze on all-cargo airlines.
In the first of a three-part series, FlyingTypers report what Europe's shippers think and what steps might be taken to relieve the situation moving forward.

Leisure Versus Freighters

The battle for slots between all-cargo operators and fast-expanding budget leisure airlines will be central to the global debate over airport capacity for the next decade, believes the European Shippers' Council.
Rogier Spoel, Air Transport Policy Manager at ESC, told FlyingTypers that in the next ten years there would be "a fight" between freighter operators and fast-expanding budget airlines. This will pit the rival economic benefits of high-value cargo with its huge economic importance as a wealth multiplier, against leisure airlines catering to populations which desire cheap and regular flights to global destinations on services which often carry limited or no bellyhold cargo.
"Airports are reaching maximum capacity," said Spoel. "Mostly this is to do with physical constraints, but they can no longer expand at the same speed as the growth of aviation as a whole. "We have huge passenger and cargo growth ahead, so we need a full discussion about how to accommodate that to avoid disruptions especially for the cargo market."

Cargo Loses Airport Slots

It is a debate that has already started in earnest. In recent weeks AMS and its slot co-ordinator have conceded that many all-cargo operators will lose slots this winter season, forcing them to find alternatives at secondary airports such as Liege, Maastricht, and Frankfurt Hahn as a result of AMS breaching its annual quota of 500,000 Air Traffic Movements, a figure decided upon within the framework of a locally binding agreement signed in 2008.
Amsterdam is not alone in suffering capacity constraints which are affecting freighter operators. Hong Kong, Paris, Brussels, Chicago, Beijing, Mexico City, Frankfurt, Shanghai, and Heathrow are other major cargo hubs currently suffering from slot shortages.
According to IATA, some 177 airports around the world are currently capacity-constrained, around 100 of which are located in Europe.
But with passenger levels set to double in the next 20 years and strong air cargo growth also predicted, deciding how to allocate limited slots will increasingly become a political and economic debate pitching wider economic concerns against the desires of voters for affordable and regular leisure options.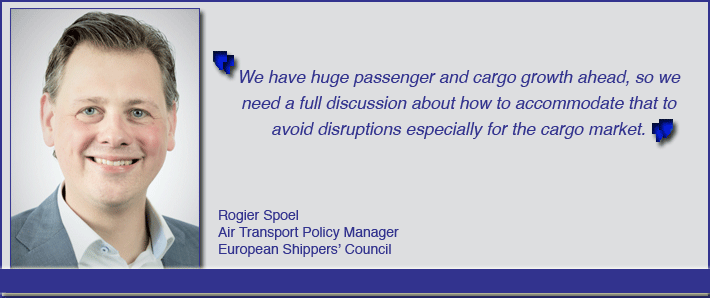 Use It Or Lose It

The AMS cull was largely down to the implementation of 'use it or lose it' guidelines under IATA's 80:20 regulations. IATA's slot guidelines, which part 2 of this series will look at in more detail, state that if an airline uses at least 80% of its allocated slots it assumes historic rights to the slots for the next season. Should it fall under 80%, it automatically loses them.
As Spoel outlines, it is far more difficult for freighter operators to achieve the 80% goal than for passenger airlines.
"When a passenger does not show up on time, passenger airlines will simply close their doors ready for take-off and will keep their time slot," he said.
"This is not the case for full freighters. When cargo is not ready, they simply cannot take off. Also, a full freighter flight is much more complex with uploading/unloading cargo, inspection by customs, safety and security measures. In this respect, quality, not punctuality, is the key for shippers.
"Also, many full freighter flights have difficult flight schedules with multiple stops in one flight - a delay at a certain airport affects their entire flight schedule and, therefore, they are much more vulnerable to losing their time slot.
"This is exactly the case at Schiphol: stuffed full freighters, with a load factor of 95%, are now forced to move out because they have lost their slots.

Have Slots Will Travel

The slots that have become available are picked up by the leisure/low-cost segment. So, flights with a large economic footprint are being replaced by flights with a much smaller one.
"Low-cost carriers are growing so fast they are pushing out certain flights that are more important for an economy."

Carriers React

Multiple carriers have been forced to divert to secondary airports from AMS as a result of the slot shortage. Initial estimates suggested around 20% of AMS' freighter slots would be lost this winter although a November agreement between Carriers AirBridgeCargo and KLM, apparently reached after Russia threatened to close its air space to Dutch carriers, has seen this fall to around 10%.
According to ESC, the problem with diverted flights is the relative quality of service available away from established hubs for carriers.

Secondary Gateway Little Help

"The problem at secondary airports is often a lack of expertise and supply chain know-how," said Spoel.
"The customs regime might not be 24/7 or they don't have state-of-the-art warehousing. Some don't have big enough runways for long-distance fully loaded freighters, some face environmental restrictions and others don't have the right equipment.
"If the trend of cargo operators being forced to these airports continues, shippers feel that a lot of investments need to be made to get them at the same quality levels as major hub.
"Also, secondary airports are often not close to distribution centers, which means more truck movements, which in Europe will add to road congestion."

ESC New Rules

ESC would like to see the IATA 80-20, effectively a guideline, applied globally and in Europe imposed via EU regulations and national rules, addressed to account for the operational variables faced by freighter operators.
Ideally, Spoel would like a 70-30 provision made for full freighter flights but he concedes it is a complex debate.
"We are looking at ways via legislation we can do this," he said. "We're interested to know what the European Commission and IATA thinks about this. If a country has a policy at a certain airport and tries to favor some flights such as freighters, we need to know Europe's stance on this.

What Happens Next

"We need to know what to do in next few years and what tools we have.
"In the next five to 10 years there are plenty of airports in Latin America, Asia and Europe that face slot shortages.
"Changing the game at IATA would help maintain full freighter operations at the major airports."

IATA Passenger Airline Dominance

However, ESC also notes that IATA is dominated by passenger airlines. "They might pose a question 'what is in it for me?'," said Spoel.
"The biggest competitors for the IATA members are low-cost/leisure airlines, not full freighters.
Low-cost/leisure airlines are not IATA members.
"Making room for full freighters in IATA's slot allocation could make the position of passenger airlines stronger vis-à-vis their competition with low-cost/leisure airlines.
"It is important to note that low-cost/leisure airlines do not take any air cargo, not even belly cargo.
"It does not fit in their tight passenger operation schedule.
"Not only are full freighters pushed out, they are also replaced by airplanes with a lot of idle capacity in the low-cost leisure segment.

Peaceful Coexistence?

"One more advantage for full freighter operations over low-cost/leisure is that freight does not use any passenger facilities at the airports, therefore the substantive growth in passengers can be tampered by using the full freighter operation as a buffer at the major airports.
"Full freighters and passenger operations must coexist at the major airports. But let's not forget that freight brings passengers because of the business opportunities it creates."
SkyKing