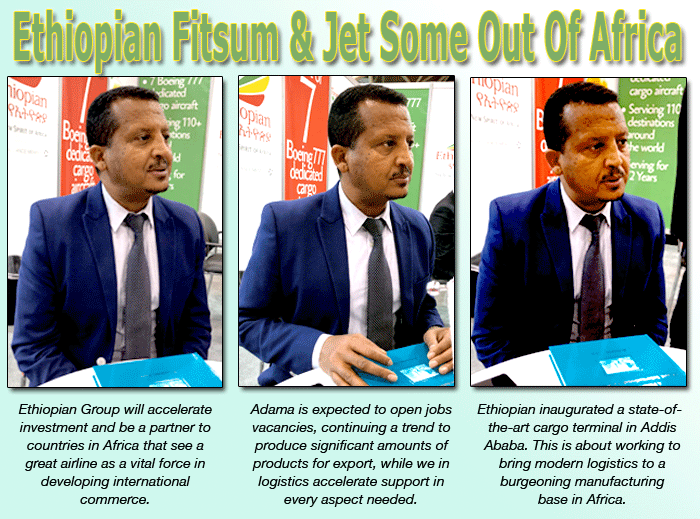 Ethiopian Cargo & Logistics Services Managing Director Fitsum Abadi was the man with a long queue at TIACA Toronto. The emerging national carrier of Africa continues to add partner airlines in countries far and wide across the dark continent, supported by an ambitious growth program that among other things features a joint venture with DHL, the addition of an expanded service offering, and also new advanced long and medium range aircraft joining the ultra modern Ethiopian fleet.
With eight dedicated cargo aircraft, six B777-200F, two B757-200F, and more to come, Ethiopian Cargo and Logistics Services is the largest cargo operator in Africa.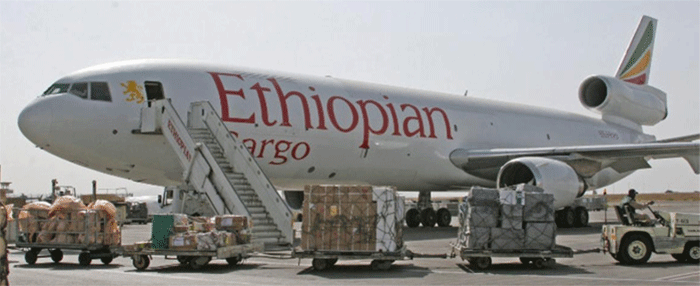 Biggest In Africa

"Just last year Ethiopian inaugurated a state-of-the-art cargo terminal built at its main hub in Addis Ababa that can move 600,000 tons annually.
"That number jumps significantly to about a million tons annual throughput factoring in our total capacity at Addis Ababa."
Vision 2025 Ethiopian Cargo's projection of itself predicts 19 dedicated freighter aircraft (11 B777, four B767-300, and four B737-800) by 2025.
"For us, it is all about growth and expansion as we work to bring modern logistics to a burgeoning manufacturing base in Africa," Fitsum Abadi declared.

DHL Deal

Earlier this year Ethiopian Airlines Cargo & Logistics and DHL reached an agreement to jointly incorporate a logistics service company in Ethiopia.
Ethiopian holds a 51 percent share while DHL own 49 percent in the joint venture logistics company. It makes sense at first glace, if for no other reason than DHL has enjoyed a long and positive shipping arrangement as an Ethiopian Cargo customer, to the tune of about $50 million annually.
"We are seeking to provide seamless solutions to shippers across a multi-modal chain," Fitsum said.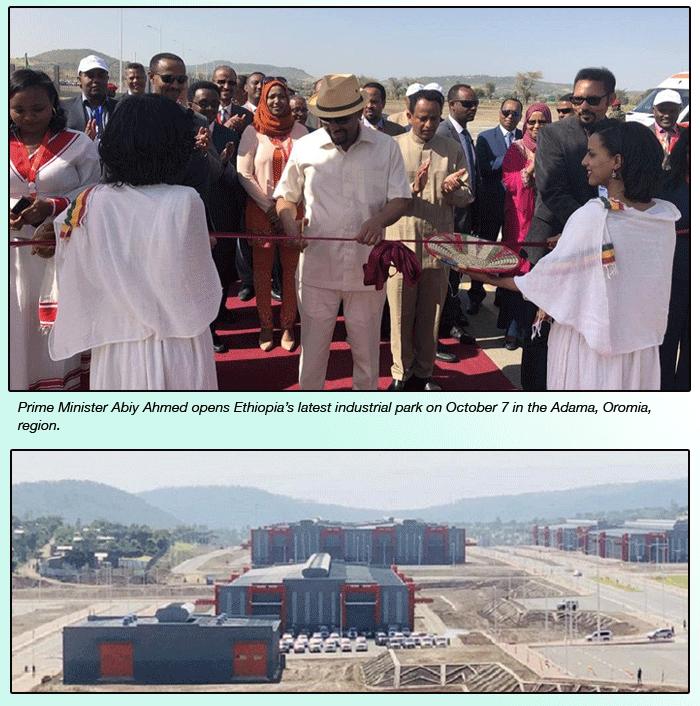 The Industrial Parks Initiative

Straight out of the gate, the JV with offices in Addis Ababa and elsewhere is focused on delivering logistics services to manufacturers in the newly established industrial parks open and building throughout Ethiopia.
Ethiopia has suffered from logistics inefficiencies that the carrier hopes the JV will help eliminate, especially the bottlenecks transporting goods from African manufacturers to and from Djibouti and onto European and American markets.
But key to all of this will be the continued centralization of logistics activity in some 15 industrial parks.
"Adama, which opened October 7, joins others like the flagship Hawassa Industrial Park and the Bole Lemi Industrial Park.
Adama's focus is textiles, apparel, vehicle assembly, and a food-processing cluster.
"It is expected to open jobs vacancies, continuing a trend to produce significant amounts of products for export, while we in logistics accelerate support in every aspect needed."
No doubt that these parks serve as a foundation as Ethiopia drives to become Africa's manufacturing hub.

Pharma When You Need It

Of all the backgrounds you might meet in air cargo today, Fitsum Abadi's, who was proud to be in Toronto, Canada, in October, might be one of the most unique. He came to air cargo as a former performance auditor for hospitals.
Fitsum holds an MBBA from New Hampshire University.
Fitsum is the father to five boys, and lives with his wife, Mekdes, and children, (clockwise) Michael, Biruk, Nathaniel, Ebenezer, and Abrahim.
He admits that while family is the center of his life, "being at an airline is an addiction."

Looking Ahead

Dear reader, if you are starting to think that maybe you missed the collective genius at work in Africa today as Ethiopia and other countries move toward innovative transportation to support a growing manufacturing situation, you'll get no argument from us. We'd just encourage you to stay tuned for more.
"It's all about One Africa-One Sky," Fitsum insists.
"As a country and as a continent we want to be both export and import driven so several forces—both in the private and government sectors—are working toward that goal.
"Of course, we are a continent of rich resources and fertile land so we will continue to emerge, developing our way upward into international commerce.
"Ethiopian Group will accelerate investment and be a partner to countries in Africa that see a great airline as a vital force in developing international commerce.
"We are partnering a new paradigm for Africa," Fitsum Abadi said.
Geoffrey