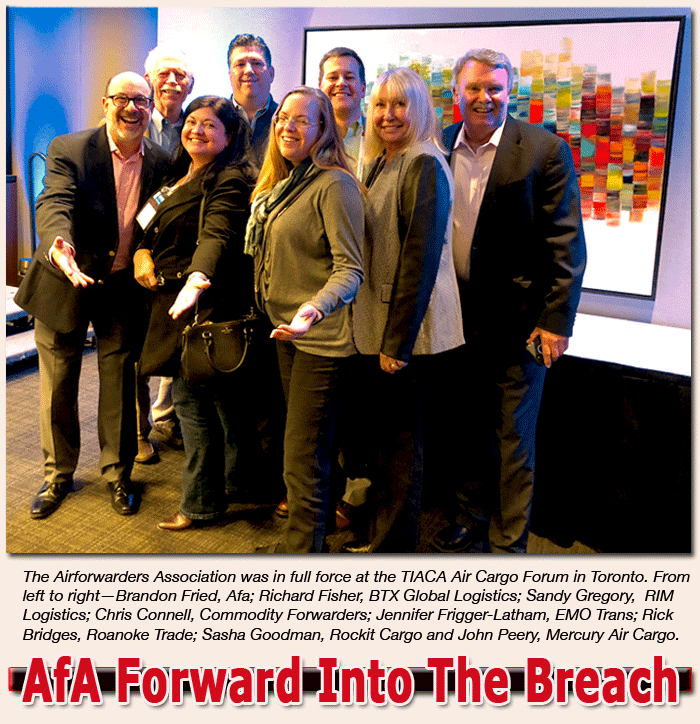 Let it never be said that Brandon Fried and his intrepid band of freight forwarders in America who are members of AfA –Airforwarders Association had any hesitation about staring into the face of the beast, to bring about change.
And what better place to knock down walls then at New York's John F. Kennedy International Airport with its beastly truck queues.

JFK Great Again?

"The regional event on November 13 attracted 120 very knowledgeable and solution-oriented people," Brandon told FlyingTypers, "who want to make JFK great again for cargo.
"During the session, we learned some interesting facts including, that air cargo shipments into JFK over the past decade have dropped 20%, despite significant air cargo industry growth.
"We also learned that there are several reasons for this decrease in volume.
"These include delays caused by challenging highway access (the Van Wyck); aging road infrastructure within the airport, resulting in difficult maneuvering space for today's large trucks; insufficient staffing at cargo handlers; poorly managed peak demand periods; and a failure to successfully leverage technology as a tool in helping to solve the problem," Brandon Fried said.


Spreading The Wealth

"Of course, the group also realized that other cities close by now enjoy flight routes previously reserved just for JFK.
"As a result, these offerings include large planes with generous cargo capacity operating to significant population centers.

Avoiding JFK Altogether

"When faced with the possibility of shipment delays, many forwarders now opt to avoid JFK Airport in favor of other regional facilities such as Boston, Newark, Philadelphia, and Washington, Brandon reports.


The Well Intentioned

"Most important, the session helped continue ongoing communication previously started by well-intentioned groups, including the JFK Air Cargo Association, the Kennedy Airport Airlines Management Council and the JFK Customs Brokers & Forwarders Association.
"Our goal now is to continue the discussion by engaging the New York Port Authority, the New York Economic Development Authority, state senators and of course, Members of Congress in Washington.
"I look forward to personally reporting our progress at an appearance during the JFK Air Cargo Association's luncheon on January 31, 2019," Brandon concluded.
Geoffrey