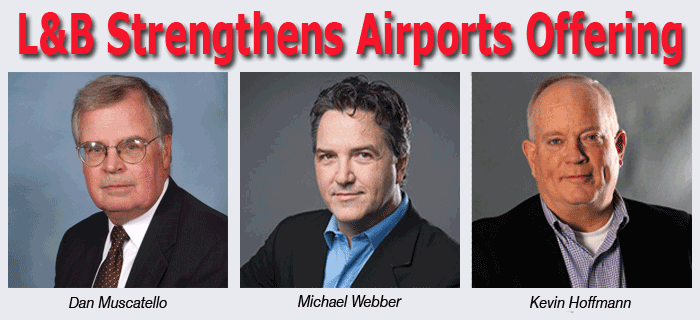 Landrum & Brown (L&B), the global aviation planning and development consultancy based in Cincinnati, Ohio USA believes it has found a solid opportunity in airport air cargo development worldwide and has strengthened its air cargo offering with Kevin Hoffmann who joined the company recently as Senior Managing Consultant.
Mr. Hoffmann joins L&B after concluding a stellar 35-year career with UPS, where he most recently served as airport properties manager, and was a vital force that helped the company open many new markets via carefully planned and executed advanced cargo facilities.

You Can't Beat The Experience

While many competitors lack any full-time consultants dedicated to air cargo, L&B has built a veteran cargo team.


Dan The Man

Dan Muscatello, Managing Director at Landrum & Brown launched L&B's air cargo effort when he joined the firm in 2004, after a career at the New York New Jersey Port Authority.
Dan serves as Emeritus Member of Airports Council International and is also credited with helping to form North America's Air Cargo Committee thirty years ago.

Webber Air Cargo

Michael Webber Associate Vice President at Landrum & Brown joined L&B in 2017.
Mr. Webber, widely known as an airport air cargo expert, began his career in airport marketing in Kansas City.
Michael has been a cargo-focused airport consultant for the past twenty years.
Mr. Webber who also managed cargo affairs for Airports Council International – North America in the wake of 9/11, has served as a consultant for IATA.

The Opportunity

Obviously L&B believes its in-house cargo practice to be a competitive advantage at a time when many U.S. airports are rediscovering the importance of air cargo.
Cumulatively, Muscatello, Hoffmann and Webber represent about a hundred years of aviation industry experience—almost all of it focused on air cargo.
Adding Hoffmann's former portfolio at UPS to the project record of Muscatello and Webber, L&B's cargo practice to date has experience at more than a hundred airports.

The Language of Airports

What keeps all three consultants continuously intrigued we discover, is that this team approaches every airport and its own unique market nuances as air cargo continues to evolve.
"Long gone are several formerly major all-cargo carriers, L&B confides, "including (BAX Global, Emery Worldwide and Kitty Hawk, among them), while Amazon (which had no flight operations less than three years ago) is increasingly impacting demand for on-airport cargo facilities capacity.
"Moreover, L&B is a global firm with a project portfolio that includes many cargo markets that are still in the developing stages."
L&B's air cargo team is part of the firm's Business & Finance group, led by industry veteran, Dan Benzon, formerly of Trillion Aviation.
More: https://www.landrum-brown.com/
Geoffrey