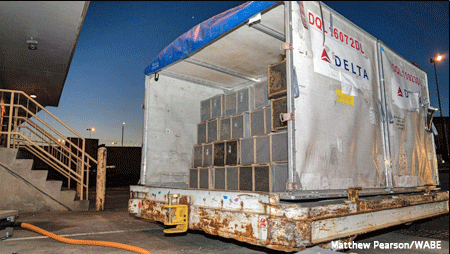 Can't come fast enough for a shipment of about 800 pounds of bees, or more than 5 million individual bees, that were being shipped by Delta Cargo to Alaska from Sacramento, California in early May that were left to die on the tarmac at Hartsfield-Jackson Atlanta International Airport according to EcoWatch.
Delta reportedly had placed the crates of bees at a storage area on the tarmac, but the temperatures were too high.
"I really panicked when they found they had moved them outside," the shipper, beekeeper Sarah McElrea of Sarah's Alaska Honey said.
"It's devastating to see that many dead," Julia Mahood, a Georgia Master Beekeeper told WABE PBS affiliate Atlanta. "Just clumps of dead bees that had no chance because they were left outside with no food and basically got lost in Delta's machinery."
A positive note in all of this was reported by WABE 90.1 Radio that lauded more than 20 beekeepers from the Metro Atlanta Beekeepers Association (MABA) that managed to rescue thousands of bees from the conflagration.
Delta apologized "for the unfortunate situation" and took "immediate action to implement new measures to ensure events of this nature do not occur in the future."
World Bee Day is celebrated on May 20. On this day Anton Jansa, the pioneer of beekeeping, was born in 1734.
The purpose of the international day is to acknowledge the role of bees and other pollinators for the ecosystem, to bring the public's attention on the significance of saving honey bees and any remaining pollinators, and the importance of bees in providing for the needs of humanity.
In December 2017, the UN Member States approved Slovenia's proposal to proclaim May 20 as World Bee Day.