Lionel Van der Walt has been in world air cargo news quite often during the past decade for his service to air cargo as part of IATA and then as leader of Cargo Network Services (CNS) and then as part of the leadership team that changed air cargo forever at PayCargo.
But then everything changed almost overnight when Lionel riding high, his daughter Imma all of a sudden facing a life-threatening health situation, decided being a Dad would own his life, as she struggled for survival.
Today we find Lionel about a year since we last reported returning to the fold, this time based in the UK, but not without some thoughts of what has been a very tumultous year.
One thing for certain when it comes to thinking about resting his brain about the challenges of life these days, Lionel counts his blessings instead of sheep.
This time of year, here is a story we can all celebrate.
"Over the past few months I have on numerous occasions reflected as to how blessed our family is and cannot under any circumstance be taken for granted.
"Life is back to usual, and I can't believe it has been nine months since Imma's surgery; it all feels so surreal!
"Imma's tumor has been successfully removed and she has made a full recovery.
"She has lost all hearing in her left ear, but this is a small price to pay considering what could have been; no facial paralysis, no eyesight loss, no balance issues or any other complications.
"What a blessed young lady she is.
"Imma is back at work and in the evenings she is completing a marketing-focused MBA.
"You would never guess that a few months back she underwent a nine-hour surgery with the surgeons warning that her recovery would most probably be an extended, lengthy ordeal with a high-risk of serious complications.
"Yes, she had an amazing medical team from Duke University Health in USA taking care of her, but I have no doubt that this miraculous outcome was in no small part due to all the prayers and best wishes we received from around the world.
"Words cannot express our gratitude to each and every one of you who kept her in your thoughts and prayers. Thank you!! What an amazing, compassionate industry we have! "Imma is blessed to have such an extended global family.
"For me it is back to work now, and I am grateful to have found another amazing opportunity, this time focused on serving freight forwarders as Chief Growth Officer at Raft.
"And with this opportunity comes more substantial change for our family as it includes a relocation from Clayton, North Carolina to Tunbridge Wells, Kent in the United Kingdom (UK). The irony being that despite both countries having "United" in their names, there doesn't appear to be many united in either location, but I digress.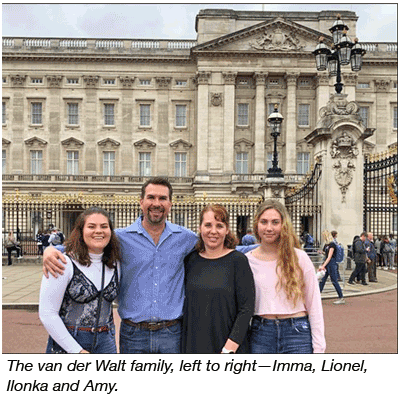 "Ilonka (Lionel's wife and partner) and I are now settling into our new home in the UK and we are looking forward to having Imma and Amy join us here for the holidays in a few weeks.
"And yes, it has been a tough transition!
"Over and above the international move, we are now also officially "extreme" empty nesters.
"Why "extreme", well Imma and Amy have decided to stay in the U.S. for now, so we are parenting from a distance.
"Transitioning to empty nester status is challenging in itself, never mind being separated by continents.
"It was a family decision with both our girls encouraging us to make the move; it quickly became apparent though that they highly value a free UK holiday destination versus having mom and dad on their doorstep each day, go figure . . ."
So why Raft?
"I have always been attracted to opportunities at high-impact companies that are leading transformational change across our industry, and Raft is certainly that!
"The company has an amazing team, including two exceptionally talented founders, who are leading the charge to open the industry's mind as to the tremendous value and benefit of automating operations with AI (artificial intelligence) technology.
"The company has humble roots starting as a supply chain first AI focused service provider in 2017, then called Vector.ai. The focus was initially on helping Freight Forwarders solve data extraction challenges. The key issue being how to extract the necessary information from physical and scanned documents into a digital format that can then be used in their existing TMS or other systems.
"This has however proven to be just the basic foundation that is needed in order to add real value. The biggest value comes from how the extracted data is integrated into existing systems and how that data is then used to optimize processes and deliver efficiencies through aspects such as insights, workflows and business rules.
"This learning has led us to where we are today, the industry's first intelligent freight command center, a central platform, still doing data extractions and using cutting edge AI technology at its core, but now focused on adding downstream value through the automation and optimization of operational processes.
"In essence Raft has developed a centralized platform specifically designed for freight forwarders, that helps them to automate and optimize their operations across the entire lifecycle of a shipment, and across globally distributed offices and teams without having to switch between numerous applications and communication systems.
"The platform covers areas such as Accounts Payable, Customs, Commercial Invoice Processing, Pre-Alerts, Arrival Notices, Bookings etc. And all this data, which remains 100% owned by our clients, can then be used to provide an incredible level of transparency into their operational processes, and enhances decision making, much of which can be automated through our platform, hence the evolution from vector.ai to Raft as an intelligent freight command center solution.
"And to top it all off, everything we do is focused around improving the user's experience; the human experience is at the heart of our approach. Users can use the system to prioritize their daily activities, assign tasks across teams e.g. finance to operations and vice versa, communicate with each other via the platform and so much more. The end result being a solution designed for Freight Forwarders aimed at empowering their teams to focus on what is important. The platform is designed to automate as much of the user's daily administrative tasks as is possible, thereby enabling them to focus on value-added activities that improve their service delivery to internal and external stakeholders. Our vision is to shift the balance from boring, repetitive administrative tasks to meaningful, fulfilling, value-add activities.
"This is what ultimately attracted me to Raft, a winning, transformational solution that is improving the work experience of our clients' team members across the globe. Working for a successful hyper-growth company is great but knowing that I am helping others to succeed provides me with a level of satisfaction and motivation that is difficult to surpass."
Speaking of which, the kind of guy Lionel is most always, includes keeping friendships warm on all fronts including both personal and business.
Take the announcement on a just completed partnership between Raft and Lionel's former PayCargo just a few weeks ago.
"With the integration of PayCargo into our new one-click payment capabilities, we are arming forwarders with yet another tool they can use to solve advanced supply chain challenges with modern solutions, while freeing up their human labor to perform tasks that move the needle along the bottom line," Lionel declared.
The partnership and integration will also enable reconciliations that are sent at the end of each week and month, automated payment flows, and a central oversight and approval process that is audited and tracked.
In addition, PayCargo customers will benefit from Raft's integration with the CargoWise transportation management system (TMS), which reduces manual data input and reconciliation.
"Raft's relationships with major TMS systems helps the vast majority of our customers who use these solutions and enables a quick and easy roll out of our capabilities within Raft for payments," said PayCargo CEO Eduardo Del Riego.
"Digital payments help solve problems in the logistics industry by moving funds quickly, along with all of the data payers and vendors require," PayCargo Chief Operating Officer and Co-founder Juan Carlos Dieppa added. If you would like to learn more, click here. Raft.ai
"I would love to hear your feedback and comments on what we are trying to achieve here at Raft.
"Warm regards to all my industry colleagues and friends across the globe."
Geoffrey