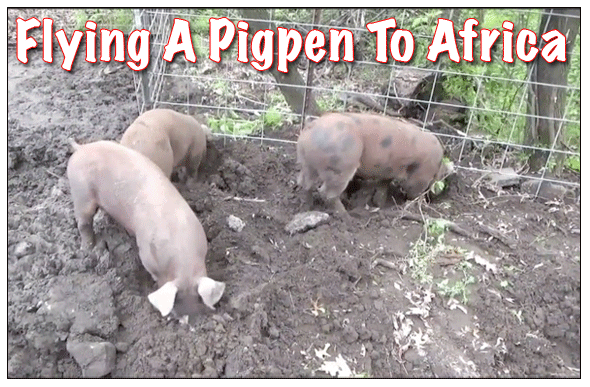 Have you ever seen pigs fly?
Well I have, and I'm here today to tell you about a once upon a time flying circus from the USA to Nigeria.
When I was a kid we sometimes ventured across the Hudson River . . . to New Jersey, Secaucus, to be exact.
At that time Secaucus was famous for one thing, its pig farms.
Well eventually into adulthood and my chosen profession as an air cargo operations specialist at Seaboard World Airlines and my reintroduction to the world of pigs.
Seaboard, as many readers know, was the pioneering air cargo airline based at Idlewild Airport, today's JFK that was bought by FedEx in 1980. That's another story.
To me Seaboard was wonderful people and fellow workers, the best in the business operation and my Cargo Transfer Facility was Building 260 at Kennedy International.
But I went where the need was and this day we had signed an agreement to fly pigs from Richmond, Virginia to Lagos, Nigeria.
A lot of pigs, a really big allotment of them, each of which weighed about 30 pounds each.
Pigs, when under stress, scream.
There were times during this movement that I was reminded of my last ride on the Cyclone Roller Coaster at the Coney Island Amusement Park.
Well, as someone whose job it was to keep things moving at JFK Cargo, never let it be said that I would turn down any passenger, human or otherwise who was deemed capable of flying on one of our aircraft.
So off we went to sunny Richmond to size up the shipment.
It was a hot day . . . it was sunny and down right hot.
We got to the airport; the trucks with the pigs were there and all the equipment we needed to load the little guys onto the aircraft was in place as well.
So we hustled the passengers up the ramp and into the aircraft and of course during this entire time they are screaming their little hearts out.
Finally there are just over 600 loaded and we are ready for push back.
I'm thinking, it's all going so well.
We are on board, ready to close the doors, all we need is Customs to sign off on the manifest and we can go.
I'm aware that it's getting hot in the aircraft as we wait, and the little guys can't take much stress or the high temperatures.
Pigs don't sweat; they can only control their body heat through their noses.
I'm at the passenger door with the U.S. Customs inspector, awaiting his release, when a pig drops dead right in front of us.
The inspector tells me to get his ear tag number so we can strike him off the manifest.
I climb through the net, get the number and as I'm climbing back, another one bites the dust and the inspector tells me to get his number to which I say, in the very calmest voice I can muster:
"Well sir, if you like we can sit here for the next 6 hours until we have killed the entire load or you can let me close the door, get airborne and employ our air conditioning system to get the temperature down to where it's livable for our passengers."
Thankfully the inspector takes the easy way out, signs off on the manifest and away we go without further loss of life.
Fast forward to 13 hours later, we're landing in Lagos.
I have been with my little friends, and the flight crew, with enough time that we can all feel that this thing is about to be over.
We look at each other in approval during the perfect landing. We are all smiles and nodding our heads at getting another job done.
The door opens and I ask the ground handling supervisor about the ramp and he tells me: "actually there is no ramp, we just use the passenger stairs."
Now the pigs' legs are around 6 inches long and the stairs are about 12 inches high so each pig reaches the top of the stairs and tumbles all the way down to the tarmac and then is picked up and carried by hand onto the truck.
This part of the move still puzzles me.
By this time I had been on quite a few trips and I was still amazed at the way the animals were being handled. These little guys were our passengers and treating them right no matter what, was the rule at SWA.
So all of us jumped in to help and slowed down the process in Lagos, which also guaranteed delivery of the shipment without incident.
We left Lagos to go to Frankfurt, Germany where there would be a crew rest while the aircraft would be cleaned and readied for the flight back to New York.
En route we passed over Algeria, where we were asked to identify ourselves by the Algerian authorities.
The copilot replied routinely:
"Yes, Seaboard 1021 en-route from Lagos to Frankfurt."
There was a long pause and then Algeria declared:
"Seaboard, we have no record of overfly rights being secured for your flight."
Our copilot quickly replied: "You must be mistaken, our Frankfurt office always files this route."
The Captain peered ahead, out the cockpit window advising the protagonist:
"The Mediterranean is just ahead . . . looks like we can get out of here and away from your air space in the next couple minutes."
At that point the voice came back and says:
"Seaboard you are instructed to come down, if you do not we will send an escort to bring you down."
No heroes on our flight, so down we go for a smooth landing at Algiers where we are parked and an official comes up the steps and I open the passenger door.
Well, you should have seen the look on this guy's face when he got a good whiff of what I could estimate at around 2,000 pounds of pig manure that had been cooking in that aircraft for the past 20 hours. Unbelievable.
In less time than it took him to get back to his office, gagging and coughing all the way I suspect, we receive word that we were OK to depart at once and we were gone.
That experience was helpful in creating better live animal movement.
We were developing air cargo into the successful multi-billon dollar modern industry it is today.
And as I mentioned at the top, a lesson learned in Secaucus a long time ago; pigs make it clear they are in the building.
They also leave their calling card when they depart . . .
Jim Larsen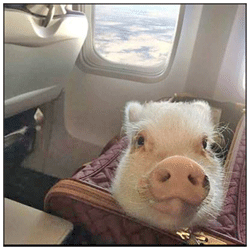 It's Christmas. Let's walk on the wild side. I'll have a cosmo.
These days as emotional support animals are popping up, a comment overheard, "You will not believe the pig I had to sit next to all the way to California."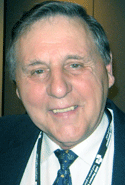 We have known Jim Larsen for as long as we have been in the air cargo business.
Always a stand-up guy and air cargo pioneer to boot, Jimmy served at Seaboard World Airways, the great pioneer carrier that spawned many other air cargo greats like Bill Boesch, John Mahoney, Dick Jackson, Guenter Rohrmann and Vincent Chabrol, the list goes on.
Jim later worked as Air Cargo Development Manager at The Port Authority of New York and New Jersey.