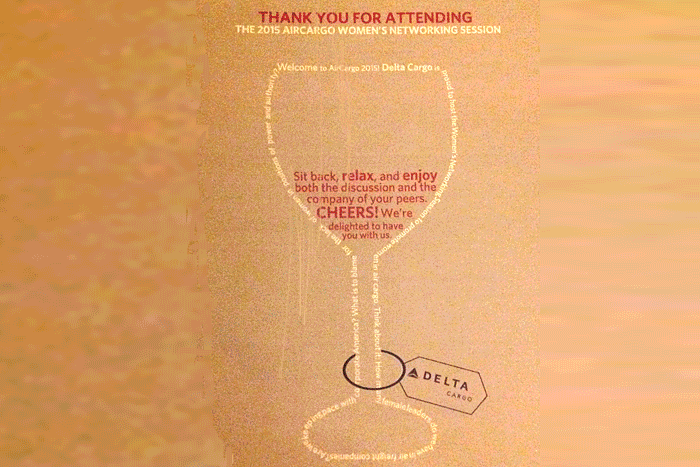 The 11th Air Cargo Conference and Exhibition, Air Cargo 2015 hit the ground running with some high-octane energy devoted to improving the lot of women in air cargo—what better way to open the month of March, Women's History Month?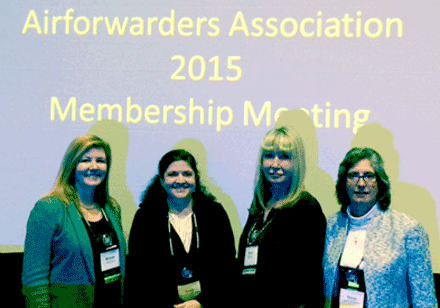 From Left—Michelle Halkerston, Hassett Express; Sandy Gregory, Tigers; Sasha Goodman, Rock-it Cargo and Donna Mullins
This year's event is taking place at the Sheraton in New Orleans, Louisiana, co-hosted by the Air and Expedited Motor Carriers Association, the Airforwarders Association, the Express Delivery & Logistics Association, and the Airport Council International – North America. Delta Air Lines Cargo sponsored the women's networking session on Sunday afternoon, March 1, with well over 140 women and men in attendance. This is the third such event marked by the fact that the Airforwarders Association currently has 6 women on its board and AEMCA has two. AEMCA's Sandy Gregory, VP Compliance and Risk Management at Tigers Global Logistics, and her co-facilitator, Sasha Goodman, General Manager IACSC/Director of Compliance at Rock-It Cargo USA, specialize in moving rock groups around the world.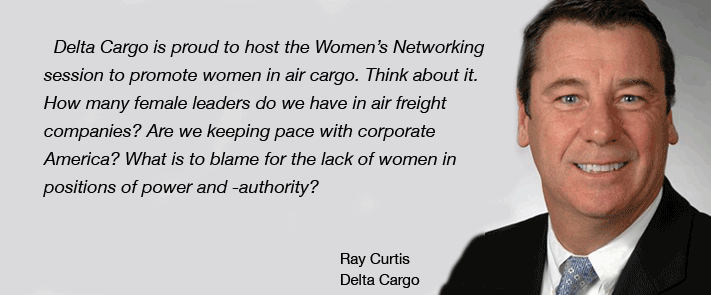 The speaker chosen to address the gathering was Doug Brittin, TIACA Secretary General, who claimed his main qualification and relevant experience was having been married for 42 years, which is also how long he has been active in transportation. Recalling milestones in his career, Doug mentioned the first woman airline pilot he encountered in 1973, today a commonplace occurrence.
He also recalled dictating his notes to a secretary after returning from a sales call at Southern Pacific Railways—a manual task millennials can hardly imagine, and might consider archaic.
The year 1980 found Doug at C.F. Airfreight (later Emery Airfreight), where there had been a grand total of three females employed; the most senior was the VP of pricing. "Challenges remain, with women's pay still at 78 percent of that of their male colleagues," Britton said.
In order to bring authentic input to the audience, Doug collected answers of a number of senior women cargo executives to best illustrate examples of how they succeeded and offer some recommendations.
The move gave some credence to a man leading the discussion on women's issues.
As usual, the fact emerged that women in air cargo already have their act well together, thank you.
Doug mentioned some high powered, well-placed women he spoke with, including Lise-Marie Turpin, VP Air Canada Cargo, and went on to list some specifics he gained from talking to women.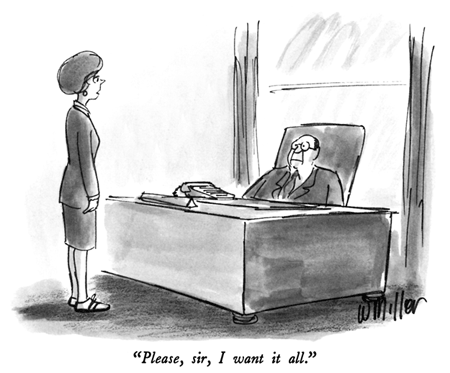 "Learn"—know your subject while also understanding the bigger picture.
"Broaden beyond what you currently do," and take every opportunity to volunteer for projects even if they are outside one's comfort zone.
"Network both inside and outside the company in order to gain confidence in your skill set."
One idea especially resonated with the audience:
"In a meeting, sit in the middle rather than at the end of the table," something women have apparently instinctively done in such circumstances.
Another was "participate—join in tasks, ask questions, keep an open mind, and learn other aspects of the business beyond one's immediate responsibilities."
"Essentially good advice and practice for either men or women," as Doug noted. "Improve yourself" because something new always stands to help in the job at hand.
Additional ideas included finding a mentor, cross training, getting noticed for one's knowledge and professionalism, reading and understanding what is going on in your industry, and, last but not least, "don't be afraid to negotiate."
Ted/Geoffrey