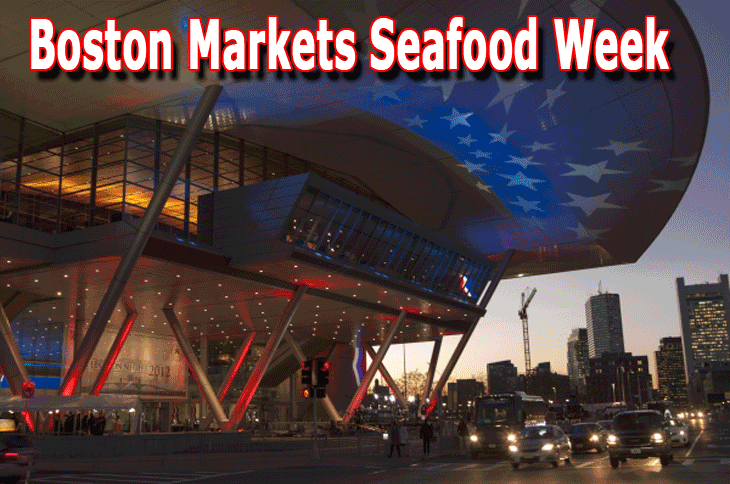 They Got The Seafood Mama—Seafood Expo North America and Seafood Processing North America launches its annual show at the Boston Convention & Exhibition Center in Boston, Massachusetts (March 15-17, 2015), it proves once again to be one of the best annual shows for business leads, business decisions, and just plain fun, hosting more than 19,000 visitors and 1,000 exhibits from more than 100 countries.
Seafood Expo is wall-to-wall with decision-makers from all levels of the food chain.
There are manufacturers, retailers, wholesalers, shipping experts, and container manufacturers by the score everywhere at Seafood Expo.
But in addition to meeting up with guys in air cargo perishables everywhere from Scotland to the Cone of Chile, Seafood Expo exhibitors offer up samples of some of the best on-the-hoof dining imaginable. Or should we say, on the fin.
What a scene.
Twenty-ounce draft in one hand, skewered shrimp in the other, Zantac within reach, then back to the airplane, ready to take on the world.
"We've had very positive feedback from every group involved in the show," said Liz Plizga, show director for Diversified Business Communications, the company that produces the event.
"The seafood community recognizes that the Seafood Expo consistently provides the most progressive and comprehensive forum for knowledge-exchange and networking."
"Seafood Expo is not only a show with a great history, but [it] is one of the most effective marketing tools for reaching the seafood business community," she said.


"This event provided an opportunity to meet with a great deal of potential customers in a very short period of time," said Soren Kaplan, Wall Street Journal best-selling author of the book Leapfrogging.
"The Boston Seafood Expo is always a great forum for us to generate leads and showcase our product, and we are looking forward to another great event," said Jim Belllinder of KLM Cargo (see next story).
A much anticpated part of the Seafood Expo is the New Product Conference, providing seafood buyers a look at the latest value-added products, new species, packaging, and services.
A panel of industry buyers screens products based on uniqueness and appropriateness to the market and chooses several winners from various categories for the Annual Seafood Excellence Awards (SEA).
Another nice tradition at Seafood Expo comes at the close of the show, when hundreds of exhibiting companies donate more than 20,000 pounds of fresh seafood leftover from the show, providing many thousands of meals for hungry men, women, and children throughout Eastern Massachusetts via the Greater Boston Food Bank.
The National Fisheries Institute is the official sponsor of the Seafood Expo North America and Seafood Processing North America.