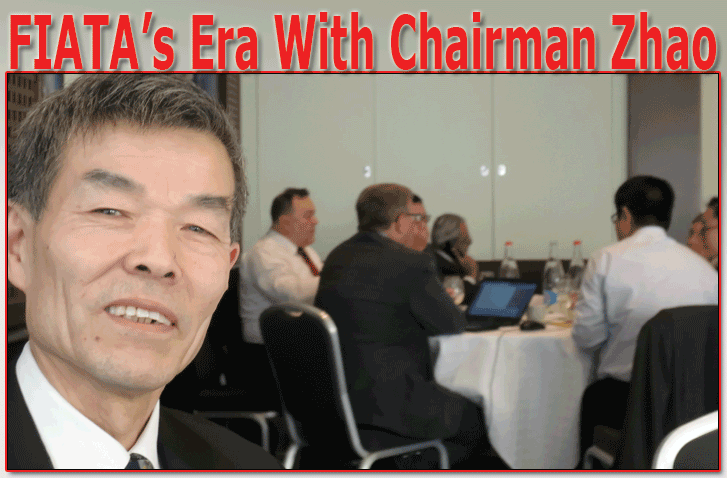 Make no mistake about it, China is still the place everybody wants to be: it's home to the world's second largest economy and is the world's number one exporter.
Often when there is talk about China's logistics (in the west, at least), the conversation will center on international firms, including leading brand names like FedEx, UPS, DHL, and others.
Today at 18.6 percent (or $1.6 trillion annually), China accounts for the world's biggest logistics action, with growth of over 20 percent in just the past 4 years for a compounded annual growth rate of 6.69 percent.
We were privileged as part of our being named as FIATA Fellow last month in Zurich to sit down with Zhao Huxiang, who serves as Chairman of SINOTRANS and is also the current President of FIATA.
If you are not aware of SINOTRANS, you should be.
The China state-owned company was founded in 1950. Headquartered in Beijing, People's Republic of China, it is the largest logistics company in China.
With more than 50,000 employees and growth into every facet of logistics at home and around the world, SINOTRANS is a great example of why the Chinese logistics market is the biggest in the world.
Not only is the market huge, but also the infrastructure for supporting logistics companies is top notch.
SINOTRANS includes air and sea freight forwarding, shipping, storage, terminal and supply chain operations, and a menu of services that match and even exceed those of its international competitors.
In fact, according to Armstrong & Associates, a supply chain market research and consulting firm, SINOTRANS ranks among the top 10 third party logistics providers in the world.
Perhaps more importantly, SINOTRANS is doing well despite the global economic downturn.
SINOTRANS' margins continue to head straight up, with an estimated net profit margin of 4.75 percent for 2015, an uptick from the previous margin of 3.14 percent.

FIATA Windfall

Kudos to FIATA! The organization hit 90 years in 2016 and landed SINOTRANS Chairman Mr. Zhao Huxiang as FIATA President.
How this distinguished gentleman is able to serve his giant company and also shoulder the global responsibilities of the Presidency of FIATA—the largest trade association representing freight forwarding and logistics firms along with affiliated national associations in the world—is simply something at which to marvel. The unique chance to go one-on-one with the man himself revealed just how he gets everything done.
We sat in a small, comfortable room in downtown Zurich as FIATA was meeting in various sessions.
Just behind our table, over our shoulders, there was another table of men talking vigorously and hunched over maps and charts.
I asked Chairman Zhao who they were, and he smiled and said:
"We (SINOTRANS) are awaiting the day when we can send railroad trains full of cargo from China to Europe.
"Our experience is that the service works quite well; in fact, we started it up two years ago.
"But because of the many borders to cross and various regulations, the service has not been popular.
"For rail sector, better procedures and transparency can improve efficiency. And also the sector needs to lower cost and enhance its competitiveness compared to sea transport.
"So here in Zurich with FIATA is the opportunity to work up some ideas and plans with our partners that will enable top level meetings—set for this May in Shenzhen—aimed at eventually establishing a workable rail service between China and Europe.
"You know, 90 percent of my business is focused on international trade.
"As China continues to open up there is much at stake in finding better ways to work with the rest of the world," the Chairman insisted.


Getting Ready For Midterm

Actually, Zhao Huxiang is approaching the mid-term of his two-years as FIATA President, having been elected into office last September.
He will continue his Presidency in 2016 during the organization's milestone 90th Year Celebration.
"FIATA welcomes everybody in spirit and cooperation.
"I am not an airfreight man, but rather someone from a shipping company.
"It might be difficult to imagine how a Chinese man became President of FIATA, but the organization is truly international and global in scope and is well prepared and most importantly in touch with the world market of today and tomorrow," Mr. Zhao said.
"I became involved with FIATA a decade ago via membership and my eventual move as Chairman of the Chinese International Freight Forwarder Association.
"In China today there are more than 35,000 registered freight forwarding companies," Mr. Zhao said.

Goals and Vision

"I think we can provide more and better services, clearer guidelines to better cooperation, and best practices for our membership and the logistics industry.
"We have people here at our meetings that came from all over the world and yes, as far away as China, to meet and try to find better ways to (for example) handle and guarantee safe movement of dangerous goods.
"There are very complex issues and much is at stake here.
"But the FIATA venue and spirit of détente that prevails amongst our membership and guests is quite a credit to everyone here.
"FIATA is dialogue and cooperation and impartial at its base, and that affords the opportunity to look into many complex challenges and find solutions.
"Our solutions and cooperation connect the world. In the case of China, these connections are vital to the rest of the world.
"For example, my company relies on FIATA to provide us the middle ground to meet and get to know the rest of the world.
"That is why it is such an honor and pleasure to work with and now be among the leadership of this great organization," Zhao Huxiang said.

Some Other Place

You spend some time with FIATA members and realize you are someplace else.
The best way to describe the atmosphere at their meetings is that they are quite cordial.
FIATA maintains as close to a diplomatic atmosphere amongst its members and their dealings with each other as exists anywhere today.
I recall working on a start-up newspaper for the United Nations in New York, prior our move to air cargo.
Having spent some years reporting daily to the UN Plaza, I instantly recognize the feeling of genteel, civilized behavior, universal greetings, and smiling encounters. It's how FIATA does business.
Mr. Zhao may be not exactly typical of many executives (after all, who else is boss to 50,000 people?) but his warmth, zeal, and absolute brilliance is mirrored in the faces of the people at FIATA meetings.
"The 55th FIATA World Congress takes place in the Convention Center in Dublin, Ireland, from October 3-8," Mr. Zhao said.
"Hosted by The Irish International Freight Association (IIFA), everyone is invited to a program that promises an inspiring mix of engaging speakers and collaboration-based workshops, exploring new trends in global logistics, best practices, trading opportunities and technological innovations," Mr. Zhao said.
For More Click Here.
Geoffrey