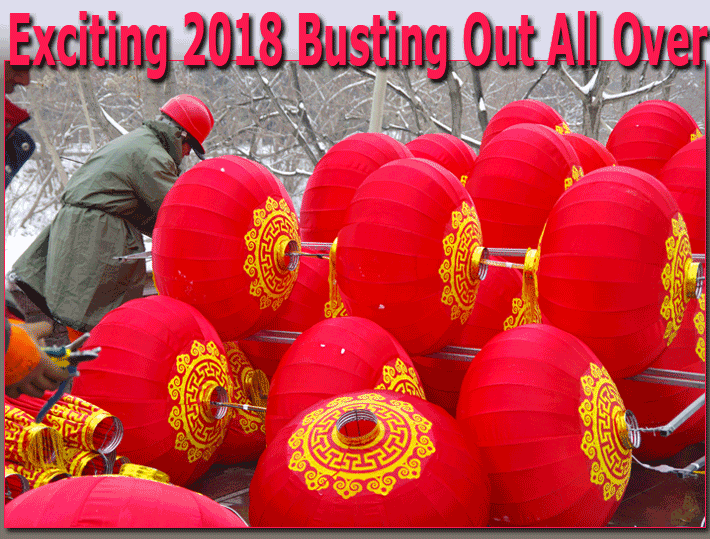 This past Monday, workers began hanging up red lanterns to celebrate the upcoming Spring Festival or the Chinese New Year on a street in Xi'an city, northwest China's Shaanxi province.
While kickoff Friday February 16 for "Year of the Dog" is less than a month away, the high-flying air cargo business worldwide is soaring.
Air cargo rates have dropped dramatically in recent weeks, but capacity remains scarce and prices are expected to gain ground again ahead of factory shutdowns for the Chinese New Year holiday (Year Of The Dog), which begins February 16.

No Dog Days For Air Cargo

The TAC Index covering Hong Kong to North America fell from a year high of USD$5.57 per kg on December 4 to $3.73 on January 1.
Rates from Hong to Europe followed a similar pattern, reaching a two-year high of $3.28 per kg on December 4, before tumbling to $2.85 on January 1. (Source: TAC Index - www.tacindex.com).

Backlogs Abounding

Yet, despite the declines around the holiday shutdowns which enabled carriers to clear backlogs, most indicators suggest prices will rebound in the weeks ahead as retailers restock ahead of CNY, not least because capacity remains hard fought over, and urgent shipments are pricing far higher than index averages.
Web-quotation platform Freightos said U.S. airlines canceled 7-10 scheduled flights on China to the U.S. routes between December 22-30, while Russia's AirBridgeCargo and China Southern Airlines also posted flight schedule cancellations on the China-U.S. route. But Freightos said cargo space on the route remained tight, and cancellations were pushing rates back up.
In Europe, the intermittent bad weather took its toll on operations over the holiday period, increasing backlogs and contributing to higher air freight rates, added Freightos.

Staying Wet In Fashion

One chartering source told FlyingTypers the wet lease market was currently tight due to multiple factors.
"All the guys who currently have the wet leases are renewing their contracts," the source explained.
"But there is an additional squeeze on the market not only through e-commerce but because the previous American administration didn't fund the U.S. Air Force properly.
"A lot of those grey tails are not available to lift the military work and also there is a crewing issue – they haven't been training enough crews so there's not enough crew to fly the planes.
"So with Trump sabre-rattling, and moving a lot of equipment around, the U.S. military is sucking up a lot of capacity.
"It is interesting times, a lot of people are trying to wet-lease planes and there really isn't a lot available. Those that are, are very costly - and that's global."

Forwarders Upbeat

A forwarding source in Asia said the outlook for demand and rates for 2018 was positive. He also confirmed the current lack of wet lease capacity. "It is a bit early to say how the build-up to CNY is panning out," he added. "Generally speaking, most market participants are quite bullish about CNY and the whole of 2018. It is very difficult now to secure wet lease freighters on the market: there's no capacity left, or at least very limited availability.
"Factories should be in full production by week three of January so that will be a good indication for the rest of the lead up to CNY."

By The Numbers

The latest volume figures underscore the pricing patterns seen in the run-up to the holiday season, with November proving another belter for the air freight sector. WorldACD said that the record global volume figure recorded in October was quickly relegated to the history books in November.
"November beat October by 1.3%," said the analyst's latest report. "For the third month in a row, the year-on-year yield increase in USD had to be written in double figures, this time the highest since the recovery after the 2009-crisis: +17.3% year-on-year."
With volumes growing up 7.8% in November compared to a year earlier, airline revenues in USD for the month were more than 26% higher than in November 2016. "The most striking feature of the November figures was the yield increase from Europe," said WorldACD. "Measured in EUR, yields jumped by almost 19% year-on-year to all destinations worldwide."

IATA Bullish For Now

IATA now expects cargo operations to continue boosting airline revenues through 2018. The Association said volumes uplifted by carriers globally in 2017 totaled 59.9m tons, up 9.3% year-on-year, and forecasts they will expand a further 4.5% to 59.9m tons in 2018, further boosting the bottom lines' of carriers.
IATA forecasts global industry net profit will rise to $38.4 billion in 2018, an improvement from the $34.5 billion expected net profit in 2017, revised from a $31.4 billion forecast in June.
"The cargo business continues to benefit from a strong cyclical upturn in volumes, with some recovery in yields," said the Association. "The boost to cargo volumes in 2017 was a result of companies needing to restock inventories quickly to meet unexpectedly strong demand. This led cargo volumes to grow at twice the pace of the expansion in world trade (4.3%). Cargo yields are expected to improve by 4.0% in 2018 - slower than the 5.0% in 2017.
"While restocking cycles are usually short-lived, the growth of e-commerce is expected to support continued momentum in the cargo business beyond the rate of expansion of world trade in 2018.
"Cargo revenues will continue to do well in 2018, reaching $59.2 billion, up 8.6% from 2017 revenues of $54.5 billion."
SkyKing