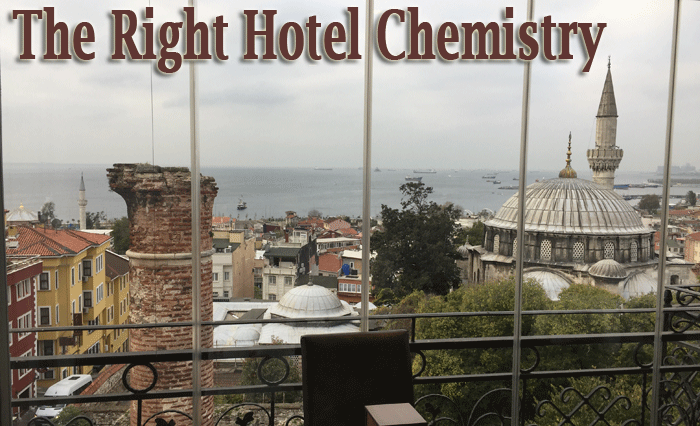 The old part of town in Istanbul is called Sultanahmet.
The area is a trip back from modern to ancient times. Even today old Roman walls and obelisks still partially ring the area.
Other remnants of this city date back ten thousand years from Istanbul to Constantinople.
Landmarks seem to be everywhere—important Christian and Muslim places of worship dot the city, including the world-famous Blue Mosque.
Being in town to do business and not to visit this part of Turkey is no less a shame for not stopping to smell the flowers as you are passing though.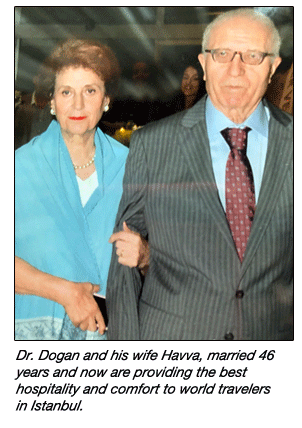 An Opportunity
Considering the location and history plus the daily opening bell start (1100 hours) of Logitrans at convenient Ataturk Airport this week, we opted out of a high rise-fashionable show venue hotel and stayed in Sultanahmet.
While a big trade show like Logitrans understandably seldom leads attendees very far from the traditional big hotel venues, we like to balance work and pleasure when we are on the road by discovering all we can about things around us.
The Sultanahmet
The small family-run inns and restaurants that punctuate the ancient winding stone roads and narrow passageways are an endearing feature of this area of Istanbul.
Learning about logistics in Istanbul takes on special meaning when you stay amidst the inns, shops, and bazaars of the Istanbul Sultanahmet, where all roads of civilization once came together.
Ada Excellence
We discovered the Ada Hotel in Sultanahmet a couple years ago whilst admiring a 1,600-year-old minaret, which still stands just across the street from the hotel.
Smallish, with limited rooms, travellers from around the world consistently rate Ada as a top hotel.
The immaculately clean, individually decorated rooms make the Ada endlessly attractive. Bed to bathroom, the place is just perfect.
No cookie cutter design here. The rooms have that hard-to-achieve, homey feel, with crocheted lace on antique and period chairs and tables.
Ada, it should be mentioned, features all the bells and whistles of a modern hotel, too, with contemporary showers and whirlpool baths.
There is a buffet and home cooked-to-order breakfast on the roof every day and a view of the Bosporus with its busy ship lane traffic and pleasure boats.
Ada is located in a part of the city where calls to prayer are broadcast in the streets five times a day, giving the ancient space a distinct voice.
Dr. Dogan Makes A House Call
Ada and companion hotel Ada 2 just down the road are owned and operated by Dr. Dogan Sumengen and his wife, Havva.
Dr. Dogan, who earned a PhD in chemistry from Istanbul University in 1966, taught Chemistry at The Black Sea University and Uldag in Bursa.
Born in Kayseri, Dr. Dogan (he retired in 1998 after teaching for 33 years) and his wife Havva (she taught math in Istanbul for 30 years) both decided that they would open a small hotel to stay in touch and continue working.
Both have been going strong in the hotel business since 1998.
"It's a great life.
"We purchased two buildings and have enjoyed every minute of operating a business, but the best part is meeting people from all over the world," Dr. Dogan said.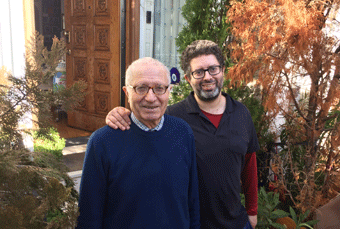 Up Against The Wall
We are sitting upstairs in the garden rooftop enjoying breakfast. On the wall above our table, smiling down on the scene below, is the Sumengen's son, Baris, pictured here with Dr. Dogan.
The picture adds the feel of home to a breakfast of freshly prepared foods and piquant Turkish coffee.
"Business has been challenging, but as always we look forward to the future with hope and imagination.
"Turkey is a place of many cultures, where education and multiculturalism is basic to our way of life.
"Sharing our values and greeting the world is a great way to spend your time," Dr. Dogan smiled.
Ada Means Island
"Ada in Turkish means island, and we consider our hotel as a place that can be reached from anywhere around the world as a sanctuary of comfort when in Istanbul."
As our favorite oasis when traveling to Turkey, it makes sense to us.
Geoffrey/Sabiha