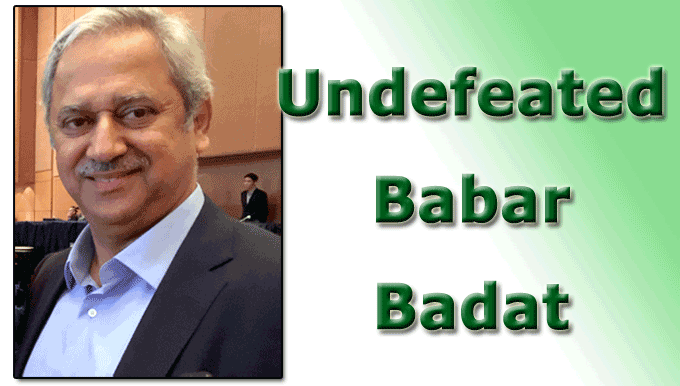 FIATA Headquarters' Session 2019 took off March 27-30 in Zurich, Switzerland.
"A great opportunity for FIATA Association Members and Individual Members to exchange information and deliberate on important policy issues of our industry," FIATA President Babar Badat told FlyingTypers.
"I am especially happy to announce that the first digital courses of FIATA "Introduction to Global Logistics Management, Theory and Practice" & "Maritime Transport" as well as the digital "Train-the-Trainer Course for FIATA Foundation Vocational Training" are also due to be launched.
"In the age of the knowledge economy," Mr. Badat declared,"in which training is treated as a necessary raw material for economic activities, education is increasingly relevant."

Undefeated Babar Badat

We like Babar. He stands up and gets things done.
His business of course is forwarding, as Chairman of Transhold Pvt Ltd., with offices across Pakistan. But he has also from his base in Karachi lead and, is the guiding force for organized freight fowarders moving swiftly into the future of Pakistan.
He is also undefeated and not afraid of risk.

Got Dumped By India

Last year when FIATA held their Annual World Congress in New Delhi, affording India a breakthrough event in world transportation, apparently some bureaucrats in that country got a hold of Babar's passport and pulled a fast one, refusing the FIATA President entry into the country.
Now everyone knows that India and Pakistan can be compared to the Hatfields and McCoys in the USA, where distant cousins seem to be up against each other as a way of life.
For his part, despite the loss of what could and should have been a great event with top executives of both India and Pakistan together again for the first time on the stage, Babar simply said:
"FIATA is a non governmental and non political organization.
"I had supported the bid to hold the Congress in Delhi and I was looking forward to my tenure's first Congress.
"What happened is sad, it didn't need to be like this.
"Nevertheless our honorable Presidency members, the honorable Extended Board members and heads of the various groups were all present at the Congress.
"In discussion with the Presidency I requested our people to kindly ensure that all the meetings including those of the Regions, Institutes, Advisory Bodies and others went off well and it turned out to be a good Congress for our worthy members and for those who had taken out the time to attend the Congress."

Need To Lead In Education

Back to the current issues at hand.
Babar Badat takes a bead on education saying:
"In an environment of increasing globalization of markets and outsourcing of production and distribution activities, associated with increasing level of specialization and customer service, FIATA deems it necessary to provide the international logistics industry with training foundations that increase its competitiveness, incubate innovation and encourage the interest of youth to work in the industry."

Takes A Bite Out Of Crime

"The risk of cybercrime to the international transport and logistics industry is increasing in conjunction with the growing application of information technology," Mr. Badat said.
"Customer-, price-, and transport-data are increasingly being stored digitally today, which points to the significance of enhancing digital infrastructures.
"The FIATA Advisory Body Legal Matters is working on a best practice guideline on preventing cybercrime.
"This guideline aims at raising awareness among FIATA members and the industry regarding the threats and risks of cybercrime and to provide best practices in prevention of cybercrime from a risk-management perspective," Mr. Badat said.
Practices Guide For Container Shipping

The FIATA Working Group Sea Transport has published its Best Practices Guide For Container Shipping.
"FIATA Working Group Sea Transport noticed that the quality of containers provided by shipping lines in global container shipping has detriorated significantly.
"One has to come to the conclusion that shipping lines are cutting cost in the maintenance of their equipment."
Mr. Jens Roemer, Chairman of the Working Group Sea Transport, and of the Multimodal Transport Institute of FIATA, and one of the authors of this Best Practice said:
"The objective of FIATA is to recommend "best practices" that should be considered by commercial partners in their relations and dealings.
"We are convinced this will be a helpful tool to the national associations and to the freight forwarders in their daily business."

On To South Africa

"From October 1-5, FIATA will have the pleasure of hosting the FIATA World Congress 2019 together with the South African Association of Freight Forwarders (SAAFF) in the splendid city of Cape Town," Babar Badat said.
"This event should be an opportunity to further show to the world that Africa is a dynamic continent with positive signals of economic growth, significant market potential and strong impulses for its international outreach.
"South Africa, the country where the great statesman Nelson Mandela was born, has made substantial economic achievements since the 1990s. Cape Town is now an ideal place for the trade and transport sector to build up networks and promote business.
"Under the overarching theme of "Where Technology and Logistics Meet", this FIATA World Congress 2019 wishes to discover, in addition to many other topics, the development of disruptive technologies, and their influence on our industry.
"FIATA hopes to bring together over 1,200 industry stakeholders and decision-makers to discuss the changes in the logistics and freight forwarding industry, to share best practices and to build business relationships with partners around the globe.
"Cape Town is blessed to have South Africa's top six tourist attractions within one hour drive of the city center.
"Participants could take advantage of this opportunity to experience the diversified city of Cape Town, enjoy the landscape of Table Mountain and Cape of Good Hope, and most importantly, experience the hospitality of Africa," Babar Badat said.
More power to him!
Geoffrey, FIATA Fellow
More, click here.