The technological challenges facing the logistics industry and the celebration of International Women's Day were on the agenda when FlyingTypers had a chat with the always insightful Cathy Morrow Roberson, Founder and Head Analyst of Atlanta-based Logistics Trends & Insights LLC.
For the last two decades, the native of South Carolina has been offering the logistics industry a rare mix of heady insight and down-to-earth common sense.
Her storied career, prior to setting up her own rapidly expanding business, was built on a decade as an analyst at UPS Supply Chain Solutions followed by a consultancy role at a boutique transport analyst company.

Librarian Searches For Research

But Cathy stumbled into the logistics industry due to her love of research after getting a degree in history and economics from Winthrop University.
"I had this 'brilliant' idea of becoming either an economic historian or an archaeologist," she laughed.
"There wasn't a whole lot of demand for either!
"So I went to graduate school at the University of South Carolina and got a masters in Library Science.
"I've always loved researching, so I became a librarian for about six years.

UPS & More

"During that time there was a startup company here in the Atlanta area that was looking for market research people. I applied and I was hired right on the spot. I worked with them for about a year-and-a-half. One of their clients happened to be UPS.
"UPS offered me a job right as my start-up was suffering due to the dotcom bust, so I signed up and that was where it all started."
Initially Roberson worked on a new product development team tasked with finding market opportunities beyond small packages for UPS.
"Through that group we developed what is today the company's reverse logistics offerings and UPS Capital," she said.

UPS Delivers Groceries?

"We also tested last mile delivery of groceries.
"We realized quickly that trying to make a profit out of that wasn't going to be easy.
"We buried that one pretty fast and I think history has shown it was the right decision.
"Ultimately what came out of that whole group was UPS Supply Chain Solutions.

A Decade & More

"I stayed with UPS Supply Chain Solutions for 11 years and I oversaw competitive analysis, helped out with M&A due diligence and facilitated research in expansions into new markets, whether they be a geography or a new product.
"In my last 2 years I was given an opportunity to move into operations.
"I accepted that and ended up working for one of the larger clients of UPS which happened to be the federal government (DoD)."

Worked For USA DOD

"Essentially I was helping manage the government's transportation through UPS' freight forwarding arm.
"I managed their air freight and road freight here in the U.S., and also international movements, particularly in the Middle East."

Her Brave Start Up

After a period working as a consultant, Roberson founded Logistics Trends & Insights LLC in 2015 to offer what she rightly concluded the industry lacked, "customized, value-driven premium logistics research and consulting services available at competitive prices."
She has not looked back since.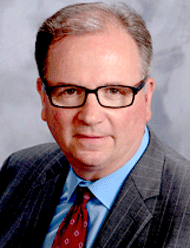 Building A Team

Recently FedEx veteran Dean Maciuba (right) joined the team as Director of Consulting Services.
"After working in research and analysis for a number of consultancies, frankly, I knew I could do it better and more affordably for clients, so I started my own business.
"I really wanted to do it my way. I wanted to talk more with logistics providers and startups, as well as the shippers, rather than churning data.
"I like to get inside what's really happening because there's so much noise out there.

Side Stepping Content Avalanche

"There's so much content.
"We bring it all together and try to make some sense out of it, particularly the numbers.
"As well as working with a number of start-ups, helping them with their whole thought leadership, we also help more traditional SME shippers with their supply chain strategies.
"I also work with several traditional forwarders and 3PLs.
"In today's environment there's a lot of emerging technology, and logistics providers that are trying to comprehend all this different technology, so that's another area that we do a lot of work in, evaluating this technology.

A Link In Blockchain?

"For example, we try to determine— especially for shippers or 3PLs—if blockchain is the right fit for them.
"What are their specific needs?
"We've helped a number of clients with this type of challenge.
"Another client, an investment bank, asked me to come in to evaluate a freight brokerage technology system.
"The recommendation was to upgrade it; it was about 20 years old and obsolete, and freight brokerage is changing so fast. "So I helped develop recommendations, including a review of artificial intelligence and other tools that help with their clients.
"They ended up with a system they are very happy with operationally and financially."

The Voice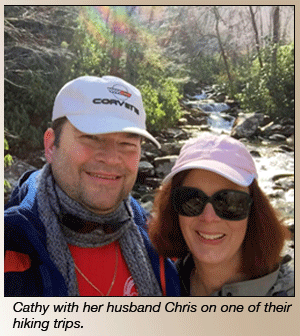 Asked how she feels as a prominent female voice in the logistics industry over the past two decades, Roberson simply believes she has consistently been treated on her merits, not her gender.
"I've never really felt like I was treated any differently to a man, either at UPS or outside UPS with my own business," she said.
"I've never really thought of it as about gender—I want to be known for what I bring to the table, not just because I'm a woman, and I think that's how I have been treated."
She continues, in tears of laughter, explaining her view of gender stereotypes:
"The sad thing around my house is I can't cook.
"Nor do I have any desire to cook.
"My husband Chris loves it.
"He loves to cook.
"So we laugh at the role reversal. I'd rather research and write on logistics versus do anything around the house, it's an interesting industry!"

The Nexus

"More seriously, Cathy Roberson offers some advice to people entering the industry:
"I was chatting to a young lady recently who was planning to go and work for one of the large airplane manufacturers and she was asking me about being a woman in a male-dominated industry.
"I told her the same thing I would tell a guy; the same thing I tell my son:
"Do your best. Do your best, and you'll get there."
"Treat others with respect and, if they're good people, they're going to respect you back, regardless if you're a man or a woman.
"You prove yourself by doing that. It sounds so corny, I know it does, but it's so true.
"If you do a good job, you're going to be successful.
"I do believe that.
"Women have a lot to offer the logistics industry and I think the door is open to them."
SkyKing
For More Information click here or contact Cathy.