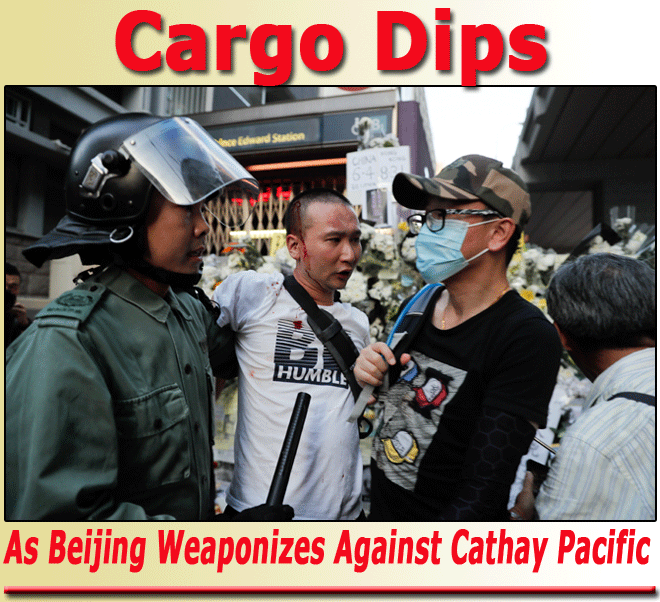 Police escort an injured man after he attacked protesters outside Prince Edward station in Hong Kong on Friday, Sept. 6, 2019. On Friday, ratings agency Fitch cut Hong Kong's credit rating and warned that conflict with anti-government protesters was hurting the image of its business climate.
Usually the first of the month trots out the numbers from the past weeks with prediction of various scenarios in play, as the year moves forward.
August shall be remembered by many as the month Beijing weaponized those huge and ongoing Hong Kong protests that a few Cathay Pacific Airlines employees had the temerity to join.
Opinion of Bloomberg News' Dave Fickling August 12 put this issue and what it could mean to Cathay squarely into the bullseye:
"The worst-case scenario, of an airline that's forced to police the political views of its own workforce in order to maintain the open skies it needs to operate, would be a horrendous one for Cathay," Mr. Fickling writes.
"Driving a wedge between management and staff inclined to support Hong Kong's aspirations for greater freedom, and between the airline and customers who retain loyalty to it as an icon of the territory's unique status, could quickly erase the gains from nearly four years of turning around the business.
"Waiting in the wings in that event is the risk that the long-rumored takeover by Cathay's second-largest shareholder, Air China Ltd., could finally come to fruition.
"The largest shareholder, Swire Pacific Ltd., would likely have to reduce or sell its 45% holding to get Air China's 30% stake into a majority – but for all that Cathay is a prestigious jewel in the crown for ultimate shareholder John Swire & Sons Ltd., it represents only 13% or so of total revenue.
"There'd be no sense in the Swire's sacrificing their broader relations with China for the sake of the airline," Bloomberg said.

Some IATA Numbers
Well here is what we have from IATA for July, but we wonder why in this day and age IATA cannot release these numbers faster.
IATA said freight ton kilometers (FTKs), worldwide decreased by 3.2% year-over-year in July.
For the first seven months of 2019, freight tonnage dipped 3.5%. Capacity climbed 2.6% in July and has averaged 2.3% so far this year, according to IATA Load factors were minus 2.7% and 3.2 percentage points on average this year.
IATA said, usual suspects in all of this negative news, (in case you had not noticed), includes the continuing U.S. /China trade dust up.
But FTKS during July also dipped across routes to and from Europe, Latin America and the Middle East.
IATA said that cargo FTKs of airlines in the Middle East, Asia-Pacific and North America fell 5.5%, 4.9% and 2.1% respectively.
Meanwhile, European airlines delivered a 2.0% dip in demand versus 4.2% increase in capacity with about the same numbers average so far in 2019.
Latin America a bright spot, grew by 3.0% in July while squeaking out a 1.3% uptick in numbers so far this year through July.
Africa, where FIATA the world organization of air freight forwarders is holding its Annual World Congress October 1-5 in Cape Town, defied all odds and recorded its fifth straight month of increases all around with air cargo demand spiking upward a whopping 10.9% in July, as capacity also grew in double digits to 17.0% growth.
Africa demand through the first seven of 2019 is up 4.9% on the wings of a 13.6%, capacity bump, IATA said.

Go To Cathy Behind The Numbers
What do these latest numbers mean?
To find out we go to Cathy Roberson who says right away and emphatically:
"I agree with IATA's assessment that the lower air freight demand can be attributed to the trade war.
"As long as that continues, air freight demand will remain negative.
"Perhaps one optimistic note is that the FTK decline, 3.2%, is the lowest Y0Y decline since March of this year.
"Still no need to celebrate though, it's still not good.

Focus On 2020

"I do not see," 'Go To Cathy' exclaims, "nor anticipate, a recovery in aircargo until later into 2020 at the earliest, but even then, that may be too optimistic.
"Global manufacturing is declining and there are signs of a possible recession in various countries.

Brighter & Livelier

"With all that being said, Africa and Latin America were bright spots in IATA's July reading.
"African airlines seem to be benefitting from Asian trade while Latin America is benefitting from an ever so slightly improving Brazil.
"Word of caution for Latin America though, it is a highly volatile market and current economic conditions in Argentina could negatively impact the air market at any time.

The Hong Kong Saga

"From what I understand, cargo is moving in and out of the airport ok but because of the demonstrations which have resulted in blocked traffic and closure of the airport for a few days, volumes will likely be down in double-digits for August.
"Shippers may be wise to have back-up plans in terms of alternative airports in the area until the situation has been resolved."
Geoffrey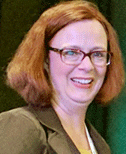 Cathy Morrow Roberson is president of Logistics Trends & Insights, a market research firm focused on global supply chains.
Cathy can be reached by email: croberson@LogisticsTI.com as well as on social media, Twitter @cmroberson06 and @LogisticsTI and the Logistics Trends & Insights LLC's LinkedIn page.