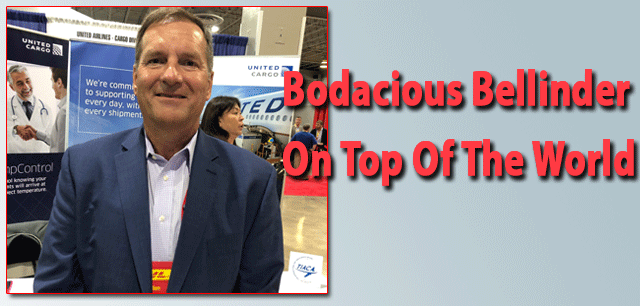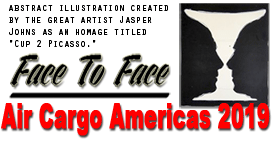 "United Cargo has a deep team of experts at Air Cargo Americas this week," said President Jan Krems from United Cargo HQ in Chicago. "Our contingent in Booth 836 in Miami includes specialists in perishables, pharma, e-commerce and the other product verticals that are key to the region's current and future business.
"The team is led by Jim Bellinder, who recently took on an expanded role – Jim is now leading our Operations in Latin America along with his long-time leadership of the region's Sales. Jim and the dozen other United Cargo teammates at ACA are eager to connect with new and existing customers to explore the many possibilities to contribute to each other's success in the Americas."
Bodacious Bellinder himself picks up the story, and is quite animated when he talks about Miami and Latin America.
"There is everything to draw you to this part of the world.
"The people, the culture, the heritage of generations and the Latin Spirit all come together here at Air Cargo Americas.
"We look forward to a great week as we greet old friends and meet some new ones," Jim Bellinder said.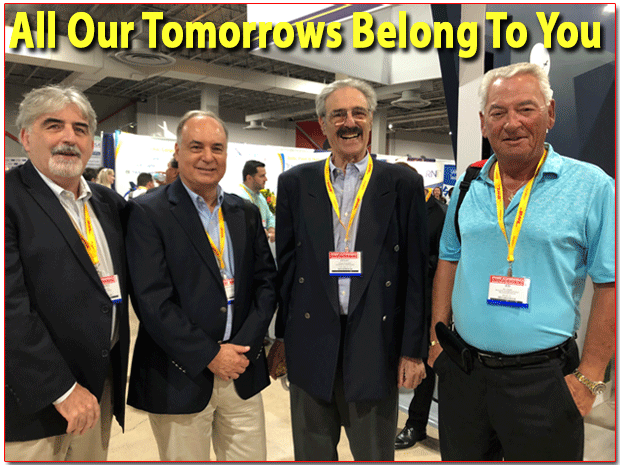 Still friends, after all these years, are well-seasoned stand up guys at Air Cargo Americas (from left )—Vince Ryan VP the Americas for Air Bridge Cargo, Vince is guiding that carrier's fortunes through some interesting and challenging times. Ricardo Jorquera continues building his latest venture as President of Air Trade Group. Isaac Nijankin helped build Varig Cargo into a global powerhouse during a time when he both served, and was a guiding spirit at TIACA, and as a major supporter helping create CNS. "Mr. Ed" Chism (PAA, EK) the man that made Emirates SkyCargo preeminent in the USA still keeps his hand in, sharing views of the industry today.
Interestingly with all the panels at this Air Cargo Americas event of 2019, it is hard to imagine how the brilliance and experience, not to mention the heart and passion of people like these fellows and maybe a couple dozen others walking around in plain sight, were not represented in a session sharing some account of their knowledge and wisdom.
Air cargo might greatly benefit, as it forges ever forward into the future, by having a better understanding of where it has been, is our thought.
The simple fact is, down in Florida where it is always warm and inviting, brings scores of people (in numbers not seen at any other air cargo industry event) to the Air Cargo Americas table who made our industry great decades ago.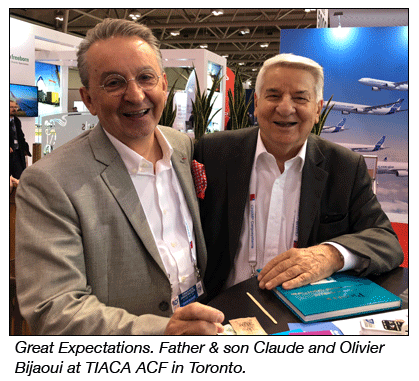 Not giving these folks a voice at air cargo gatherings, we think, is short sighted. It can only be a plus.
Now that air cargo is hosting a major industry event every year in Miami, (In 2020 TIACA holds its reborn Air Cargo Forum in Miami) it might be nice (and useful) to hear some other voices at these events.
Ask yourself this one simple question:
Can we afford to overlook anything that might help air cargo, as the 21st century gathers speed?
Best example of the air cargo expertise walking around at Air Cargo Americas is Claude Bijaoui, pictured here with his son Olivier.
Claude arrived in Miami from France with investment, innovation and enthusiasm. Here in Miami he pioneered cargo ground handling, which almost single-handedly put Miami air cargo on the map.
From Miami, Claude founded handling and GSSA companies around the world.
Claude at 85 is still sharp as they come, with a quick wit and positive outlook that is by any measure, refreshingly bright, welcome and needed in air cargo today.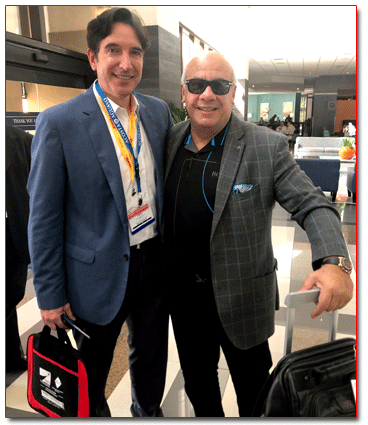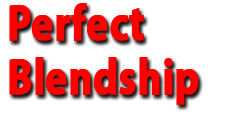 Long Time Friends, At Air Cargo Americas . . . Eric Hartmann (L) Vice President Aviation Services-Agunsa, based in Santiago notes an export "cherries jubilee" from Chile, as Luis Paredes, Managing Director of Hermes Mexico listens intently.
Chile recently has been wracked by violent protests after the government there tried to raise commuter train fares 4%.
Geoffrey