Martin Kraemer, the effusive Head of Marketing and PR for Jettainer, 'The Jettainer Can Man' shares some thoughts.
Martin is better than bright.
He is always on, and as an uplifting steady hand at Jettainer, forever seems to be talking the next thing.
Meantime, long trains of Jettainer containers are seen snaking along on the hardstands worldwide in cargo transfer facilities, and also on view sliding up and into jet aircraft by the thousands every day.
But in a world that demands what have you done for us lately, Martin has some ideas.
"Making the right decisions technology wise, based on the needs of our customers and other parties involved in the air cargo logistics chain means that moving forward, collaboration get more and more important.
"Jettainer," Martin smiles," is the leading service provider for outsourced ULD management solutions.


The Way Jettainer Works

"With dedicated ULD fleets for each customer, our state of the art JettWare IT landscape and a dedicated team is implanted directly into our customer's organization.
"In fact, we manage ULD fleets 25% more efficiently than an airline does by itself.
"Jettainer is always at the forefront of the industry.
"We were the first running an AI supporting our ULD steering teams and the first operating our customer-end on mobile devices (JettWare mobile, jettAPP).


Driving Technology Forward

"Data certainly is the important 'currency' of the future and smart ULDs generating data are getting more and more common.
"One has to make the right decision, always based on customer needs and benefits. The technology itself becomes of minor importance, the data it generates is what counts.
"Data beats technology," Martin assures.


When ULDs Get No Respect

"Some people do not treat ULD's as the important assets they are," Martin laments.
"When you think about it, loading a ULD into an aircraft makes the ULD a part of the aircraft.
"The ULD has to be in perfect condition, for safety reasons and to protect the content, baggage and cargo.
"Handling ULDs must always follow rules and regulations," Martin instructs.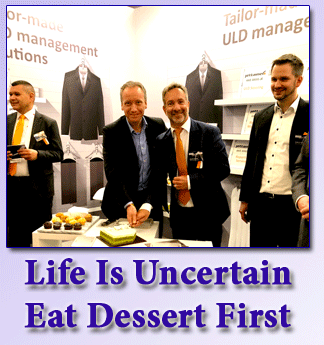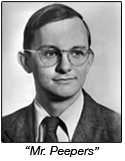 Martin, who looks a bit like Mr. Peepers an endearing television character of the 1950's, seems to be always moving around in double-time making what he does mostly seem irresistible.
I recall Martin rounding up people at a trade show earlier this year to attend some big deal at the Jettainer booth that included sharing some cake early in the morning.
So there we were, with all the rest of the press and maybe a couple dozen curious onlookers and in the middle of it all was the Can Man alongside other Jettainer executives surrounded by a mob of people whilst holding the smallest pastry, which for the ratio of people to cake, seemed not enough.
But it worked as a 'just before lunch' morning gag for the people who ate dessert first, while celebrating Jettainer.

The Can Man In Paradise

"Jettainer, in cooperation with ULD Care, sent a special ULD around the globe in order to promote the ULD Care Code of Conduct.
"The ULD flew around the globe during the last 12 months, and, surprise, surprise, it has landed loaded with commitment-stickers from everywhere on it, but maybe best of all it is still un-damaged and in perfect condition.
"We think now with this well-travelled ULD as living proof, everyone with a true heart can make ULD care.
"When we talk about ULD care, collaborations get more and more important as life cycles of technologies decrease, price tags boost, and complexity increases.

Can Man Ideas

"A single player will soon not be able to manage and pay for a truly huge innovation. Also, the benefits are boosted when collaborating.
"Currently, everybody does "their" thing, which gets more and more inefficient.
"In technology and innovations, one needs to find a business case.
"And that is easier if more people are contributing and more people are benefitting.
Jettainer always works with top-notch partners.
"We truly live the outsourcing spirit.
"Do what you do best and find partners for everything else.
"We partner with universities and tech firms to get the best expertise for top notch results.
"Plus do not forget the customer. Joint projects lead to relevant benefits and working business cases."

Can Man Looks Ahead

Martin Kraemer has been the steady believable force at Jettainer since start up, a well-known and much-liked constant through change.
"Jettainer continues to grow and develop on a healthy path, just as we have for the past 15 years," he said simply.
Geoffrey