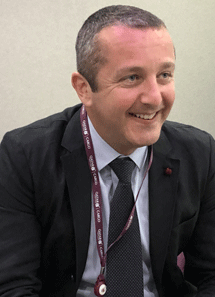 Guillaume Halleux walks into the room and lifts any mood.
He is in his element as Chief Officer Cargo at Qatar Cargo and makes no secret that he is on the ride of his life, guiding the fortunes of the best air cargo carrier in the Middle East with passion and élan, a carrier that is moving inexorably toward landing on top of the world.
Right now in 2020, when others appear in a state of hangover hibernation, Qatar Cargo is having none of that, having just announced a major expansion of new initiatives including equipment, services and destinations.

The Year That Was

"2019 was a successful year for Qatar Airways Cargo, Guillaume enthuses.
"We wrapped up the year with an extremely busy peak season helping deliver cargo for our global customers all around the network.
"We are quite positive about the new year. This month, we have expanded our network in South America with twice weekly freighters to Santiago, Bogota and Campinas, while also introducing freighters that will operate two times a week to Osaka in Japan.
"Lima is also on the list and will be launched once we receive all the necessary permits.

Big Time Expansion

"This is a massive expansion in just one month," Guillaume declares, "and we have also commenced an additional freighter capacity to Singapore with a Boeing 777 freighter operating every Sunday on the Doha-Singapore-Hong Kong-Doha route.

Going Fiercely Digital

"Given the rise of digitalization, our industry is no longer operating like the past and new technology is being deployed all across various organizations within the industry.
"For 2020 and beyond, we will be fully embracing the trend with a number of innovations.
"Digitalization is a key pillar of our new strategy," Guillaume smiles.

More Lift & China

"Five more Boeing 777 freighters that were ordered at the Paris Air Show in June 2019 will start arriving from April this year.
"After the launch of transpacific freighter services from Macau to North America in October 2018 our customers in People's Republic of China are able to transport their cargo directly to the USA and Mexico over the Pacific, significantly reducing air transport time.
"We started off with twice-weekly Boeing 777 freighters and have now doubled up the frequencies to four Boeing 777 freighters each week.
"We have seen a lot of growth in Asia.
"For us, China, Vietnam and Hong Kong continue to perform well.
"Additionally in correlation to our capacity increase we can see growth from South Korea, Malaysia and Myanmar.
"With the normalizing of trade between USA and China, we are confident that business will be even better in 2020," Guillaume declared.

Reaching Out & Helping Others

"As one of the leading players in the air cargo industry, we believe in giving back to the community and the environment.
"One of our key focus areas in 2020 will be Corporate Social Responsibility.
"We want to help and reach out to those in need of aid and who require support, we will be working to develop more in this area.


Taking The Lead On Lithium

"The transportation of lithium batteries is also another key focus for us.
"The industry has to take stringent measures to ensure safe transportation of lithium batteries which can pose a significant risk, and endanger lives around the world.
"We have taken the lead on the lithium batteries transportation issue which affects our entire industry, working closely with organizations such as IATA, ICAO and a number of regulators throughout the world.

Product Development As Usual—Unusual

"We are focusing quite a bit of attention on developing our products, for example ecommerce, and investments in QR Pharma, such as CEIV IATA certification, data loggers in aircraft, a centralized temperature monitoring system, reefer trucks and so on.
"Innovation is also key on the agenda with strong focus on utilizing technology and data analytics to enhance customer experience and business efficiency.
"Technology enables us to continuously scale and manage the rapid growth within a short time frame.
"The innovation theme supports the drive to attract new and fresh talent into a traditional business but with the right platform to take the big leap into Industry 4.0," Guillaume Halleux said.
Geoffrey