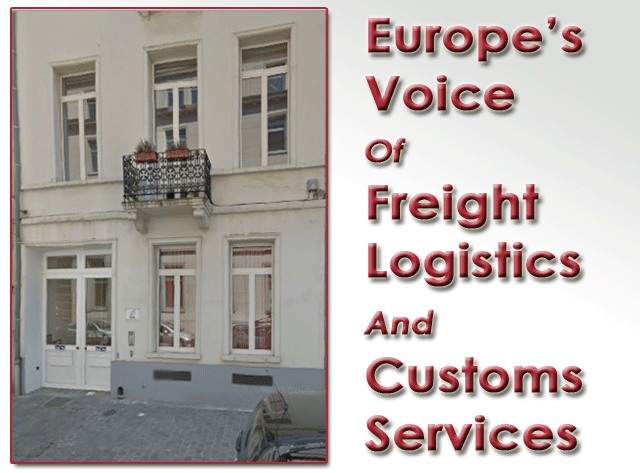 There is a Belgian address to where I often and gladly return: Rue du Commerce 77, Brussels.
This is the head office of the European Association for Forwarding, Transport, Logistics and Customs Services (CLECAT), a place and a fine organization that I served for many years before joining FIATA as Secretary General.
CLECAT is the European voice of freight logistics and customs services.
CLECAT was established in 1958 in Antwerp, it is now located in Brussels and it represents the interests of 24 members (consisting of national organizations of EU freight-related service providers, as well as various observer and associate members). Multinational, medium and small freight forwarders and Customs agents are all part of CLECAT's structures, thus making it the most representative structure of its kind.
CLECAT members voice the interests of more than 19,000 companies employing in excess of 1,000,000 staff.
In rough figures, European freight forwarders and Customs agents clear 95% of all goods in Europe and handle 65% of the cargo transported by road, 95% of the cargo transported by air and 65% of the maritime.
CLECAT also plays a major role in rail and inland waterways. Intermodal transport, extensive use of IT and dedicated terminals and warehouses are the main tools their members use to address customers' requirements.

Catching Up With A Special Friend

Almost nine years after moving away from Belgium in 2011, I arrived back in Brussels on September 8th 2019 at the end of a long car ride through Europe.
After living in Brussels for nearly ten years I return with mixed feelings, nostalgic and forthright ideas endlessly conflicting in my head.
I can never make my mind up on whether it was actually a good idea to leave Brussels to move to Zurich.
I do not regret it, but I cannot decide on whether Brussels was better, worse or the same: it depends on the way I look at it and for certain life goes on.
This being said, one of the reasons why I am always happy to come back is the opportunity to catch up with my Brussels friends: among them Nicolette has a special place.
Here is Nicolette van der Jagt, who has served as the Director General of CLECAT since January 2012.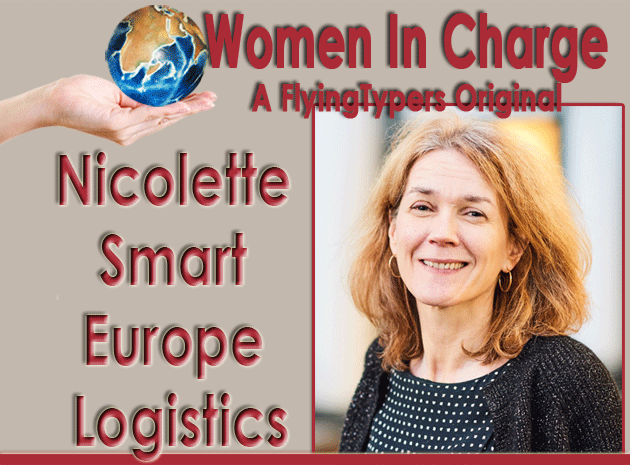 One Smooth Operator

Nicolette is knowledgeable, dependable and resourceful, with impressive character and keen political instinct.
When I was asked by the Board to propose my successor in CLECAT before aiming at the FIATA's DG position, my task was quite easy.
I simply asked Nicolette whether she would take the job and she accepted almost immediately;
I cannot think of a more straightforward process, yet nothing was so obvious in that choice.
Nicolette had been the successful Secretary General of the European Shippers' Council, ESC. the shippers' organization that was in charge of dealing with EU transport policy in Brussels on behalf of the European shippers' community.

Pioneering Female Leadership

The first woman to become DG of CLECAT, Nicolette had to modify her perception of freight forwarders, as seen by the shippers, compared to what freight forwarders and logistics service providers were thinking of themselves.
Probably Nicolette was not worried by these moot points; if she ever was, she did not show it.

Good & Plenty Force For Change

In time, probably thanks to her intuition too, European freight forwarders' perception of the shipper also changed. Today shippers remain freight forwarders' customers, but they are also perceived as partners in the never-ending process of finding the most efficient logistics solutions.
This elementary evidence has made them sit on the same side of many issues more frequently than ever.
But thinking back, my first interaction with Nicolette had been in a way quite amusing. I had just arrived in Brussels in 2003 to start my new job in CLECAT and I thought it was a good idea to introduce myself to my peers working in other Brussels-based associations.

To Sir, With Love

Having no budget to throw a party at that time, I resorted to a dignified but informal message, which was sent to the entire contact list I had inherited when taking office.
The message sounded sincere, but old-fashioned, almost a short letter taken out of my school book of commercial English. The message started with "Dear Sirs", as I had been taught to write many years before in school.

Gender Bending Experience

With some humour, Nicolette replied that, believe or not, there were women on the job in Brussels.
Even though I was raised and accustomed to naturally using a gender-neutral way of thinking, I had never thought of actually questioning the meaningless expression I had used.
I had been superficial.
Nicolette was right and the only thing to do was to send an apology. I did so at once, also suggesting that on better acquaintance Nicolette would find in me a person who had a totally unbiased approach to gender.
This is precisely what happened: we started talking, meeting, building trust in each other and in a short while we were enjoying a very good personal relationship, beneficial for our respective businesses.
Years later, in the aftermath of one of the annual Freight Forwarders' Conferences, which CLECAT was organizing every fall, before leaving the conference site I was checking the audience's seats to check if any of the participants had left anything personal behind.
This was a routine task to avoid possible complaints after the event.
Nothing relevant was left on the tables, but a small post-it note suggesting that Nicolette and I were probably more than mere friends…
When I told Nicolette, we were both amused, considering nothing could be farther away from truth.

Nicolette discusses a fine point with Sergio Barbarino, R&D Research Fellow at the Procter & Gamble Brussels Innovation Center, and happily greets colleague Florent Noblet, Managing director-TLF Overseas at the 2019 CLECAT 'Logistics For Europe' Freight Forwarders Forum.

Down To Business

Getting back to the end of this summer, Nicolette was busy preparing the conference "Logistics in Transition", on behalf of the European Logistics Platform, which Nicolette is now chairing. Sustainable climate objectives, efficiency through digitalisation, the changing skillset of the workforce and investments in infrastructure were on the list.
Looking at the points evoked by the speakers, I wonder whether this "transition" would ever come to accomplishment, if not making any actual progress.
I see that the same challenges are always there and I wonder whether this persistence is due to the ever-evolving patterns of logistics or the politicians' inability to meet the requirements of the industry.
In a way this is a reassuring feeling, in another way it is frustrating. Having worked in advocacy for a good half of my professional activity I am torn between rejoicing over the fact that we never feel useless, and getting depressed by the fact that politicians never fail to move our objectives further away into the future.
On this point, which Nicolette and I discussed more than once, she expressed herself more or less in these terms: "society and business keep on changing – and much faster than before, so we refer to the same challenges, but the context and the content are different."
Needless to say she is right, but I still find that issues such as the earmarking of resources remain unresolved. Much too often an excessive proportion of the fiscal revenues generated by the logistics sector is transferred to other causes.
We should all contribute to citizens' prosperity, but there must be limits set on how much of the income gets reassigned, in order to keep the room for investments and innovation in the industry where the resources come from.
The ability to plan wise investments and stick to the programs is key to ensuring future efficiency, but in fact it has often been insufficient.

Positions Put In Writing

Nicolette is vocal about this dichotomy in the literature she writes for CLECAT. Reading the position papers and the public statements that she publishes on CLECAT's website is very instructive.
Today DG van der Jagt leads a young team of talented millennials, who provide liaison, information, advice and a novel approach to advocacy, ensured by their natural approach to the new communication technologies.
They kick-start most of CLECAT's literature, but Nicolette's guidance is paramount in getting to the final result.
Her language is proficient and inspirational, her ideas are clever and courageous, all quite instrumental to making CLECAT members' views clear and interesting for EU institutions.
In CLECAT's public pages I also found so much of the work done in previous years, even my own work that Nicolette has kindly and professionally re-published on the new, refurbished CLECAT website, which she prepared after her arrival.

Back To The Future

Coming back to last September, my partner and I arrived in Brussels in the evening, both tired after much driving.
Being met on the door of Nicolette's house with a smile was comforting and refreshing.
Carlijn, Nicolette's daughter, her father and Nicolette were all there smiling, clearly happy to have us for dinner in their charming house.
The building is a typical Belgian maison de maître, but, unlike others I have seen, it is not too big and it is cozy rather than imposing.
There is a nice, small garden, sufficient to open your lungs without breaking your back, and a cat.
The garden was showing the magnificence of the end of summer, so particular to Brussels, which is a place where rain never fails to fall and the sun discreetly shines on the dewy meadows of its beautiful parks. Time went so quickly, Nicolette and I have always so much to talk about.
Nobody was really shy that evening and time for bed caught us in the middle of thick conversations.
I made the obvious invitation, and Nicolette promised that she would bring her entire family to my hometown Turin in the Springtime this year.
We shall then resume our tale, which will be kept suspended until then.
Another chapter in our eighteen years' friendship will be written, in a series that will hopefully continue for many more years.

Logistics Is A Global Community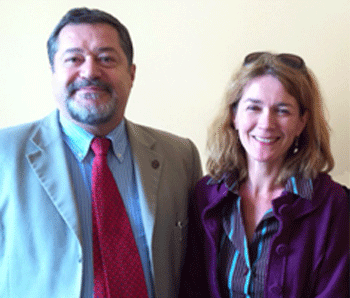 Indeed, logistics is a fascinating industry because of its technical challenges and international environment, but it is also a community industry, made of women and men who care and support one another, a place to compete for business, but one in which to also make friends and share business on a peer-to-peer level.
Among the many friends I have made in this sector, and particularly in my twenty-five years' presence in FIATA, those made in Brussels when I worked for CLECAT have a special place in my heart, DG Nicolette van der Jagt leads in this line.
I am very grateful for the luck of having such a good friend.
Marco Sorgetti
nicolettevdjagt@clecat.org http://www.clecat.org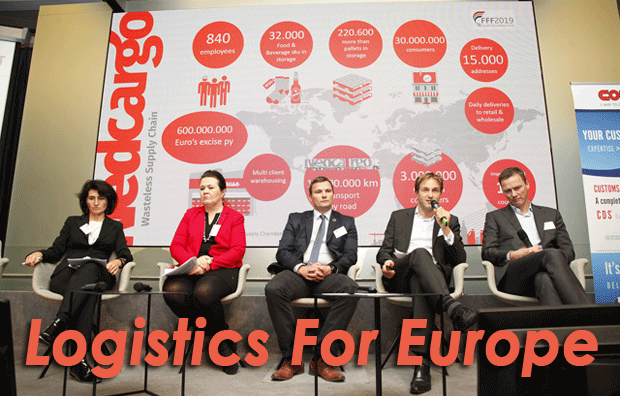 The CLECAT 'Logistics for Europe' Freight Forwarders Forum, a fabulous informative one-day event that was held last November 19 in Brussels included logistics industry representatives and European law makers together in a constructive dialogue on the future of freight transport.
Topics included:
How to move forward in completing the internal market to ensure the EU remains a competitive and sustainable place for logistics?
How can smart logistics solutions support the climate objectives in the era of the Green Deal?

The Green Deal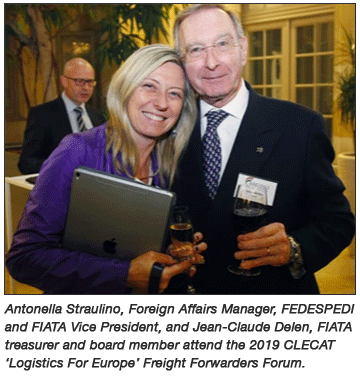 Nicolette van der Jagt, CLECAT Director General welcomed the initiative of EU Commission President Ursula von der Leyen to make Europe the first climate-neutral continent in the world by 2050.
"The Commission has estimated that a 90% reduction in transport emissions is needed to achieve climate-neutrality by 2050," she said.
"It has therefore proposed to adopt a strategy for sustainable and smart mobility in 2020 that will tackle all sources of transport emissions.'
"The ambitious decarbonization targets can only be achieved with bold investments, smart regulation and a clear engagement of both governments and industry," argued Ms van der Jagt, adding that "CLECAT supports the acceleration of the pace of decarbonization in Europe but warns against certain measures that would prevent the Green Deal from becoming an opportunity for the transport and logistics industry rather than a burden, given in particular the unrealistic modal shift objectives.
"CLECAT is looking forward to the new legislative framework to guide society in the transition towards carbon neutrality.
"This will represent an opportunity for freight forwarders and logistics service providers, some of which have already pledged to reach zero emissions by 2050," noted Ms. van der Jagt.