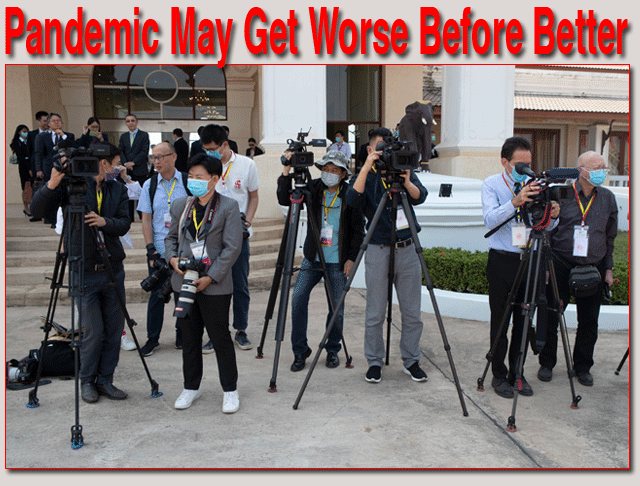 Media in Vientiane, Laos waiting for China's Foreign Minister Wang Yi's arrival at Wattay Airport for a Special ASEAN-China Foreign Ministers' Meeting on the coronavirus disease (COVID-19) on February 19, 2019 wear face masks to protect themselves.
The COVID-19 patient count has reached to 74,185 and the death toll count has been confirmed to 2,004 so far in China.

---
The Coronavirus pandemic in Wuhan, China, continues to dominate the news.
Dr. Liu Zhiming, director of the Wuchang Hospital in Wuhan, contracted the virus and has now died. He is just one of more than 3,000 medical workers affected by the virus, with half that number "in severe condition."
This brings into focus the plight of medical professionals on the ground in China.
One major handicap both for the people operating in China and for the rest of the world as it attempts to gain a better understanding of this unfolding story is the Chinese Government communication firewall challenging transparency.
To date, China has not accepted any help from the CDC and only marginal help from the WHO at a time when the best medical minds in the world are desperately needed in China.
Wuhan has almost double the population of New York City and yet it appears, according to reports, like a ghost town.
"Cities in China were vibrant until two months ago," said Dave Ramaswamy, Principal of data gathering company Indus Latin Ventures on the YouTube program War Room Pandemic.
"Currently the view from the streets of several China cities tells a story that no data can capture; cities are dead, desolate, and that speaks volumes," Ramaswamy declared.
His description of the speed in which the virus is spreading is frightening:
"Imagine a petri dish full of virus and these viruses are doubling every minute.
"The public health structure in China has collapsed," Dave Ramaswamy said.

Upcoming China Trade Show

In the face of what appears to be an out-of-control epidemic in China that has seen, among other things, Disneyland in both Shanghai and Hong Kong shuttered and even parts of the Great Wall of China closed down temporarily, we asked Messe Muenchen if plans for Air Cargo China ( June 16-18 at Shanghai Convention Center) were still a go.
Rudolf Schmid, Deputy Exhibition Director at Messe Muenchen told FlyingTypers:
"We are observing developments in China very closely and are naturally concerned about what has happened.
"But in regard to trade fairs or events in China, there are currently no conditions or restrictions beyond the next few months imposed by the Chinese authorities.
"So we do not intend to cancel the fair and you should consider that there are still four months to go until the show and by then the situation should have eased.
"We are still assuming that the trade fair will open on June 16th," Herr Schmid declared.
According to reports more than two dozen large trade fairs and industry conferences in Asia have been postponed with billions of dollars in deals waiting on hold.
The deferred events, including some scheduled as late as April, show the ripple effect of the virus on global businesses. Airlines are cancelling flights as governments and companies curb travel and thousands of factories and shops remain shut.

China's Wings Clipped

According to reports, more than seventy international airlines have suspended flights to China, with another four dozen flags shutting down altogether.
Right now, the China cargo market is miniscule. The generated numbers are the result of one-way emergency traffic on main deck freighters filled with medical supplies. This is what is left of air service—essentially down to 20 percent of normal airline operations in and out of China.
China flags still in the air total less than half in normal service, according to some reports.
Casting a long, languid look at empty airline gates and terminals across China, Official Airlines Guide (OAG) wrote:
"Five weeks ago, China was the third largest international aviation market in the world; today it ranks 25th, just behind Portugal and slightly ahead of Vietnam."

The Boesch Factor

Speaking of the ongoing challenges in China, Bill Boesch reports exclusively:
"There is a lot more than gentle concern and in some quarters, actual panic as this terrible pandemic impacts millions of people and the global airline industry.
"On the cargo side Amazon's effect on express carriers and the trade war with China had already delivered a huge negative impact.
"That effect was heightened with changes in agreements reached with Mexico, Canada and Europe that balanced trade with the USA's major trading partners.
"The China coronavirus pandemic may just be the straw that breaks the camel's back of some U.S. air cargo charter carriers."
Geoffrey