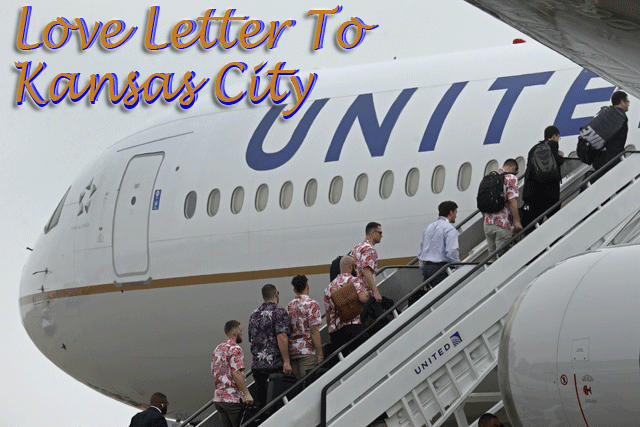 Kansas City Chiefs Super Bowl Champions fly first class from Miami to Kansas City celebration.

---
Dear Readers,

We have been at this beat covering air cargo for the past 46 years.
During that time we have received and shared letters with you.
Here is a great letter, a short story really, that dips into the business of air cargo, but also brings forward and shares the heart, emotion and passion of a long time FlyingTypers reader.
The celebration of Kansas City, Missouri, home of the 2020 Super Bowl winners, the Kansas City Chiefs, is a unique step-by-step look at a great American city.
The constant look up the facts "click bait" here emulates much of the activity we have noticed when talking to an audience, or trying to recall a famous quote around the dinner table at home with our children.
The letter by Landrum & Brown's resident air cargo expert Michael Webber is poetry in motion; an unabashed love affair, direct from the heart and so much fun to read.
Our Valentine to you, dear reader.
We hope that you enjoy the read and the ride.

Geoffrey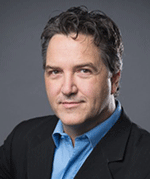 Dear Geoffrey & Sabiha,

I so enjoyed your celebration of the Kansas City Chiefs' Super Bowl victory, as well as your appreciation of Kansas City jazz. While I have lived elsewhere more years than I've lived in my hometown of Kansas City, KC shaped me in ways that can even still surprise me more than 55 years since my birth there.

Kansas City As A Distribution Gateway:

THEN

The Kansas City metropolitan area arose at the confluence of the Kansas and Missouri rivers where Native Americans traded long before Euro-American settlement. The Lewis and Clark Expedition reached the area in 1804 and by the 1820's, the area was populated by trappers, scouts, traders and farmers. The trading post known as "West Port" was fed by river and provided the last supply depot for pioneers entering the Kansas Territory on the California, Santa Fe and Oregon Trails.
Rail arrived at the Town of Kansas in 1847 but further expansion was stalled by border fighting that would escalate into America's Civil War. After the Kansas-Nebraska Act overturned the Missouri Compromise's reliance on latitude to determine slavery's expansion, "Bleeding Kansas" became the firewall and the fledgling Kansas City a critical gateway into freedom for the Underground Railroad.
At the conclusion of the Civil War in 1865, the Missouri Pacific Railroad reached the area and the 1869 opening of the Hannibal Bridge over the Missouri River ensured that Kansas City would overtake all regional rivals for trade supremacy.
A case study in how infrastructure determined 19th century economic and population growth, Kansas City's population swelled from 1,500 when rail reached the area in 1847 to 130,000 in 1889. An excellent book on that subject is "Kansas City and the Railroads: Community Policy in the Growth of a Regional Metropolis" published by the University Press of Kansas in 1993.

NOW

The first time that this writer boarded an aircraft was at the old Kansas City Downtown Airport (MKC), located on 695 acres bordering the Missouri River. Fittingly, the airport dedicated by Charles Lindbergh in 1927 ushered in the age of air transportation, within close proximity to the Hannibal Bridge. It was here (specifically at 10 Richards Road) where Howard Hughes officed when Kansas City was TWA's headquarters.
In 1972, MKC was replaced by Kansas City International Airport (MCI), exchanging an almost downtown location for a far more expansive setting fifteen miles northwest. Borrowing from the template of the TWA Flight Center at JFK Airport, the horseshoe terminals at MCI emphasized the proximity of cars to the gates but would introduce new challenges as 1970's hijackings brought security measures for which MCI's terminals were ill-suited. Eventually, TWA would move its passenger hub to St. Louis. While TWA would eventually haunt both cities, STL remains the larger passenger market with 15.6 million passengers in 2018, compared with MCI's 11.8 million. STL ranked #38 among ACI-NA's member airports for the year, compared with MCI's #45 ranking. After close to 50 years, MCI is finally losing the horseshoe terminals in favor of a more efficient single-terminal design.
In spite of Kansas City's smaller metro population and annual passenger counts, MCI consistently leads all airports in the surrounding six-state area (Kansas, Missouri, Iowa, Nebraska, Oklahoma and Arkansas) in terms of annual air cargo. In 2018, MCI accommodated 44% more air cargo tonnage than STL, which was actually the third-largest cargo airport in the region – also trailing Omaha's Eppley Airfield. Little Rock (LIT) does not report cargo data to ACI-NA but would rank around #85, based on 2018 data reported to the FAA.

ACI Rank

Airport

2000

2018

% Growth

41

Kansas City (MCI)

150,583

96,303

-36%

53

Omaha (OMA)

114,268

69,941

-39%

57

St. Louis (STL)

130,152

66,998

-49%

60

Tulsa (TUL)

54,111

59,385

10%

75

Des Moines (DSM)

112,511

31,879

-72%

80

Oklahoma City (OKC)

51,954

29,220

-44%

84

Wichita (ICT)

25,648

24,581

-4%

93

Springfield, MO (SGF)

12,087

13,887

15%

Group

651,314

392,194

-40%

Data Source: Airports Council International – North America

No airport in the six-state region topped 100,000 metric tons in 2018. Most endured double-digit percentage losses since their peak year (2000). Des Moines (DSM) experienced the closing of what had been a substantial regional operation for UPS but otherwise the airports' losses were typical of U.S. airports in general for the period – especially those that are not international gateways and major integrator hubs. The central geographic locations of Kansas City, Omaha and St. Louis made them natural crossroads for surface transportation like trucking and rail, but the lack of surrounding feeder markets made them less appealing as air cargo hubs.
From that perspective, Kansas City's cargo dominance in its region begs an explanation. While the Kansas City metro area has a smaller population than St. Louis, its industry has proven more conducive to producing air cargo demand. Kansas City's high-tech and life sciences (animal pharmaceuticals having been particularly prolific) industry not only produces time-sensitive, high-value commodities but supports a relatively prosperous citizenry. Of course, the Kansas City metro area is still a major distribution center for rail and truck – home to the Kansas City Southern Railway and to YRC Worldwide – remembered as Yellow Freight by many of us.
Contacted for this piece, the representatives of the Kansas City Aviation Department indicated that very good news should be expected within the year, regarding significant expansions by air cargo operators but would not disclose more.

KANSAS CITY CULTURE THEN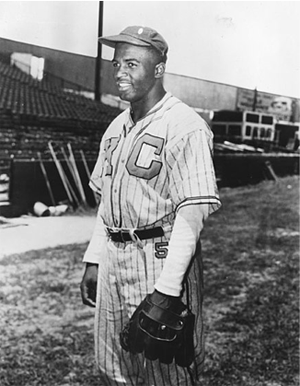 The antecedents that made Kansas City a crossroads for trade also made it an iconic crossroads of 20th century American culture. It is no coincidence that the Negro Leagues Baseball Museum and the American Jazz Museum are side-by-side in KC's 18th & Vine district. The Kansas City Monarchs were the Negro League's most iconic team – producing more major league players, including Ernie Banks, Satchel Paige and Jackie Robinson, pictured) than any other franchise.
That history with baseball's Kansas City Monarchs leads seamlessly into the Kansas City Chiefs' pioneering role in fully integrating pro football. Chiefs' owner (and AFL founder) Lamar Hunt and 1960's coach Hank Stram have likely never received the credit deserved for that role. Author of the book "Mavericks, Money and Men: The AFL, Black Players, and the Evolution of Modern Football", Dr. Charles K. Ross, chair of the African-American Studies program at the University of Mississippi states "it would be fair to say that Lamar Hunt, in many ways, was the Branch Rickey of the AFL."
The Kansas City Chiefs of the AFL had more HBCU (Historically Black Colleges & Universities) players than any other team in the NFL or AFL. The 1969 Chiefs team that won Super Bowl IV had 13 HBCU players on its 44-man roster and its starting roster featured 12 African-Americans among its 22 starters – a majority that had never happened in a championship game. The Vikings team annihilated by those Chiefs had zero HBCU players on its roster. While the Jets' victory over the Colts in the preceding Super Bowl announced that the AFL had arrived as a competing league, the Chiefs' dominant victory delivered its own message.
Here are links to clips about the relationship between the Chiefs' legendary defensive captain Willie Lanier and Jim Lynch, as well as a fuller treatment of that Chiefs team and HBCUs. Further coverage here.
One more unusual wrinkle about that era of the Chiefs but also an informative insight into Hank Stram comes from this clip featuring actor John Amos, recalling his days in training camp with the Chiefs and how Stram saw the complete man and not just the athlete.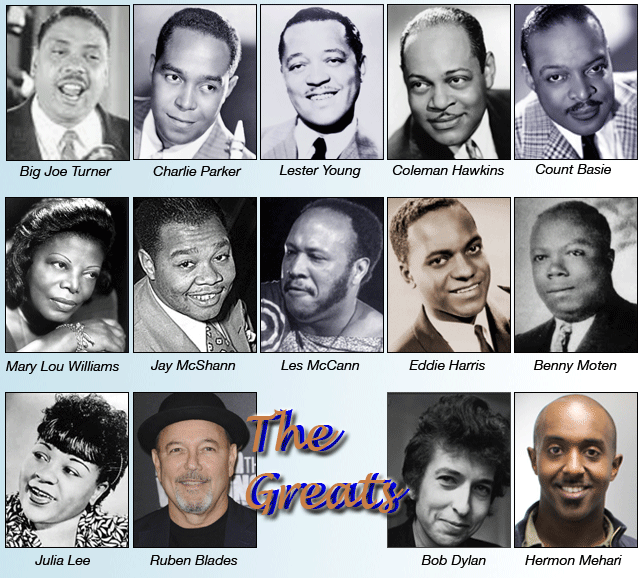 All of this, Geoffrey, and I have barely touched upon KC's contributions to American music – perhaps my favorite manifestation of KC as a crossroads. While Jazz rightly gets the lion's share of attention, let us pause for a moment to appreciate Kansas City, Missouri's Big Joe Turner, about whom Doc Pomus claimed "Rock and roll would have never happened without him."
As to Kansas City Jazz, accounts of the cutting contest between Lester Young and Coleman Hawkins collects in one anecdote such a vivid characterization of the Kansas City Jazz scene and its main players.
Whether artists were actually born in the area – like Charlie Parker in Kansas City, KS and Coleman Hawkins in St. Joseph, Missouri – or migrated there like Jay McShann, Lester Young and Count Basie – they shaped Kansas City Jazz and were shaped by it.
Enjoy Lester Young and Charlie Parker – among others – on this 1949 recording of "Lester Leaps In."
The Jay McShann Orchestra (including Charlie Parker) on this 1941 recording of "Hootie Blues."
The wonderful Mary Lou Williams and Her Kansas City Seven on this 1940 recording of "Baby Dear."
And of course, Benny Moten's Kansas City Orchestra, featuring Count Basie.
Let's not forget one of my personal favorites among Kansas City's roster of artists, the daringly bawdy Julia Lee.
While not a Kansas Citian, Bob Dylan has mentioned Kansas City in a surprising number of songs, often mythologizing the city into more of a concept than a geographical place. An example comes from one of my favorite Dylan songs, "High Water (For Charley Patton)."

"High water risin' – risin' night and day
All the gold and silver are bein' stolen away
Big Joe Turner lookin' east and west
From the dark room of his mind
He made it to Kansas City
Twelfth Street and Vine
Nothin' standing there
High water everywhere"


Let's wrap this look back with native Kansas Citian Gene McDaniels' classic "Compared to What" – first made famous by Les McCann and Eddie Harris.
Oh, and nobody need worry that Kansas City's musical riches are strictly museum pieces. The KC metro continues to produce a remarkable stream of musical talent, including the magnificent young trumpeter Hermon Mehari.
And what could better underscore Kansas City's continuing vibrancy as a cultural crossroads than the success of Latin Grammy Award nominees Making Movies whose collaboration with Panamanian legend Ruben Blades turned a lot of heads last year.



Postscript Regarding Restaurants: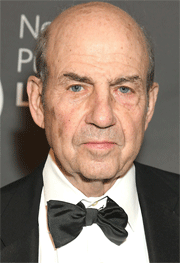 It is with a little humility that I dare dispense a few words about dining in Kansas City. I have met America's greatest combination food writer/humorist Calvin Trillin (left) and I am no Calvin Trillin. Like Burt Bacharach, Trillin is Kansas City-born but enough of a long-time New Yorker that New Yorkers are amazed to learn they are not natives. It is a distinction that allows Trillin to enjoy absurdities that native New Yorkers might not recognize as absurd. Like most Kansas Citians (certainly the one writing this), Trillin has sustained an urgency to make non-Kansas Citians aware that Kansas City is the best because if we won't, nobody will.
Trillin authored the food classic "opinion" column "No! One of the World's Foremost Authorities on Ribs, Cheeseburgers, French Fries and Frosty Malts Takes A Gourmet Tour of Kansas City" for Playboy magazine, opening with "The best restaurants in the world are, of course, in Kansas City. Not all of them; only the top four or five. Anyone who has visited Kansas City, Missouri, and still doubts that statement has my sympathy: He never made it to the right places."
Some of Trillin's musings have not fared so well. Trillin asserted that Kansas City's venerable burger institution Winstead's made the best hamburger in the world – a claim that for many years caused touring musicians to test the boast and often leave satisfied in its veracity. Winstead's is still open but is not even the best burger joint in Kansas City, let alone the world but then Pluto is no longer a planet either.
Sadly too, some of Kansas City's most historic steak joints – those old enough to have been favorites of native son Harry S. Truman and the Pendergast Machine that made him – have seen better days. One can still dine at a Hereford House or Golden Ox but only for nostalgia's sake – based on my last visits. A restaurant called Savoy at 21c occupies the space long occupied by Kansas City's Savoy Grill where Truman and other presidents often dined.
Anyone on a scavenger hunt requiring eating at all of the places favored by Trillin and companions like Fats Goldberg (another Kansas City-born, New York legend) might feel obligated to visit those institutions but I'll recommend instead Pierpont's, which offers the bonus of being located inside of Kansas City's stunning Union Station rail hub where WWI draftees received their training camp assignments and site of an infamous 1933 shootout – imaginatively dubbed the Kansas City massacre – between FBI agents and mobsters reputed to include Charles "Pretty Boy" Floyd.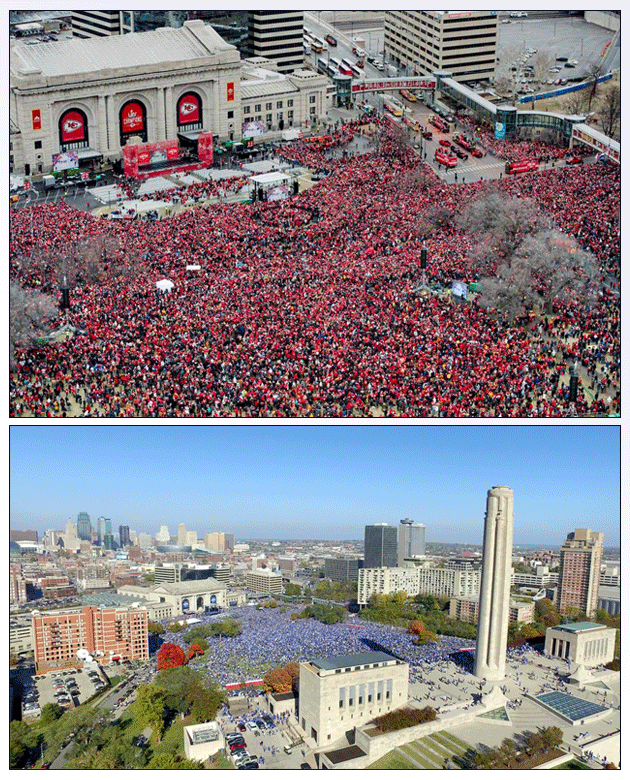 And a magnificent view of both Liberty Memorial and Union Station during the Royals championship parade a few years ago.
Union Station has calmed down but is still breathtaking and rests across from the Liberty Memorial – the only major monument to WWI finished before the outbreak of WWII and the home of the National World War I Museum and Memorial. In recent years, Union Station and the Liberty Memorial have served as spectacular backdrops for parades celebrating the world champion Kansas City Royals and Kansas City Chiefs.
By comparison, debates about politics or organized religion might be less belligerent than arguing best barbecue restaurants in Kansas City. So argumentative are the locals that one might warm up by simply arguing whether one is about to eat barbecue, BBQ or Bar-B-Que. I am that rarest of Kansas Citian who will admit to being able to enjoy barbecue in establishments in Memphis and Texas. The whole of Texas has at least 2 or 3 barbecue establishments that would rank in Kansas City's top twenty and one (Valentina's) is near my current residence in Southwest Austin. By Kansas City standards, these acknowledgements amount to magnanimity.
For history's sake, a visitor will need to go to Arthur Bryant's – specifically, the one at 18th & Brooklyn which is convenient for visiting the Jazz and Negro Leagues Museums at 18th & Vine. Visiting presidents and rock stars have their photos taken there to prove their American authenticity.
I am delighted to report that Arthur Bryant's is still as good as when Trillin wrote "It has long been acknowledged that the single best restaurant in the world is Arthur Bryant's Barbeque at 18th and Brooklyn in Kansas City". However, it is a bizarre point of pride among some Kansas Citians that the best restaurant in the world is not quite the best restaurant in Kansas City.
Or even the best barbecue restaurant in Kansas City because that distinction belongs to LC's Bar-B-Q on Blue Parkway near the Harry S. Truman Sports Complex. More specifically, the burnt ends at LC's are the best thing served anywhere in the world and at about $10.00, they're the kind of bargain that Trillin theorized was responsible for obesity in the metro area. Trillin has worried that visiting New Yorkers – unaccustomed to such culinary bargains - might gorge themselves to death like birds flocking upon a busted pallet of birdseed. In my youth, my father and I would have a sandwich from LC's on our way to Royals and Chiefs games, then have burnt ends on the return leg. No need to be excessive by having the same dish twice in a day.

Kansas Citians often ask one another when we meet in other cities "did you bring sauce?" When Arthur Bryant passed away, the KC Star ran this loving cartoon. Perfect!
I no longer live in Kansas City but some day will have my ashes spread there – ideally in the parking lot of LC's, although good taste probably compels it be at a distance from the smokers. I keep informed enough to know that great restaurants have opened since we've been gone. The Corvino Supper Club & Tasting Room is on my list for next time.
Very near the Kansas City Star's new building – replacing the original where cub reporter Ernest Hemingway honed his craft – is The Belfry (1532 Grand), operated by James Beard award-winning chef Celina Tio – veteran of a variety of national television cooking series (Top Chef Masters, Iron Chef America and the Next Iron Chef) on which her celebrity judges have included none other than actor Geoffrey Arend. The food is exquisite and its bar is my current favorite during returns to my hometown.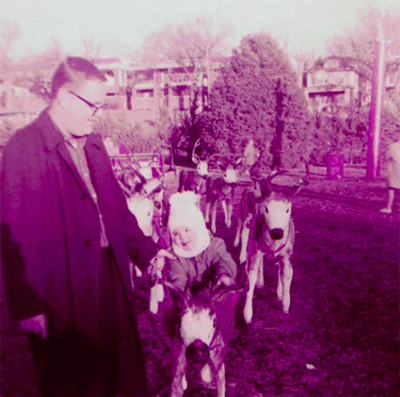 Your correspondent as a toddler with his father in Kansas City's Gilham Park. The events surrounding my birth in Kansas City seem almost quaint now but will be familiar to some of my generation. In the early 1960's, my father was stationed with the US Air Force's Third Air Force at RAF South Ruislip (a/k/a South Ruislip Air Station) and my family lived off-base in nearby Pinner. Following the JFK assassination in November 1963, many nonessential personnel and their families were returned stateside, including my mother (approaching the third term of pregnancy) and older siblings. Thus it was that in March 1964, I would be born in Kansas City, Missouri instead of at a military hospital near London.
Love to you and Sabiha from us. Thanks for such a beautiful diversion from contemplating airports' cargo capacity. Keep up the good work.

Every good wish,

Michael Webber
Associate Vice President
Landrum & Brown
Global Aviation Planning & Development
mwebber@landrum-brown.com