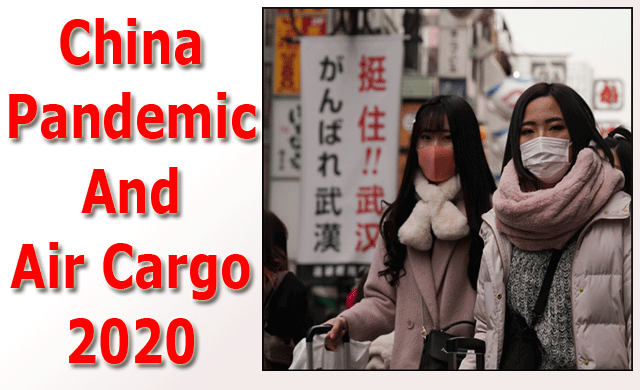 Meantime In Japan—Flags that read "Cheer up, Wuhan" are displayed at shopping district in Osaka, Japan. At Daikoku Wharf in Yokohama, the docked cruise ship Princess Diamond revealed 130 people infected with novel coronavirus pneumonia (NCP).
The number of the patients who have been infected with NCP has reached 40,171 with the death toll confirmed at 908 as of February 10th in China.
Let's face it.
Everyone had hoped that 2020 would carry forward the signs of recovery that glimmered a bit in December. Now those hopes have been dimmed by the uncertainty of the Coronavirus pandemic, which has been described by some, including former U.S. Presidential Advisor Stephen K. Bannon as 'China's Chernobyl.'
As the world braces for what's next, the spreading epidemic just over the past weekend saw China receive U.S. airlifted 100 tons of medical supplies, while Kalitta B747 aircraft with crew in bio-hazard masks continued lifting American citizens out of China on cargo aircraft.
Comparisons to the China SARS epidemic of 2003 might be made medically in terms of proper action, but seem meaningless on the world economic stage at least because in 2003 China GDP was $1.5 trillion dollars and today that number has reportedly reached 19 trillion (USA 17 trillion) making it the biggest economic machine in the world.
That number may be in question, as a think group "The Conversation" points out, saying China's GDP measured at market exchange rates, is only US$9 trillion – a bit more than half that of the USA.

Nowhere To Run Nowhere To Hide

But the point is that what happens in China touches everybody, total GDP numbers up or down is no longer in doubt.
No doubt the true numbers of people suffering in China right now are being suppressed by the government there.
Once again Hong Kong is noted for its upfront dealing with a Mainland China-driven situation, having closed all access save a single highway.
No one can doubt the courage and brilliance of the Chinese people.
Doctor Li Wenliang, who first realized and warned people about the Wuhan virus, was thrown in jail as a whistle blower, and then once released from lockup went back to help others and died this past weekend. He should be considered for some kind of global humanitarian award.
While things may get worse in China before they get better, and as the world watches and waits, we look for some information of how air cargo feels about things right now in the second week of the second month of the year 2020.
Of special interest are travel plans of air cargo stakeholders during a year, when a random temperature check of people connecting and moving through any airport might be cause for a two-week incarceration at an airport or military location, or even the cabin of a luxury liner.
FlyingTypers spoke to some leading people in our business, to try and catch the mood of the industry right now.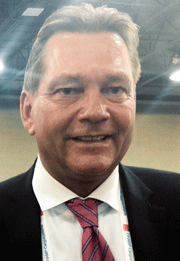 ATC Continues With Few Interruptions

Ingo Zimmer CEO of ATC told Flying Typers:
"Due to the decreased capacity from cancelled passenger flight schedules we are planning extra freighter charter flights to accommodate the demand when Chinese industry begins producing again starting mid-February.
"Of course some travel plans have been curtailed, including meetings I planned for China early February that were cancelled.
My travel plans however are unchanged: Air Cargo India in February, WCS in Istanbul, Intermodal Sao Paulo, ACF in Miami and Air Cargo China in June are still on the ATC trade show list," Ingo Zimmer said.

View From Dubai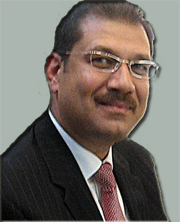 Lionel Smith is a good barometer of all things Dubal Cargo.
Lionel, an old hand in the logistics business across the region for the past two decades plus, is Managing Director of ACI, located in Dubai Logisitcs City.
"Now with the Novel Coronavirus spreading as a Global Pandemic, with increasing deaths reported during the past weeks, and thousands infected all over China, and cases of infection reported in more than 31 countries, there is huge cause of concern for trade and transportation," Lionel warned.

Widespread Impact

"The Wuhan virus impact will be felt in manufacturing, which will affect the transportation sector.
"The hospitality industry, aviation, airlines in particular with their pax numbers and revenues, are also taking a hit.
"Retail, of course is also in the cross hairs of the pandemic.
"The China Coronavirus will create unemployment and have huge financial impact during the next few quarters while the world searches for a cure," Lionel Smith predicts.
UAE 2020 & Logistics

"In the UAE, we are going ahead at this point with EXPO 2020 which will take place in Dubai from October 20, 2020 and run until the April 20, 2021.
"This event should stimulate and ignite further growth domestically for the Logistics Community, Hospitality Sector, Retail, Transportation and all other business sectors here," Lionel declared.
"Expectations are high as the Expo Committees are gearing up to receive over 25 Million visitors at the event."

New Markets

On a very positive note, ACI has just registered a company in the USA with local partners.
"Our offices will be based out of Virginia as we get underway," Lionel concluded.

The View From Hartsfield Jackson International Airport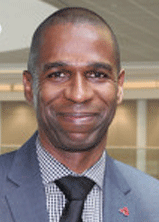 "We are now conducting studies to determine what our recovery time might be, using the SARS outbreak as our marker," said Elliott Paige, Director-Air Service Development, Hartsfield-Jackson Atlanta International Airport (HJIA) Atlanta.
"We have spoken to some airlines that are doing similar studies and are also talking to stakeholders in the trade and cargo community to determine best course of action.
"Much depends on how fast the WHO and CDC can find solutions with the Chinese and global governments such that they can resolve this soon.
"Meanwhile at HJIA we continue to build state-of-the-art facilities, and add new technologies to ensure we can support a fast rise in trade growth after the event.
"I think we act like we should in any downturn: minimize loss during the downturn, and prepare to capture as much success as we can from the coming economic boom."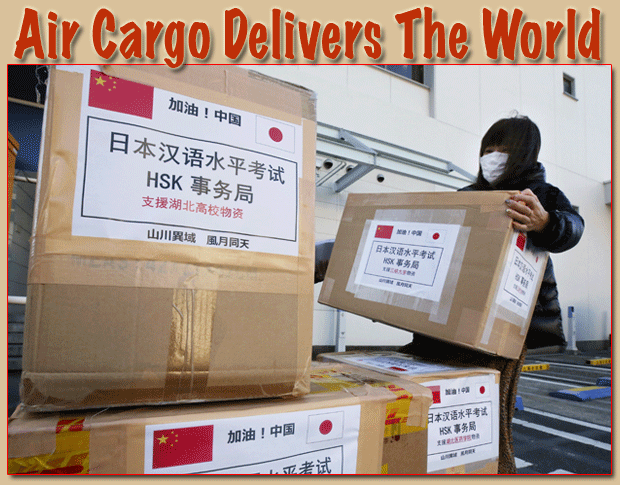 Supplies, such as masks, are prepared to send to China at Japan Youth Development Association in Tokyo on February 11, 2020.
An old Chinese poem, that means 'wind and moon are under the same sky however living in different place,' is written on the box.
In the cargo area at Norman Y. Mineta San Jose International Airport in San Jose, California, scores of people, including people from Gracious Life Foundation (GLF) checked and sealed cardboard boxes containing medical supplies, protective gloves and clothing, face masks, hand sanitizers and other items for air shipment to China to aid in stemming the coronavirus outbreak.

Help For China?

"Once we start opening air space, we suspect that there may be greater procedures regarding human health that would be required to protect aircrafts and cargo. WTO, WCO and IATA should devise a task force with major governments to develop efficient human health procedures that will allow trade to continue even minimally, despite these outbreaks.
"The problem is that totally closing a country with an outbreak, can be counterproductive as suggested by the WHO, because they may need help from other countries to bring in supplies, medication and other important necessities to help the population, not to mention people will still move albeit now without surveillance.
"Closed borders mean this country may be left to deal with a pandemic on its own.
"However, opening air space has to be done in a safe way to prevent further spreading, and health procedures, use of crowd surveillance technology, for cargo will be needed at the airports.

Altered Plans for 2020

"My team and I have altered our travel plans, unfortunately. "These are, understandably, safety requirements from our own health authorities both for us and our colleagues.
"I have cancelled trade shows I had planned for China in 2020.
"I hope to reconnect full force in 2021, because China is still our second largest trading partner, and trade between our two countries will not evaporate," Elliott Paige told FlyingTypers.
Geoffrey