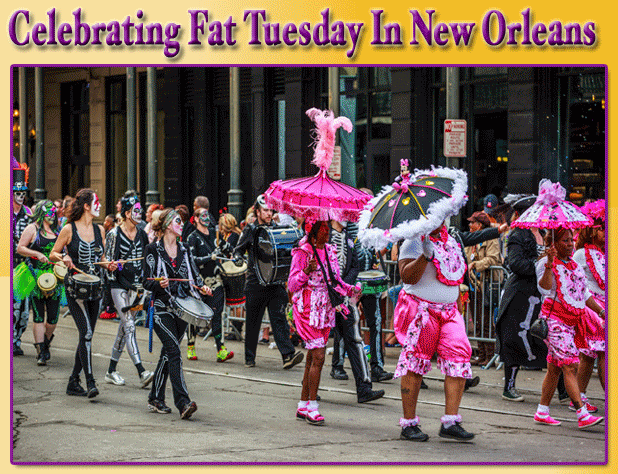 The great annual celebration that we so dearly love and have celebrated in our publication for the past 45 years occurs tomorrow.
February 25 marks Mardi Gras, otherwise known as Fat Tuesday, continuing
the Carnival celebrations of New Orleans. Also known as Shrove Tuesday, the events celebrate the Christian feasts of the Epiphany that culminate on the day before Ash Wednesday.
Mardi Gras in jazz-rich New Orleans is like nowhere else in the world.
Mardi Gras is French for "Fat Tuesday," reflecting the practice of the last night of eating rich, fatty foods before the ritual sacrifices and fasting of the Lenten season that continues until Easter Sunday.
New Orleans is also home to the great Tulane University.
For many years during the formative period of organized air cargo, the
great airport cargo pioneer Larry Johnson of MSY was punching way above the weight of that gateway, working with people all over the world to put our industry on the map.
Fortunately, in 2020 we have our friend and colleague Michael Webber, Associate Vice President of Landrum & Brown, the Global Aviation Planning & Development group, to represent the holiday from a table at Cafe du Monde in the French Quarter. Beignets in hand, he's ready to share his views on a unique celebration and a great American city.
From Kansas City To New Orleans

Born and raised in Kansas City (as FlyingTypers readers now know), I moved to New Orleans in the late 1980's by the generosity of a full academic scholarship to attend Tulane University's MBA program.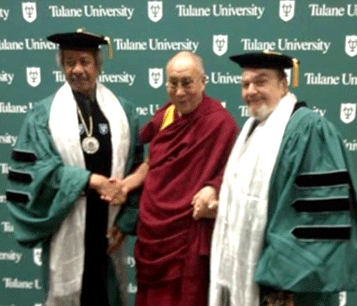 I had a few options but only one that assured me the opportunity to hear the music of Dr. John and the Neville Brothers with great regularity. Tulane had an excellent reputation as an international business school with an emphasis on Latin America – perfect for someone whose undergraduate studies had been equally focused on Business Administration and Spanish Literature.
Besides, Tulane seemed like the only place where one might someday encounter the likes of Allen Toussaint, the 14th Dalai Lama and Dr. John as a power trio.
I met my future wife during my first year at Tulane and we would welcome our first-born during final exams of the second year. The day that Marta and I were married by a justice-of-the-peace, New Orleans was having a typical torrential downpour that left the groom soaked and caked in mud. I understand that in some cultures that is considered a good omen but our reception was held in my brother-in-law's home, which would be destroyed by Hurricane Katrina years later.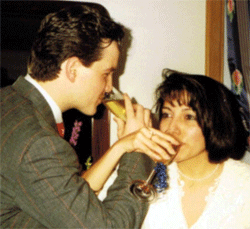 With a new baby, I needed to find work immediately and began contacting a variety of local characters associated with New Orleans' trade and transportation community.

New Orleans Organized Cargo

I became the managing director of a newly-minted trade association with Board members representing the Port of New Orleans, the New Orleans Aviation Board, the New Orleans Consular Corps and the International Freight Forwarders and Customs Brokers Association of New Orleans (IFFCBANO, for short!)
Traveling around Central America with a pack of New Orleanians seemed exotic. These were great years for New Orleans and for New Orleans International Airport.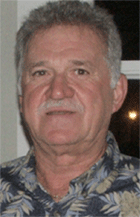 The Great Larry Johnson

I was learning the air cargo business from some of the best people imaginable – most obviously Larry Johnson who was MSY's Air Cargo Manager, but also freight forwarders like John Hyatt from the Irwin Brown Company and airline veterans like Roger Mascaro from El Salvador's TACA International Airlines.
Thanks very largely to the efforts of Hyatt, New Orleans would have the most attention-garnering booths at Central American trade shows, hauling a Dixieland jazz ensemble.

Long Descent During Times of Change

Sadly, whatever momentum we may have had seemed to dissipate over a number of years.
Our trade association was absorbed into a newly-formed Pan-American Commission by then-Louisiana governor Buddy Roemer who promptly failed to qualify for the run-off in his next election – losing to oft-indicted Edwin Edwards and former Ku Klux Klansman David Duke. I remained in New Orleans a little longer by joining the international department of a great old Louisiana bank (First Commerce Corporation) before taking my first full-time airport job as the Director of Marketing & Economic Development for the Airport Authority up Interstate 55 in Jackson, MS.
Larry Johnson stayed with the MSY until his retirement a couple of decades later. I had dinner with him a few years back when he joined me at my brother-in-law's restaurant on Canal Street. He looked good and seemed content in his retirement. He happily recalled when my wife and daughter (then a newborn and now-29 years old) would be at the terminal at MSY to see me off on trade missions. He is an uncommon gentleman.
For many of us in the industry, including people who may have been his competitors, Larry was among our first thoughts as reports came in about Katrina's devastation and more specifically, about the makeshift morgue that MSY's air cargo facilities had become. Our friendly forwarder John Hyatt had to chop his way with an axe through his home's attic in order to save himself and his family.

MSY Today

Like much else about New Orleans, the extent to which MSY has recovered is debatable. Always a strong tourism attraction and conference favorite, MSY ranked #42 among North American airports in Calendar Year 2018, according to Airports Council International – North America. MSY accommodated slightly more than 13 million passengers for the year. MSY ranked significantly lower (#61) in air cargo for the same year, accommodating only about 56,000 metric tons for the year – about 35% less than it had in Calendar Year 2000.
While double-digit losses were common among U.S. airports for that period, those of us who once aspired to see New Orleans International Airport gain prominence as an international air cargo gateway cannot help but be disappointed.
Since Larry Johnson's retirement, evidence of enthusiasm for air cargo development has seemed inconsistent at best.

Miss New Orleans

I'll forever be grateful for having lived in that pre-Katrina version of New Orleans. Even in its current condition, New Orleans is—to me—the American city least like any other American city and it was as close to the ideal of the "melting pot" as any American city ever attained.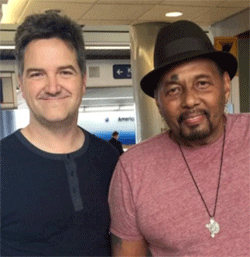 Homage To The Crescent City

Legendary songwriter Robbie Robertson (The Band) named his album 'Storyville for New Orleans' old red-light district and much of its content was inspired by the Crescent City. Perhaps fittingly, he compared New Orleans to the dance of the seven veils.
Eventually, you may get to see everything but you can't be in a hurry about it.
I left New Orleans in my twenties and am now in my fifties.
The city still intrigues and energized me every time I visit. I hope it has an encore or two left in it.
I know that my own past pops up in the most unexpected places – like when I found myself catching up with the great Aaron Neville not long ago in Chicago.
Michael Webber

Music For Fat Tuesday 2020

Dear Readers,

Don't see how we get out of this memory without some manner of Playlist.
Even if we could, why would we?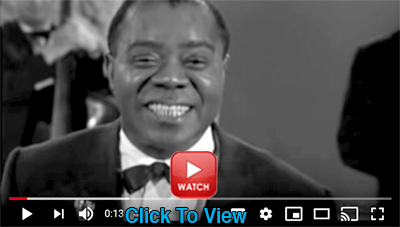 Let's start with the New Orleans native Louis Armstrong (right), who for a while was one of the most famous men on the planet, doing one of the most beloved songs of the previous century.
An architect of rock 'n' roll. One night during graduate school, I was in line ahead of Fats Domino at a local donut chain. Awed into a stupor by the proximity of a living idol, I asked if I could buy his dozen for him. He politely declined with the admonition that the probable college boy should probably save his money.
One of the songs most associated with New Orleans.
How about the extraordinary Professor Longhair backed here by the Meters – the funkiest band America likely ever produced.
Allen Toussaint was one of New Orleans' renaissance men – as influential as a producer and songwriter as he was as a recording artist. No less than Paul McCartney would record his album Venus & Mars at Toussaint's New Orleans studio and ask the owner, himself to play on it.
https://www.youtube.com/watch?v=_bRqsed2H98
The singular Dr. John. Nobody reminds me of him.
Future founding member of the Meters and his later namesake band, Art Neville first cut this song in the 1950's, then rerecorded it (this version) decades later with the Meters. When I lived in New Orleans, Mardi Gras wasn't "on" until I'd heard the Neville Brothers (anchored by Art) do it.
One of the most romantic songs ever recorded and certainly one of America's most distinctive vocalists. Here's Art Neville's immortal "Tell It Like It Is."
The Band's Robbie Robertson is a Canadian but a long-time fan of New Orleans, making his second solo album Storyville very largely as a tribute to the city.
"Do You Know What It Means to Miss New Orleans". I do and I miss it often.