I was sponsored for membership to the Wings Club in 1981, 39 years ago, by one of that organization's founders, Ansel Edward McLaurine Talbert, who was present at the club's creation in 1941.
Other founding members of the Club included Juan Trippe, CEO of Pan American World Airways, William "Pat" Patterson, founder of United Airlines, CR Smith, founder of American Airlines . . . you get the picture.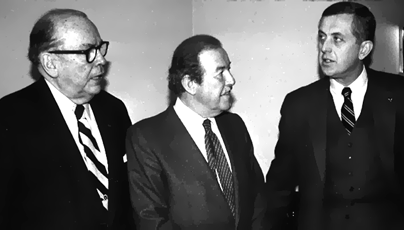 1978—Ansel E. Talbert, Special Commentaries Editor, Air Cargo News, Salim Salaam, chairman and chief executive officer, Middle East Airlines and Geoffrey Arend, publisher Air Cargo News FlyingTypers.
For his part, Ed Talbert at the time was among the most famous aviation writers in the world.
Ed Talbert served as the Aviation Editor of the old New York Herald Tribune from the 1930s, and later worked with the group at Bletchley Park on Operation Ultra, the project that decoded the very highest level of encrypted communications of the German armed forces, as well as those of the Italian and Japanese armed forces, and thus contributed to the Allied victory in World War II
Ed served as our Special Commentaries Editor from the late 1970s to his death in 1987.
In 2020, The Wings Club remains as the-must stop of a who's-who of world aviation leaders.
Today, The Wings Club venue is an elegant dining salon inside the Yale Club, which sits astride Grand Central Station in Manhattan in the shadow of the old Pan Am Building (renamed The Met Life Building in 199, after the demise of "America's Airline to the World").
This week The Wings Club meets on Thursday, February 27 for a luncheon address by George T. Whitesides, the CEO of Virgin Galactic, and The Spaceship Company, a manufacturer of advanced space vehicles. Both entities are part of Sir Richard Branson's human spaceflight venture.
Prior to joining Virgin Galactic, George served as Chief of Staff for NASA. Upon departure from the American space agency, he received the Distinguished Service Medal, the highest award the agency confers.
For reservations, contact Lea at (212) 867 1770 or wingsclub@aol.com
Geoffrey