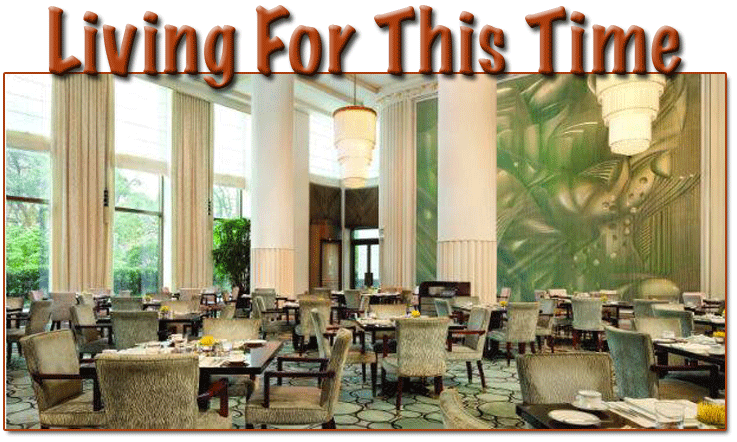 Attending a conference is a bit like being bombarded by weighty, projectile textbooks, except you're expected to retain the information contained within the wordy missiles being lobbed at your bruised body. It can be overwhelming and draining, and will leave little of your will behind to do anything else. "Information is pain!" conferences grunt, and we nod our hanged heads and grimace against the onslaught.
It's unfortunate that traveling to the ends of the earth—a practice that should be enjoyed and seen as an opportunity to take in cultures and landscapes unknown—can be diminished to debarking a plane, crowding into an antiseptic hotel conference room, with its ubiquitous round tables and straight-back chairs, and busier carpets than our eyes can contend with, and listening to men and women behind gritty mics, delivering information that will inevitably be summed up and regurgitated elsewhere. Not that worthwhile information is absent, or that making business connections is unworthy, but rather that the grandeur and experience of exotic, unknown cities is so often swallowed by entrapment in the möbius strips of identical rooms furnished identically—are we in China? Brazil? France? It's difficult to ascertain unless we venture outdoors and set a divergent destination, which again: who has time and energy for all of that? There is business to be done, and so museums, shops, theaters, and local culture will have to wait for next time, if there is a next time (just a head's up—some might say living for 'next time' is no way to live at all).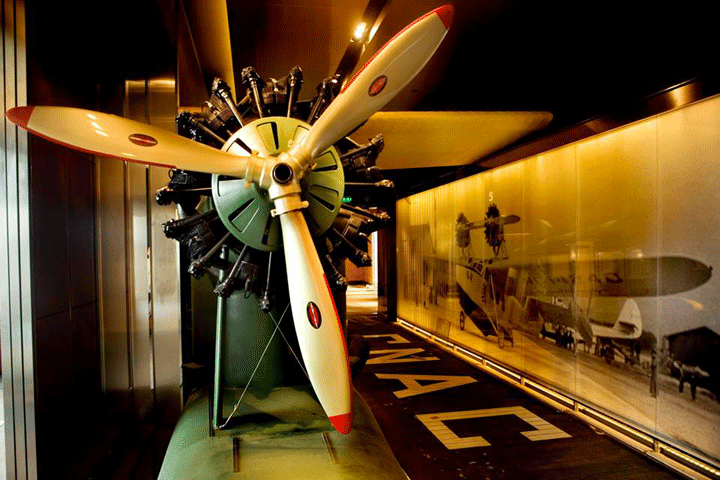 So, if you're currently in Shanghai absorbing the necessaries of this year's IATA World Cargo Symposium, FlyingTypers would like to help you take in some local, aviation-themed flavor that won't detract too terribly from the important business at hand.
FlyingTypers has always felt the best avenue for appreciating a foreign locale is through your gut—no matter what else you might miss, you cannot avoid eating, so you might as well do as the Romans do and eat what they eat.
Shanghai was once called "The Paris of the East," (a title the city wishes to reclaim) and if there were ever an eternal truth about Paris, it's that the food is divine.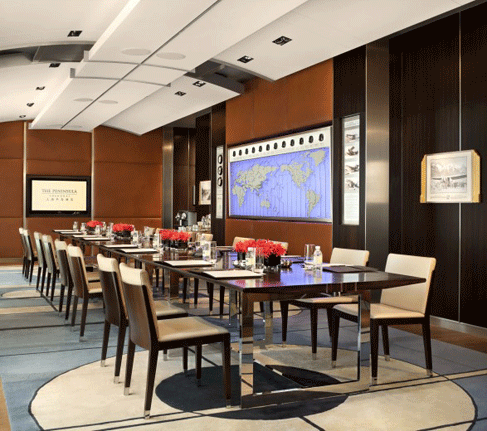 Opened in 2009, the Peninsula Shanghai is a wonderful excursion away from the conference scene, providing visitors with an easy and accessible opportunity to enjoy the local scenery all in one building. Straddled against a curve in the Bund, Shanghai's historic waterfront area, the Peninsula Shanghai offers scenic views of the Huangpu River. The Peninsula Shanghai is the only hotel in Shanghai with its own customized car fleet, which includes four bespoke Extended Wheelbase Rolls-Royce Phantoms, six BMW Peninsula Editions, two MINI Cooper S Clubman, and a restored 1934 Rolls-Royce Phantom II, all finished in signature "Peninsula Green."
The Peninsula Shanghai is a tribute to the Art Deco era that came to exemplify "The Paris of the East." When you visit, pay close attention to the lovingly-placed details celebrating the era—the radial spray of the panels above the elevators, with each arrowed sunray pointing to the numbered floors; the classic, bulbous typography of the Art Deco period; the tiered wedding cake chandeliers with their opaque glass.
There are five dining experiences at the Peninsula Shanghai. If you aren't in the mood for the local fare, you can visit Sir Elly's Restaurant, where the business elite enjoy the finest in modern European food and children under the age of 3 are not welcome. Located on the thirteenth floor, Sir Elly's has a moody atmosphere perfect for dinner, and offers floor to ceiling views of The Bund and the sparkling nightlife of Pudong in the middle distance. If the weather permits, venture just one floor up to Sir Elly's Terrace, which is essentially an unused helipad with 270-degree views capturing the Huangpu River, Suzhou Creek, Garden Bridge, and the Pudong skyline. An outdoor bar lubricates visitors while DJ Jasmine Lee supplies the soundtrack for city views on the terrace.
If you would like to experience the best of Shanghai cuisine, visit Yi Long Court on the second floor—there you will enjoy richly flavored local delicacies like Double-boiled wild bamboo fungus in matsutake clear broth, and a classic Roasted Peking Duck, among other dishes. We're betting the house on Yi Long Court's lunch fare, however, as they serve a modernized version of authentic Cantonese dim sum called the Five Fortunes Dim Sum Set. This is no ordinary dim sum—expect some surprises, like the fatty taste sensation of foie gras worked into dim sum, alongside more traditional ingredients like abalone and delectable Wagyu beef.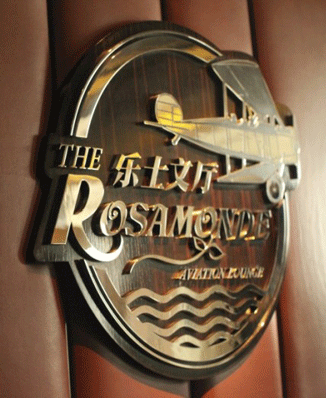 If you require a mid-afternoon pick-me-up after the slog of the morning sessions, make your way to the ground floor Lobby, where the Peninsula's famous Afternoon Tea takes place. A brighter, airier alternative to Yi Long Court and Sir Elly's, the Lobby is infused with the green and golden light of midday, accented by two jade green wall murals by Hong Kong artist Helen Poon. A string quartet called The Lobby Strings provides the dulcet tones of a leisurely late afternoon. From 2-6pm an a la carte menu offers both the sweet and the savory, from chocolate and chestnut opera cakes to a truffled egg and cucumber roll—Yi Long Court is the best place to take in a small bite. In the evening, stop in for a quick drink and listen to the live jazz band that takes over the evening serenade. The nearby Compass Bar, however, provides more views of Pudong and is outfitted in shades of dark cherry and rich mahogany, and is perhaps better suited, in terms of ambiance, for a quick nightcap.
Speaking of nightspots, if you're still filled with robust energy even after a full day of conferencing, don't miss Salon de Ning. Steeped in the glamour of the 1920s, Salon de Ning is presented like a socialite's drawing room and was inspired by Madame Ning, a Shanghai socialite and world traveler whose New York City apartment dripped with antique and modern objects picked up in her travels. A consummate hostess, she presided over lively salons in her home, and as such Salon de Ning has a warm, homey feel that can be slipped into like a glove. Fair warning: Salon de Ning is only open from 8pm-1am, so this seductive spot is primed for a romantic excursion.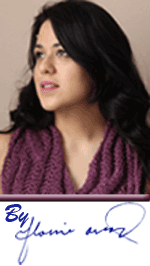 A trip to the Peninsula Shanghai cannot be complete, however, without a visit to the Rosamonde Aviation Lounge—especially not with the aviation and cargo set. With an expansive collection of antiques and memorabilia celebrating Shanghai's rich aviation history, including a lifesize replica of Asia's first seaplane, the Leoning, perched like a temple guard at its entrance, the Rosamonde Lounge is a must-see.
Located on the fourteenth floor, the Rosamonde Aviation Lounge is encased in glass, offering visitors spectacular views of the Pudong skyline. Named after the first aircraft designed and built in China, the Xianyi Rosamonde, the Rosamonde Aviation Lounge features a large world map showcasing the international routes pioneered by Imperial Airways and Pan Am, which connected Shanghai to the rest of the world in the 1930s. Much can be found of Pan Am and its affiliate CNAC (China National Aviation Corporation) inside the Rosamonde Lounge.
Given that the entirety of a Shanghai experience can be found inside the walls of the Peninsula Shanghai, we see no reason not to pay the hotel a visit. An argument could be made for finding all your meals by shuffling through the Peninsula's available options . . . you won't hear a counter argument from us.
Flossie Arend