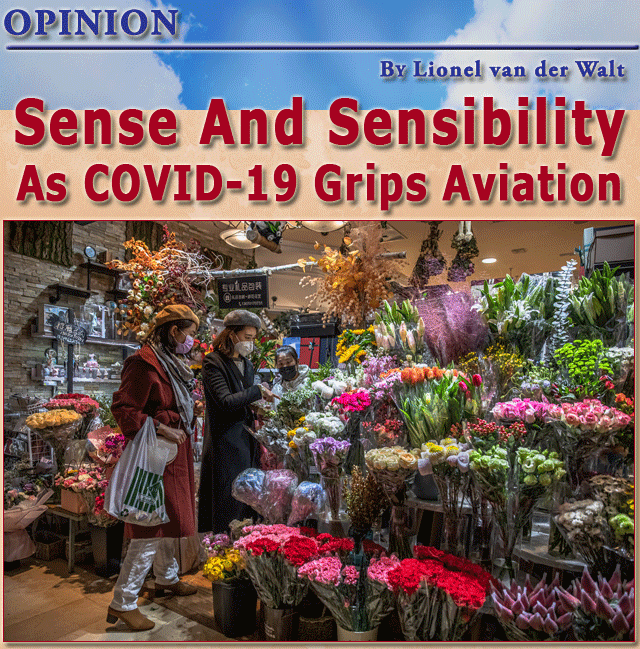 Face masks amongst the flowers at Sanlitun Center in Beijing, Sunday March 8, International Women's Day.
The World Health Organization (WHO) in their latest report said that 101,927 cases of COVID-19 have been confirmed globally, of which 80,813 were confirmed inside China with 3,073 deaths so far.

Despite all the negative impact and disruption of the current COVID-19 outbreak, we as business leaders need to adopt a levelheaded approach to navigate and lead our teams through the complexities of this challenging time. This is easer said than done though!
The biggest challenge we face appears to be how to make sense of fact versus sentiment. Much of this challenge is being driven by a relentless onslaught of media coverage that by virtue of their business objectives are competing for public attention; an objective that in many cases is best achieved by focusing on aspects that drive fear. The media is not the only one at fault though; we as humans, like moths to a flame, are uncontrollably drawn to such excitement and hype, the danger being that we take these reports at face value versus taking the time to investigate further, debate and develop our own informed opinions.
With the above said, I must admit that the current situation we find ourselves in is not as clear cut as one would like. There is no apparent simple answer to questions such as if we should stop travelling for business and attending or hosting conferences. This beast has many facets that need to be taken into consideration.
According to the Word Health Organization the restriction of the movement of people and goods during public health emergencies is ineffective in most situations. The organization provides some general guidelines that holds true for both international and domestic travel. The key advice being that if you are ill you should avoid travel and the same holds true "in particular for elderly travellers and people with chronic diseases or underlying health conditions". They also provide some general guidelines, which as a seasoned traveler I find a bit puzzling, as they are almost impossible to follow at times e.g. "keeping a distance of at least one metre from persons showing symptoms". This is challenging in airport environments e.g. when lined up for security, customs, boarding your flight etc., and when seated in planes, especially in planes, where cabin air is being circulated; one sneeze or cough and surrounding passengers are most probably impacted.
To further complicate the matter, an infected individual may be in an incubation phase and not display any symptoms. There is therefore no guarantee, even if you do not encounter no coughing, sneezing etc. during your journey, that you are safe. Does this mean keeping a distance of at least one metre from all persons? And what about touching surfaces such as seats, cups, trays, overhead bins etc. Who knows what may await us there despite airline staff's best efforts to keep everything sanitized.
At this point you might be thinking that like the media, I am painting a bleak picture and advocating reasons why international and domestic travel does not make sense. The risk is just too high, right? Well that is not the case! My viewpoint is that if you are still going to work and go about your daily routine as usual, you might as well also continue travelling. With the caveat that you use common sense to avoid areas of high-risk and follow WHO guidance where practical.
If you hold the very same WHO recommendations and standards true to our daily lives and routines at home, the only conclusion one can reach is that in order to fully protect yourself from the COVID-19 risk, you have to lock yourself up at home and avoid any outside contact.
Chances are that this is not the case though for most people. Here is the point; despite your best efforts, you face these very same risks multiple times each day i.e. being less than the recommended distance from induvial who display some possible symptom or not if they are in the incubation stage, touched a surface that has been touched by someone that is infected etc.. In our global connected world, you have no idea where these individuals have been, who they or items you are touching have been in contact with, and if they have followed good hygiene practices themselves. Think of going shopping, attending church, commuting, children attending school etc. No matter where you are if a case has been identified in your country, never mind your state, city or town, you are facing the very same risk during these activities as when travelling. So, if we continue with these activities but choose not to fly, are we applying a double standard that makes no sense? Is this any different for the majority of the population to what we generally experience in peak flu season?
Yes, the risk is higher for certain individuals, but for the majority, from what I have read and can tell, the risk is low and not much different to having flu. However, if you do become infected, you need to keep in mind that you could now have a significance impact on someone else who might be a high risk induvial. It is therefore critically important to take all the WHO and CDC recommended actions when you suspect you might be infected.
For now I personally will continue to travel for business. In terms of industry events I am torn as I would love to support these important meetings, however I have no doubt that attendance will be down at most of them, and because of this fact, the value of being there both as sponsor and or attendee diminishes. And yes, from a company perspective it makes sense to limit the number of attendees to manage risk.
My hope is that by Summer this is all behind us and we will see a resurgence of trade, travel, sensibility and a strengthened business environment for all industry stakeholders, with a strong 2020 second half to counter some of the downside we are experiencing in the first half of the year.
Lionel van der Walt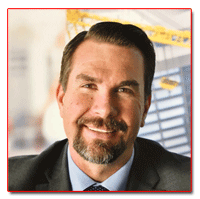 Lionel van der Walt is CEO of PayCargo. Prior to his most recent duties he served as President of IATA's Cargo Network Services (CNS). During his tenure at CNS, Lionel initiated several transformational approaches toward strengthening and deepening the airline forwarder partnership. Today the CNS Partnership Conference is the best annual air cargo event for business outcomes between the airline/forwarder partners.