There are awards that are just as rewarding for us to read about or watch because of the winner.
Case in point is Don Lewis.
Here he is, bib overalls and all, in front of the big rig he drives from his home in Republic, Missouri, to points nationwide for Wilson Logistics, of Springfield, Missouri.
His video acceptance speech (48 seconds) is a beautifully concise thing. It tells beyond words why he won and also how to accept any award.
Click on photo above or here to listen.
Don was honored last week at the Truckload Carriers Association (TCA) Annual Convention in Orlando.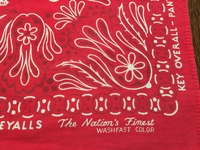 He will also undoubtedly get his picture into Truckload Magazine and will become a truckstop celebrity.
In 1976, Lewis started his career as a professional truck driver. Today, he has nearly 6 million accident-free miles, 2.6 million with his 18 wheelers' tires singing down the highway for Wilson Logistics.
We will give you ten to one that Don also has a bright red bandana handkerchief in his back pocket.
Truly right!
Geoffrey