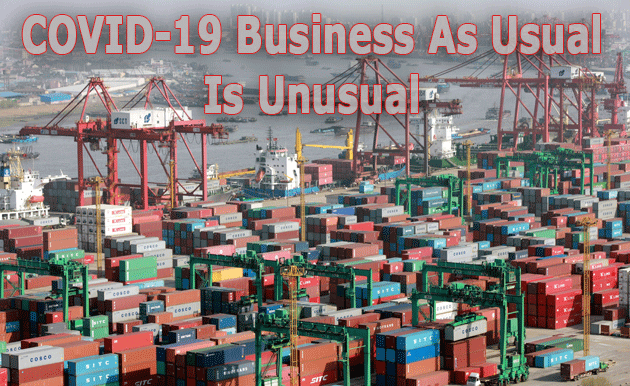 As March 2020 takes off, global awareness of the COVID-19 virus continues. The virus has shut down China and claimed victims in countries around the world, spreading uneasiness while wreaking havoc in financial markets.
On the west coast of the United States, the slowdown in ships arriving from Asia is in marked contrast to the standard post-Lunar New Year, when the goods usually pour into the U.S. and backhaul in large movements to Asia.
Now marks an uncharacteristically slow time with diminished business travel and cancelled industry events, and workshops in logistics giving way to company advisories.
Logistics and air cargo is focused primarily on figuring ways to transport indispensable products like pharma and other essentials, while elsewhere consignments—specifically for ships that import finished goods—are still stuck, having trouble even loading 10 percent capacity in ghost town Chinese ports where movement has ceased.
The logistics chain is frozen, feeling the rippling effect of what has been described as a Chinese economy that the virus "has flatlined."
California ports are slow walking the passing days with little to no volumes handled.
There are reports of surface ships departing Shanghai with less than 25 percent load factors with their normal consignments of cargo containers sitting empty in factories spread out over China.
Even when containers are loaded at manufacturers, they cannot get to port as workers and truckers struggle to get back to work.
It is apparent that even when the production spigot turns back on it will take weeks for shipping and logistics to return to normal.

By The Numbers

World ACD Friday said that January chargeable weight came in at -5.8% year-over-year (YoY); -9.7% month-over-month (MoM).
General cargo: -9% YoY, Special cargo 0.5% YoY.
Direct Ton Kilometers (DTK's): -5.6%
Yield stood at USD 1.74 (-5.6% YoY, -3.5% MoM). The yield in EUR stood at 1.56.
Cargo load factor dropped by 1.9 percentage-points YoY, and by 4.3 MoM.
High-Tech & Other Vulnerable Goods increased by +4.6% YoY, whilst Pharma & Temperature Controlled Goods rose by +6.5% YoY. In perishables, meat did best (+6.7% YoY), followed by Flowers (+2.2%), but all other categories declined (-2.7%).


Red Flag From World

On Friday February 28 ACD said that it thinks that the first quarter of 2020 (and quite possibly the months beyond) will turn out to be an extraordinary period for the world and for world trade, and thus for air cargo.
"COVID-19 leaves traces in almost all aspects of life, not just in China but increasingly elsewhere as well.
"Supply chains have been disrupted around the world, to varying degrees, marking how much we have come to rely on Chinese production.
"First reliable figures on how individual markets around the world will be affected, will hopefully be out by mid-March when detailed February data on air cargo volumes and yields will have been reported," World ACD added.
Interestingly at about the same time World ACD released these figures, in Amsterdam, KLM was announcing major cut backs from top to bottom as the struggling airline copes with a precipitous tumble in its global business.
As February came to an unfamiliar halt moving into leap year, the World ACD figures; the KLM news; and even the weather on Friday in Amsterdam, where a harsh rain storm descended on that beautiful city, was like something out of a gothic tale.

IMFAlways Looking Up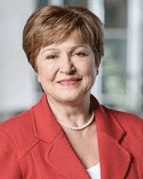 So, as the U.S. stock market wild ride continues, IMF Managing Director Kristalina Georgieva said that it is reviewing its projections for 2020 growth in China, while looking at the impact of the epidemic on the global economy.
In January, IMF said global growth is projected to rise from an estimated 2.9% in 2019 to 3.3% in 2020 and 3.4% in 2021.
"We are still hoping that the impact will be a V shaped curve with a sharp decline in China and sharp rebound after the containment of the virus," Ms. Georgieva said.
"But we are not excluding that it might turn to be a different scenario like a U curve where the impact is somewhat longer."


IATA Asia Airlines Heavy Hit

Last week IATA reset projections for 2020 airline business, from a previous prediction of 4.1% to a contraction of 0.6%, the first reversal in the fortunes of the airlines since 2009, a time in which declines were driven by the financial collapse of Wall Street in 2008.
IATA predicted that in addition to suspensions and reduction in services, COVID-19 is projected to result in a USD$27.8 billion revenue loss for Asia-Pacific carriers in 2020. The majority of that would be carried by airlines registered in China, with USD$12.8 billion lost in that domestic market alone.
Geoffrey