Finnair Sends Out The Pasi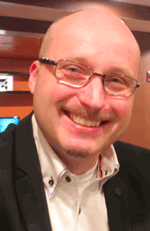 "It has been interesting and challenging, but at the same time it has been great to see how the Finnair spirit can be seen and felt in the organization," declared Pasi Nopanen, Finnair Cargo Asia Sales Director. Based in Shanghai, Pasi has been on the job for about a month now.
"Working from home has been quite easy for me as it's something I've done quite a lot in earlier roles," Pasi said.
"It also helps that my daughters are already adults, so home schooling is not an issue for us.
"The modern tools available make homework quite easy and effective."
Actually, Pasi has flown the Finnair aerial highways previously as AY, where he made his early mark in air cargo before joining Etihad and later Qatar Cargo.
Back where it all began feels like a sentimental journey, as right now the Helsinki-based carrier operates cargo-only flights into Asia.
"I feel privileged to work with the cargo-only flights," Pasi said.
"It has felt counterintuitive that during this extremely exceptional time we have been busier than ever in cargo sales.
"There is a lot of demand and many requests for cargo capacity currently and we are doing our best to answer those needs," Pasi assures.